Jump to Winery List
Kingaroy District, Darling Downs
The Kingaroy District includes wineries near Kingaroy itself, and the nearby towns of Booie, Coolabunia, Taainga and Haly Creek. Kingaroy is a major service town for a range of agricultural activities. It is located in the South Burnett Region, about 200 kilometres north-west of Brisbane. The town is situated on the junction of the D'Aguilar and the Bunya Highways. It is renowned as the `Peanut Capital of Australia` because of the large peanut processing plant and many peanut silos surrounding the town. Kingaroy has other agricultural activities including quality wineries, beans, olives, dairy and cheeses. Kingaroy has a wonderful range of arts, crafts and antique shops, cafes, restaurants and freshfood outlets. The major attractions include: # Mount Wooroolin Nature Refuge and Gordonbrook Dam for bird watchers # The Heritage Museum # Kingaroy Heritage Museum # Bunya Mountains National Park.

The South Burnett Wine Region includes five districts : Bunya Mountains ; Goomeri ; Kingaroy ; Moffatdale & Murgon ; Nanango .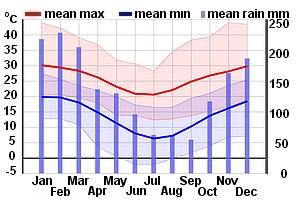 Winery Tour Map
Wineries
Bellbird Vineyards , QLD 440 Bellbird Road, Kingaroy Qld 4610
Bellbird Vineyards are located 14 km south-east of Kingaroy in the beautiful Coolabunia uplands that encircle the southern part of the town (Coolabunia's rich red soils and cool climate provide a perfect environment for grape growing). The vineyards were established by Kevin and Nina Temperton in 2000. Bellbird Vineyards is a boutique wine producer and their 20 acre vineyard is planted with shiraz, cabernet-sauvignon, verdelho and merlot vines. Bellbird currently produce a delightful rose, a cabernet-sauvignon and a verdelho under the own brand; and a Coolabunia Verdelho in conjunction with Nanango's Arabesque Winery.
Cahills Wines, QLD 448-484 Booie Road, Booie Qld 4610
Cahills Wines are a boutique wine producer whose vineyards are located 19km due east of Kingaroy on a ridge of the Booie Range. Cahills Wines are owned by John and Cindy Cahill and their Kingaroy Ridge vineyards were established in 1998. Cahills currently grow 5 acres of shiraz and chardonnay grapes, and plan to expand the vineyards to approximately 10 acres in 2011. Their vineyards are hand-tended and watered by a drought-proof irrigation system. Cahills produce a limited release of their shiraz and chardonnay each year, along with a port. The wines were originally produced for them by acclaimed Kingaroy winemaker John Crane, but are now produced by Crane Wines' new owner Bernie Cooper. Cahills Wines don't have a cellar door - there are plans to build one in the next few years once the vineyard expansion has been put in place - so their property isn't open to the public at the present time.
Crane Wines, Qld 162 Haydens Road, Booie via Kingaroy, QLD 4610
The Crane family`s winery was the first winery and cellar door in the South Burnett and is also located in the Booie Range at Hayden`s Road (take the turnoff 3km north of Kingaroy on the Bunya Highway and follow the signs). It has a fine cellar door and food, and is open every day from 9:00am to 4:00pm except for Christmas Day, Good Friday and Anzac Day morning. Phone (07) 4162-7647. Crane Wines i...
Kingsley Grove Estate, QLD 49 Stuart Valley Drive, Kingaroy Qld 4610
Michael and Patricia Berry established Kingsley Grove Vineyard in 1998 when the first vines of several varieties were planted on the site. Since then the vineyard has expanded to over 22 acres of vines incorporating Verdelho, Chardonnay, Semillon, Sangiovese, Shiraz, Merlot, Chambourcin, and Cabernet Sauvignon. The vineyard is located the Bunya Highway heading towards Dalby, about 10km from the ma...