Jump to Winery List
Upper Derwent River Wine District
The Upper Derwent River Wine District is centred on New Norfolk, about 40 km upstream of Hobart in the Derwent River Wine Region. There are a number of delightful towns and villages in the area including: Glenora, Bushy Park, Rosegarland, Plenty and Westerway. New Norfolk is the perfect base from which to explore the surrounding area including: Mount Field National Park and the delights of the Salamanca markets and other attrctions in Hobart. New Norfolk is the centre of the hop-growing area and the area is famous for its fruit. It also boasts a wonderful collection of antique and craft shops. The town also has many historic buildings. The weather in the district is similar to that of Hobart with a mild average summer temperature of 22 degrees Celcius and 8 degrees Celcius in Winter. The winter frosts are an issue for grape-growers, particularly when they extend into Spring. Some of the many outstanding boutique wineries in the area.

The Derwent River Wine Region includes three districts : Upper Derwent River ; Central Derwent River ; Lower Derwent River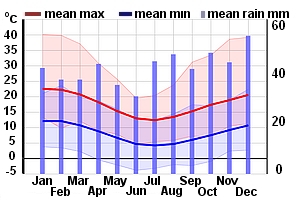 Winery Tour Map
Wineries
Kinvarra Estate, Tas 1211 Glenora Road, Plenty, Tas 7140; RMB 5140, New Norfolk Tas 7140
Small one-hectare vineyard owned by Sue and David Bevan and starting to produce some top class wine (Riesling and Pinot noir). Our fourth son was born and we decided to make a life change so we could bring our children up on the exquisite island of Tasmania, a truly dream location for living a balanced life and for producing elegant cool climate wines. We hope you enjoy our wines as much as we all enjoy nurturing our grapes.
Meadowbank, Tas 652 Meadowbank Rd, Meadowbank TAS 7140
Meadowbank is a farm and vineyard in the Derwent Valley of Tasmania. Run by the Ellis family since 1976, Meadowbank has many layers yet is singular in its pursuit of quality. Partnering with friend and winemaker Peter Dredge, the next chapter is now being written. 'Meadowbank' is the purest realisation of what our vineyard and Tasmania can offer.