Jump to Winery List
East Tamar Valley Wine District
The East Tamar Valley Wine District includes vineyards, wineries and cellar doors along the eastern side of the large Tamar inlet and estuary in the Tamar Valley. The District extends from Low Head south along the inlet to Launceston. The wineries and cellar doors in the famous Pipers River and Pipers Brook areas are included in the Pipers District. The district is part of the Tamar Valley Wine Route and you can travel north along the eastern side of the estuary and back to Launceston along the western side. The wineries close to Launceston itself are included in this district. The vineyards and wineries are generally small and offer unique opportunities to taste the wines and discuss the local terroir and wine making techniques with the wine makes and owners of the wineries. There are many tourist attractions in the area.

The Tamar Valley Region includes three districts : West Tamar Valley ; Pipers Brook and River ; East Tamar Valley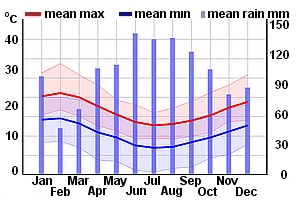 Winery Tour Map
Wineries
Brook Eden, TAS 167 Adams Road, Lebrina Tas 7254
Welcome to Brook Eden, home to a small collection of delightful, elegant, true cool-climate wines. You have to drive about a half hour north of Launceston, turn down a country lane off Pipers Brook Road, then come about 300m up our driveway, (avoiding the ducks, peacocks and guinea fowl on the way) to find our cellar door. We`ll offer you a tasting of our medal-winning wines. You can buy a single ...
Clover Hill, TAS 60 Clover Hill Rd, Lebrina TAS 7254
Clover Hill encapsulates the region's natural beauty and refined balance. This natural elegance can be seen throughout the vineyard and in the wines from Tasmania's premier sparkling house – Clover Hill. Visit the Clover Hill Tasting Bench $5 per person, credit redeemed on wine purchase. (Pay on arrival). Experience Clover Hill wines at the Cellar Door Tasting Bench, where one of our friendly and knowledgeable hosts will guide you through the Clover Hill collection, featuring our current release wines, and a selection of our boutique still range 'Idiom Wines'.
Leaning Church Vineyard, TAS 76 Brooks Road, Lalla 7267
Leaning Church guarantees a fresh, funky and fun approach to wine, whisky and food. Taste our estate-grown premium wines and single-malt whisky, enjoy lunch, peruse local art, tour the historic "leaning" church and admire spectacular vineyard views.
Providence, TAS 236 Lalla Road, Lalla Tas 7267
Providence Vineyards is Tasmania`s oldest established vineyard, producing premium quality Chardonnay, Pinot Noir, Riesling and Semillon wines. It has a very interesting history. Nestled on the slopes of Brown Mountain the vineyard was the dream of fifth generation winemaker from Provence, Jean Miguet, who first planted vines here in 1956. Following an extensive search of Tasmania for a suitable pi...
Strawberry Farm, TAS 105 Hillwood Road, Hillwood, Tasmania, 7252
Open 365 days a year, daylight to dark. The Hillwood Strawberry Farm, Fruit Wine and Cheese Centre is located at Hillwood, about 20 minutes North of Launceston off the East Tamar Highway (A8). Visiting the farm is a great day out, and provides a chance to sample some of Tasmania`s beautiful berry produce, fruit wines and cheeses. Pick-Your-Own or purchase fruit in season. Free wine and cheese tast...
Swinging Gate, TAS 103 Glendale Road, Sidmouth Tasmania 7270
"The gates are swinging again". After a period of 15 years the vineyard has reopened with a new identity and we can again sample the complex wines from vines that were planted over 20 years ago. Located in the premium area of the Tamar Valley, Swinging Gate Vineyard sits just above the mist, with cool nights and a sunny aspect creating the perfect environmental conditions to produce premium wine. It's been a long time between drinks but well worth waiting for. After purchasing the property in 2014, we have been working hard to rejuvenate the vines to their former glory. We have also transformed the machinery shed into our own Cellar Door and Day Spa, offering the public the access to relax and enjoy the experience that we so lovingly get to experience every day.