Jump to Winery List
West Tamar Valley & Launceston Wine District
The West Tamar Valley Wine District includes wineries west of the Tamar River and Estuary, and also inland from LauncestonS. A road running along the western side runs from Launceston to the mouth of the estuary provides a convenient tour route. There are several wineries in the foothills inland from Launceston. The district is part of the Tamar Valley Wine Route and you can travel north along the eastern side of the estuary and back to Launceston along the western side.

The Tamar Valley Region includes three districts : West Tamar Valley ; Pipers Brook and River ; East Tamar Valley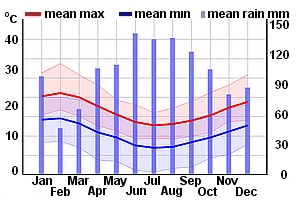 Winery Tour Map
Wineries
Beautiful Isle Wines, TAS 2 Upper McEwan's Road, Legana 7277
Beautiful Isle Wines is a family team making wines with minimal interventions, from sparkling to field blends to rich reds and cider. Our labels are a tribute to Tasmania's apple crate art of the 1920's.
Bell & Gong, TAS 873 Illawara Road, Longford, Tasmania, Australia 7301
We are a family owned and operated boutique vineyard, near Longford, Tasmania, Australia. Our vineyard produces exceptional quality fruit for Pinot Noir and we source similar quality local fruit for our Riesling, Pinot Gris and Sauvignon Blanc – with plans for our vineyard to expand and produce our own fruit for these varieties. We operate a small cellar door for wine tasting and sales, or we invite you to use our safe online ordering facility through this website. We look forward to welcoming you in person and showing you our vineyard – and to sharing our passion for producing beautiful Tasmanian wine.
Bundaleera, TAS 449 Glenwood Road, Relbia, Tasmania 7258
A relatively new vineyard in the rapidly developing Relbia area, planted by David Jenkinson in 1996. It was in 1997, after years of discussion, that we decided to establish a vineyard. We had recently purchased a block of land adjacent to our existing property which seemed to be ideal - a small valley facing northwards, sloping so as to drain frost in spring and sheltered from the prevailing north...
Cabbage Tree Hill Wines, TAS 104 Greens Beach Rd, Beaconsfield Tasmania 7270
Situated on the edge of Beaconsfield and nestled in the shadow of Cabbagetree Hill, ( location of the first major gold discovery in the area), is a small boutique family owned vineyard. Relax in the picturesque rural setting while you enjoy our premium, handcrafted, cool climate wines.
Chartley Estate, TAS 38 Blackwood Hills Road, Rowella Tasmania 7270
Chartley Estate is family owned and run 12ha vineyard established in 2000. The vineyard overlooks the picturesque Tamar River, producing Pinot Gris, Sauvignon Blanc, Riesling, Rosé, Pinot Noir, Sparkling and Sparkling Rose.
Elmslie Wines, TAS 2 Upper McEwans Road, Legana Tas 7277
Powercourt Vineyard, the source of Elmslie Wines, was planted in 1972 on the hillside at Legana overlooking the Tamar River. It is one of the longest established vineyards in the Tamar Valley. Growing predominantly Cabernet Sauvignon this vineyard offers beautiful quality wines from mature vines. From 1974 to 1977, 1.5 hectares of Pinot Noir and Cabernet Sauvignon were planted. Since then we have ...
Goaty Hill Vineyard, TAS 530 Auburn Road, Kayena 7270
The partners in Goaty Hill Wines are close friends from two families who together started the journey toward making iconic wines in the famous Tamar Valley. Natasha, Kristine, Markus and Tony warmly invite you to join them in their journey of learning, sharing and enjoying fine wine with friends. Cheese plates and vineyard platters available.
Grey Sands, TAS Frankford Highway, Box 518, Exeter TAS 7275
Grey Sands is a small family owned and run vineyard specializing in full-bodied Pinot Gris and Merlot. But they also produce Shiraz in exceptional vintages, and will produce a full-bodied Pinot Noir in the future. The area was chosen after tasting wine from around Tasmania. The site proclaimed itself as something special. The soils are derived from Permian sandstone and mudstone. The largest area ...
Holm Oak, TAS 11 West Bay Road, Rowella, Tas 7270
Holm Oak Vineyards is located in Northern Tasmania`s picturesque Tamar Valley on the banks of the majestic Tamar River. It is approximately 40km north of Tasmania`s second largest city, Launceston. Holm Oak Vineyards has 11 Ha of vineyards planted. Varieties planted include Riesling, Sauvignon Blanc, Chardonnay, Pinot Gris, Arneis, Pinot Noir, Cabernet Sauvignon, Merlot and Cabernet Franc. The Tam...
Iron Pot Bay, TAS 766 Deviot Road, Deviot TAS 7275
Iron Pot Bay Wines produces a Chardonnay (unwooded), Sauvignon Blanc/Sémillon, Pinot Grigio, Gewürztraminer, Sparkling Chardonnay/Pinot Gris, Sparkling Blanc de Blancs, Riesling, Late Harvest Riesling and Pinot Noir. A four hectare white wine vineyard at Rowella on the West Tamar, owned by Rod Cuthbert. The owner has made some very interesting wines over the last decade including semillon/sauvigno...
Jinglers Creek, TAS 288 Relbia Road, Relbia Tasmania 7258
Jinglers Creek is a boutique vineyard producing high quality cool climate Tasmanian wine We hope our wines bring you the joy of good company, the subtle pleasures of food-friendly aromas and flavors, and a sense of place that faithfully reflects the loving care with which they were grown and made. Minutes from the Heritage Highway that connects northern and southern Tasmania, Jinglers Creek Vineyard is located on Relbia Road, overlooking the picturesque North Esk River Valley.Our vineyard's planted rows enjoy a bright easterly aspect, and are far enough inland to be free from the adverse effects of sea breezes and coastal rainfall.
Josef Chromy, TAS 370 Relbia Rd, Relbia Tas 7258
Wines produced under the Josef Chromy Range showcase the varietal expression of our cool climate vineyard site. Elegant, subtle and complex, these are wines that will reward cellaring or provide great accompaniment to food now....
Kelly`s Creek, TAS 643 Relbia Road, Relbia, Tas 7258
This 1.2 Hectare vineyard is planted in an idyllic location above Kelly`s Creek south of Launceston with views of the mountains in the distance. It produces some of the crispest, most pure rieslings in Tasmania. Its sheltered location also provides ideal ripening conditions for cabernet grapes. Kelly`s Creek (formerly called Relbia`s Vineyard) is located in Relbia in the Tamar Valley wine region o...
Loira Vines, TAS 3191 West Tamar Highway, Sidmouth Tasmania 7270
We are a small boutique vineyard located in the West Tamar Valley (8km north of Exeter) Tasmania. We produce fine, cool climate red and white wines along with two varieties of bottle fermented cider.
Marions Vineyard, TAS 335 Deviot Road, Deviot Tas 7275
Marion`s vineyard is situated on the West Bank of the Tamar estuary at Deviot just 5-km. South of the Batman Bridge and a half hour north of Launceston. The location was discovered in 1979 as a, `jungle bush, blackberry-infested, rock heap` by a pair of American wine prospectors who were traveling the apple isle at that time. `Too Cold here` oft stated, their homework affirmed most of the north Is...
Moores Hill, TAS 3343 West Tamar Highway, Sidmouth, Tasmania 7270
Moores Hill Estate is a boutique family operated wine producer located in the beautiful Tamar Valley, Tasmania. We specialise in estate grown single vineyard wines of depth, quality and personailty. Our tiny vineyard is located on a beautiful northeast-facing hillside near the sleepy town of Exeter. Established 13 years ago Moores Hill is an ideal location to plant grapes. The site is at 120m abov...
Notley Gorge, TAS Loop Road, Glengarry TAS 7250
Notley Gorge Vineyard is one of three vineyards owned by Rosevears Winery in the West Tamar Valley. It was established in 1983 and consists of 15 hectares, producing Chardonnay, Sauvignon Blanc, Cabernet Sauvignon, Pinot Noir, Gewurztraminer, and Pinot Gris wines. see Rosevears Winery....
Old Stornoway, TAS 370 Relbia Road, Relbia, Tas 7258
One of the north`s most exciting vineyard developments, this 60 hectare planting at Relbia produced its first fruit in 2001. Owners Steve and Carol Devereaux are also building a winery cafe....
Penfolds, TAS 660 Blessington Road, White Hills
Penfolds Cellar Reserve wines are alternative, limited release wines that explore the innovative boundaries of viticulture, vinification and style. Cellar Reserve Traminer is sourced from a cool-climate single-vineyard in Northern Tasmania. Partial maturation in one year-old French barriques has optimised structure, complexity and varietal definition.
Relbia Estate, TAS 1 Bridge Road, Launceston 7250
Relbia Estate's cellar door incorporates a captivating wine bar and café overlooking Penny Royal lagoon near Cataract Gorge. The vineyard produces elegant cool climate wines showing crisp acidity, complexity and intensity.
Rosevears, TAS 1A Waldhorn Drive, Rosevears, Tasmania 7277
Rosevears Vineyard is located in the heart of Tasmania`s premier wine route, the Tamar Valley, a comfortable 15 minute drive from Launceston. Stylish modern facilities, some of Tasmania`s finest wines and spectacular glass framed restaurant all combine to make Rosevears Vineyard an ideal home base from which to explore Launceston, the Tamar Valley and picturesque northern Tasmania....
Rotherhythe, TAS 153 Rosevears Drive, Rosevears Tas 7277
Nationally acclaimed by wine buffs this idyllic boutique vineyard is located at Gravelly Beach. Steve Hyde, who produced many fine wines, sold the vineyard in 1996. Open: 10am - 5pm Wednesday - Monday....
Saint Matthias, TAS 113 Rosevears Drive, Rosevears, Tasmania 7277
Saint Matthias is Moorilla Estate`s Tamar Valley vineyard, selling the full range of Moorilla and St Matthias wines. It is a farm-style vineyard on the banks of the Tamar River, Northern Tasmania. The soil at this property is considered the most fertile in Tasmania - and the wines are notable for their fullness of flavour and robust drinkability. Situated 15 kilometres from Launceston, St Matthias...
Sharmans Wines, TAS 175 Glenwood Road, Relbia Tas 7258
Situated on the North Esk river on the southern outskirts of Launceston. The wines are made on contract by Rosevears Estate WestTamar. Saturday and Sunday 10am to 4pm, other times please ring. Sharman`s - `Glenbothy` Established in 1987 this 3.3 hectare vineyard is nestled in the rolling farmland of Relbia overlooking the North Esk River. It produces medal winning wines in an area that is becoming...
Sterling Heights, TAS 77 Faulkners Road, Winkleigh TAS 7275
Geoff and Jenny Wells have produced some great Pinots and very good Chardonnays from their 2-hectare vineyard at Winkleigh on the West Tamar. Open by appointment only....
Stoney Rise / Holyman, TAS 96 Hendersons Lane, Gravelly Beach Tasmania 7276
Beautifully positioned overlooking the Tamar River, Stoney Rise's Cellar Door and Winery is only a 25 minute meander north of Launceston. It is here Joe and Lou Holyman have set their sights on producing the best Pinot Noir and Chardonnay they possibly can. With amazing dedication to the health of the 7Ha vineyard and a minimal input approach to winemaking, come and see why Joe has earned his reputation as one of Tasmania's best wine producers.
Tamar Ridge Wines, TAS 653 Auburn Road, Kayena Tasmania 7270
Great wines are made in the vineyard and it is the exceptional fruit grown at the Kayena Vineyard that forms the cornerstone of the Tamar Ridge and Devil`s Corner range of wines. Located on the western banks of the Tamar River, 40 kilometres north of Launceston, the Kayena Vineyard is planted to a range of cool climate varieties including Sauvignon Blanc, Pinot Gris, Riesling, Chardonnay and Pinot...
Three Wishes, TAS 655 Craigburn Road, Hillwood TAS 7252
Three Wishes symbolises the three generations of the Whish-Wilson family that have helped produce our vineyards unique, award winning premium wines. Our family wines are hand crafted to reflect the natural beauty and historic character of our vineyard site, where small parcels of Pinot Noir, Chardonnay and Riesling grapes are grown on steep, ultra low yielding soils overlooking the beautiful Tamar...
Valleyfield Vineyard, TAS 873 Illawarra Road, Longford
Valleyfield Vineyard, home of "Bell & Gong" Premium Tasmanian Wine. We are a family owned and operated boutique vineyard, near Longford, Tasmania, Australia. Our vineyard produces exceptional quality fruit for Pinot Noir and we source similar quality local fruit for our Riesling and Sauvignon Blanc – with plans for our vineyard to expand and produce our own fruit for these varieties. We operate a small cellar door for wine tasting and sales, or we invite you to use our safe online ordering facility through this website. We look forward to welcoming you in person and showing you our vineyard – and to sharing our passion for producing beautiful Tasmanian wine.
Velo Wines, TAS 755 West Tamar Highway, Legana Tas
If you are visiting the Tamar Valley make sure you come into Velo Wines. There is an outstanding range of cool-climate wines hidden behind the doors of our big grey winery/cellar-door. We are passionate about the wines we produce, let us show you why!...
Waterton Hall Wines, TAS 61 Waterton Hall Rd Rowella 7270, Tasmania
We have 2.5 hectares of Riesling, Shiraz and Viognier, and in addition we have planted (in late 2017) four new pinot noir clones and two new chardonnay clones which extends the vineyard to 10 hectares. Loam over clay soils are ideal for cool climate grape production and produce classic Tamar Valley wines. Natural mulched animal fertilizer is used to boost soil nutrition and structure. Integrated pest and disease management is practised to minimise inputs and maintain healthy vines. Grass sward is managed between the vines to maintain biodiversity and to minimise erosion.
Wines for Joanie, TAS 163 Glendale Road, Sidmouth Tasmania 7270
We threw caution to the wind, left our farm in sunny Queensland and bought a little vineyard in Tasmania's Tamar Valley. It was a big move, but perhaps not as reckless as you think. Andrew is a Viticulturist and Prue is an Accountant. Between us we have a few handy skills, and the rest we have learnt along the way. Our intention was never to make wine, just grow amazing fruit. But we made a small batch of Pinot Noir to share with family and friends during our first vintage here. Big mistake – We were hooked! It's the love of sharing what we have, that has led us to where we are today. Now you can share a glass of wine and a few stories with us around our giant blackwood table, BYO picnic to enjoy, meet the animals or just take a deep breath of that fresh Tassie air and relax. We live and breathe this place, and you'll find us here 7 days a week. Pop in and say hi, we would love to meet you!
Winter Brook, TAS 150 Hjorts Rd. Loira Tasmania 7275
Winter Brook is a boutique vineyard, winery and tasting room located in the West Tamar Valley, run by husband and wife team Frank & Nicole Huisman. We produce premium cool-climate wines that are 'made' in our vineyard and polished in our winery, using minimal intervention. We are a dog friendly vineyard, so bring your four-legged friends and let them roam in our fenced vineyard, while you enjoy your wine tasting or BYO picnic and friends and relax at handmade picnic tables in the shade of our apple trees. We are looking forward to welcoming you!