Jump to Winery List
Pipers Brook Wine District
The Pipers Brook Wine District includes vineyards, wineries and cellar doors along Pipers Brook Road and along the valleys of Pipers River and Pipers Brook in the Tamar Valley Region in North East Tasmania. This district is part of the Tamar River Valley Wine Route and is located about 50 km north of Launceston and 36 km south of George Town which lies at the entrance to the Tamar River Estuary. In the last 10-20 years the The Pipers River and nearby Pipers Brook rural areas became renowned as one of the best and most famous wine-growing district. The area has good facilities for a wide range of sporting and recreational activities, including tennis courts and trail bike and bushwalking tracks and horse riding is also available in the town reserve. The Kreglinger Wine Estates acquired Pipers Brook Vineyard, one of the most famous in 1997, along with the Ninth Island brand. This Pipers Brook Vineyard is situated in a very scenic location. There is a delightful architecturally acclaimed winery and cellar door, which is open daily from 10a.m. There are wine tasting sessions and fine food at the a lovely cafe that features picture-postcard views and fresh local produce. Visitors can taste and purchase Kreglinger Vintage Brut, Pipers Brook Vineyard and Ninth Island wines.

The Tamar Valley Region includes three districts : West Tamar Valley ; Pipers Brook and River ; East Tamar Valley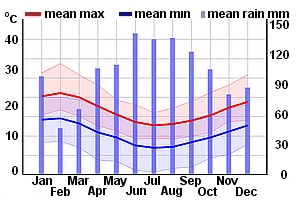 Winery Tour Map
Wineries
Bay of Fires, TAS 40 Baxters Road, Pipers River, Tasmania 7252
The Bay of Fires Winery (BRL Hardy), opened in November 2002, replacing the Ninth Island Winery, is proving to be very popular with tourists. High numbers of local and interstate visitors have flocked there to enjoy tastings of Tasmania`s flagship sparkling wine `Arras`, which won the `2003 Australia Day Council`s Wine of the Year` at the Sydney International Wine Competition. The current release,...
Bellingham, TAS Bridport Road, Pipers Brook 7254
One of the earliest vineyards in the region, this small vineyard of has 17 hectares of riesling, pinot noir and cabernet. It is now 20 years old and producing some very good wines, particularly rieslings, which are showing the ability to cellar. Dallas and Julie Targett own and operate this Tasmanian boutique vineyard. Grapes for these fine wines are estate grown and made under contract by Greg O`...
Dalrymple, TAS 1337 Pipers Brook Rd, Pipers Brook, TAS 7254
Dalrymple Vineyards, first planted in 1987 by owners Dr. Bertel and Anne Sundstrup, now has 10ha of vines, with new plantings being made each year. The vines are planted on Northeast facing undulating hills that overlook Bass Strait, which separates Tasmania from mainland Australia. The northeast orientation maximizes sunlight hours, and the vines thrive in ideal conditions, yielding grapes of exc...
Delamere Vineyard, TAS 4238 Bridport Road, Pipers Brook, Tasmania 7254
The dry stonewall entrance to Delamere Vineyards can be found on the Tamar Valley Wine Route between Pipers River and the seaside township of Bridport. Delamere is one of Tasmania`s longest running family owned and operated wine estates, focused on producing distinguished sparkling and still wines from the Pinot Noir and Chardonnay varieties. We value varietal expression of these noble cool climat...
GoldersVineyard, TAS Bridport Road, Pipers Brook, TAS 7254
First planted by Francois Richardson in 1989, this small (1 hectare) block of Pinot Noir vines is in a sheltered and benign micro-climate on the north coast of Tasmania at Pipers Brook. Next to Delamere Winery, Golders Vineyard has been described as `a well kept secret` because there is no cellar door outlet. The original vineyard is owned and maintained by Craig Hogarth, who is at present a marin...
Jansz, TAS 1216B Pipers Brook Road, Pipers Brook Tas
The Jansz vineyards lie at the heart of Tasmania`s Pipers River region, known worldwide as `Sparkling Tasmania`. With a mantle of red basalt soils and a cool climate moderated by its close proximity to the ocean, it is ideal for the slow ripening of fruit and lingering acidity so essential to the production of premium sparkling wine. The Yalumbra Wine Company of South Australia owns the Jansz Wine...
Pipers Brook, TAS 1216 Pipers Broo Road, Pipers Brook, TAS 7254
Pipers Brook Vineyard, one of Australia`s leading producers of cool-climate wine, specializes in fine Chardonnay, delicate Riesling and premium Pinot Noir under the Pipers Brook Vineyard label, and more recently `PIRIE`. Some international food and wine writers regard the Vintage PIRIE as `Australia`s greatest sparkling wine`. Its wines are exported to 11 overseas countries. The company`s particul...
Sinapius Vineyard, TAS 4232 Bridport Road, Piper Brook Tas
Sinapius (sin-ay-pi-us) Vineyard is located in the heart of the Pipers Brook wine region in Northern Tasmania, above the banks of the Pipers Brook. The small 2-hectare vineyard was purchased by us, Vaughn Dell and Linda Morice, in 2005 at the rather young age of 24, at which time it was known as Golders Vineyard. Both of us were born and raised in Tasmania and have a deep-seated love of this beaut...