Jump to Winery List
Boyup Brook Wine District
Boyup Brook, Blackwood Valley East District in the Blackwood Valley Wine Region includes the towns of Bridgetown, Greenbrushes, Nannup, Boyup Brook and Balingup. Boyup Brook is a delightful rural service town and tourist centre located on the Blackwood River about 270 km south east of Perth. Boyup Brook is surrounded by sheep, beef cattle, oat and barley producers and vineyards and wineries. The main attractions in the area are all the delights of the beautiful Blackwood River and the beautiful wildflowers in Spring. Local attractions include: # Boyup Brook Tourist Centre # Winnanarup Mohair Stud # Boyup Brook Grapevine is a huge grape vine on a private property, which the people of Boyup Brook believe to be the largest in Australia and possibly the largest in the world. # Blackwood Crest Winery # Sandy Chambers gallery # Country Music Centre # Norlup # Scotts Brook Winery # Bicentennial Walking Trail # The Flax Mill.

The Blackwood Valley Wine Region includes two districts: Bridgetown ; Boyup Brook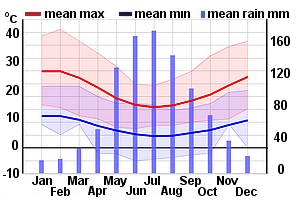 Winery Tour Map
Wineries
Barwick Wines, WA PO Box 121 Boyup Brook WA 6244, Dwalganup Road, Boyup Brook
Barwick Wines, also known as the Blackwood Valley Wine Partnership, produces wines from three premium wine regions of Western Australia: Margaret River, Pemberton, and the Blackwood Valley. Producing from 200 hectares of vineyard they deliver on quality and supply grapes to many local wineries. One Vineyard is located near Boyup Brook, and is part of the historic Dwalganup, a pioneer property of W...
Beulah Wines, WA PO Box 35 Boyup Brook WA 6244
Beulah Wines is a small, family operated vineyard located in Boyup Brook in the stunning Blackwood Valley Wine Region of Western Australia, producing premium, award winning wines.
Curlew Estate, WA RMB 207A Boyup Brook 6244
Curlew Estate is a boutique winery producing artisan wines for the discerning wine consumer. The vineyard is established on an elevated site over sandy gravels in the Mayanup district. The free-draining soil is ideal for viticulture and nutrients are provided via cover crops which are sewn between the rows each year. The vineyard is comprised entirely of Shiraz vines where fruit of unique quality undergoes whole bunch fermentation to create the premium "Curlew Estate Shiraz". Fruit from alternate varietals, such as Cabernet Sauvignon, is also purchased from other vineyards in the Blackwood Valley to intersect with the Curlew Estate Shiraz and are marketed under the "Form One Lane" label.
Dickinson Estate, WA 2414 Cranbrook Rd Boyup Brook WA 6244
The property is 200 acres, of which 21 acres are under vine with plantings of Sauvignon Blanc, Chardonnay, Shiraz and Cabernet Sauvignon. The wines are made and managed by highly experienced consultant winemaker, Coby Ladwig at Plantagenet Winery in Mt Barker. There are three tiers under the Dickinson Estate range – 'Sunrise', 'Estate' and 'Limited Release' (in honour of past Dickinson influencers).
Tammar Gully Wines, WA 414 Cranbrook Rd, Boyup Brook
Once just grape growers for Goundreys and Wolf Blass, Tammar Gully Vineyard now produce our own selection of wines which are made under contract by Coby Ladwig, the senior winemaker at Rockcliffe Wines in Denmark.