Jump to Winery List
Bridgetown Wine District
Bridgewater, Blackwood Valley West District in the Blackwood Valley Wine Region includes the towns of Bridgetown, Greenbrushes, Nannup, Boyup Brook and Balingup. The town of Nannup is located about 280 km south of Perth and is the gateway to the Blackwood Valley, right in the middle of the South West of Western Australia. A walk through this historic mill town of Nannup resembles a walk back in time, with its many historic buildings and sources of information about the heritage of the area. The town is nestled amongst the hills beside the Blackwood River, which is one of the largest rivers in the South-West, flowing through the magnificent jarrah forests and reaching the sea at Augusta.

The Blackwood Valley Wine Region includes two districts: Bridgetown ; Boyup Brook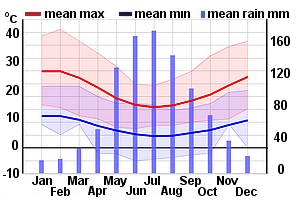 Winery Tour Map
Wineries
Blackwood Wines, WA Kearney St., Nannup, WA 6275
Located in the heart of Nannup, Blackwood Wines features a winery, restaurant and fine art, complimented by a beautifully landscaped garden. Nannup is a small, picturesque town, situated in the heart of the South West of Western Australia. It nestles among rolling green hills, bordered by the Blackwood River and is surrounded by farmland and jarrah forest. Browse around the antiques and works of a...
Bridgetown Winery, WA PO Box 1045 Bridgetown WA 6255
The Bridgetown Winery vineyard is located approximately 9 kilometres from the Bridgetown townsite with one frontage on the Blackwood River. The property is 14 acres with an irrigation dam on a winter stream. Originally only Shiraz wines were produced from grapes grown on the property but recent changes have resulted from grafting over 50% of the Shiraz vines to Muscat a petit grains, Barbera, Tempranillo and Durif. Where other grape varieties are used thaos grapes are sourced from vineyards in the Blackwood Valley.
Killinchy Wines, WA RMB 408 Glentulloch Road, Bridgetown WA
Killinchy Wines is a family owned, boutique winery located just 10 minutes south east of Bridgetown. Its location is breath takingly beautiful, set amongst the regions` tall timber tress at the headwater of the Donnelly River. the award winning wines are hand crafted soley from the grapes grown on the estate, rich and full in flavour reflecting their unique enviroment....
Lauren Brook, WA Eedle Terrace,PO Box 403, Bridgetown WA 6255
Established in 1993 on the banks of the Blackwood River, Lauren Brook Winery is located on the homestead block of a lovely and historic Bridgetown property. This small boutique winery concentrates on producing small volumes of handcrafted wines for sale predominantly by cellar door and mail order. Production methods are traditional with only the best grapes being hand-picked into small 10-kilogram...
Nannup Ridge Estate, WA 128 Perks Road, Cundinup WA 6275
Nannup Ridge Estate sits high on the granite ridges of the Blackwood River Escarpment inland from the Margaret River Township. During the growing season, the vines enjoy long hours of sunshine followed by cool evenings and moderate coastal breezes in the afternoon, idyllic growing conditions. Abundant water, granite loam soils and low frost and disease pressure all contribute to reliable quality and consistent vintages.
Shedleys Wines, WA 2042 Dalmore Road, Bridgetown WA 6255
Wines produced are: Cabernet Sauvignon, Shiraz, and Sauvignon Blanc. Vineyards: Established: 1987. Winemaker: Chris Shedley. Hours: by appointment Tasting and Tours: by appointment....
Sunnyhurst Winery, WA Lot 16 Doust St Bridgetown WA 6255
Sunnyhurst Winery Estate is located just 5 minutes from the heart of Bridgetown in the Blackwood Valley Wine Region of Western Australia, just over an hour's drive east of Margaret River. The vineyard was established in 2000 by Mark Staniford and changed hands in 2017 to new owners Geoff Herbert and Marie-Pierre Dussault, who took respectively the roles of grape grower and wine maker. It is their intention to continue Mark's legacy by growing hand–picked quality grapes and producing premium quality wines reflecting the taste of the region.
Tanglewood Wines, WA RMB 383 Bridgetown WA 6255
Tanglewood Vines is an established vineyard set in the beautiful hills surrounding the South West Australian town of Bridgetown in the Blackwood Valley Wine Region. With large hectares of Cabernet Sauvignon, Merlot and Viognier , our site is on gravelly loam and irrigated with high quality water. With a wide range of premium wines such as Cabernet Sauvignon 2004, Cabernet Sauvignon 2006, Merlot 2004, Cabernet Merlot 2005, Cabernet Merlot 2006 and Viognier 2009, clients can be assured that we are confident that Tanglewood wines are of high-quality and one of the best in the industry.
Tathra Wines, WA Balingup Rd, PO Box 102, Nannup, WA 6275
Tathra`s boutique winery, established in 1990, makes fine matured fruit wines. Their `Nannup Nectar` and `Tiger Port` are legendary in the region. Tathra (an aboriginal word meaning beautiful country) is 150-acre farm. Settled in the 1870s it was originally a dairy farm, converting to beef cattle in the 1960s. A small herd of beef cattle are still run on Tathra. Situated on one of the state`s most...
Whimwood Estate, WA PO Box 250 Nannup WA 6275
Whimwood Estate Wines is owned and operated by Maree Tinker and Steve Johnstone and is named with regard to the region's past timber milling history, where horse drawn Whims were used for hauling logs out of the forest. Our vineyard is situated alongside the Blackwood River near the old timber milling town of Nannup. Our boutique vineyard is located just 3 hours south of Perth, Western Australia in the Blackwood Valley wine region. The original vineyard was planted with Chardonnay vines in 2004 as contract grapes, along with a few Shiraz vines for personal use. We have downsized from 8,000 to 2,000 vines and increased the number of Shiraz vines by grafting onto the Chardonnay root stock.