Jump to Winery List
Manjimup North District
The Manjimup North District, south of Perth, includes vineyards and wineries in the Manjimup Region near the towns of Manjimup, and Palgarup, north-west of Nyamup. The popular tourist town of Manjimup is located about 300 km from Perth, in the stunning south west corner of Western Australia in a landscape featuring tall trees and dense forests, abundant fresh water, rich soils and beautiful rolling hills with lovely scenery. Manjimup is the regional centre for the Warren and Blackwood Valleys, servicing the rural communities and providing all the facilities you would expect from a premier tourist town, including an airport. Timber is synonymous with Manjimup and this is showcased at its many educational attrctions including, the King Jarrah, the Timber and Heritage Park, Diamond Tree Lookout, One Tree Bridge and many more localities. You can enjoy the many delightful forest walks and see the majestic Jarrah and Karri trees and their associated flora, fauna and habitats. Every year Manjimup hosts many local events including the Cherry Harmony Festival, the internationally renowned Motocross 15000 and the J B Ipsen Memorial Golf Tournament.

The Manjimup Wine Region includes two districts : Manjimup South ; Manjimup North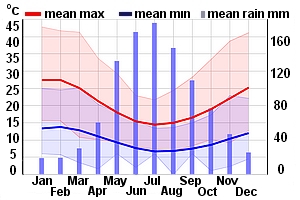 Winery Tour Map
Wineries
Chestnut Grove, WA PO Box 335 (Perup Road), Manjimup WA 6258
Between Margaret River and Mt Barker lies the little town of Manjimup and a very large and beautiful Chestnut tree which is at the highest and most visible point of the Chestnut Grove vineyards. The property is named after the magnificent Chestnut tree around which the vines were planted in 1988. It was always going to be the focal point of the winery that today produces some of the best Merlots a...
Jardee, WA Jardee Via, Manjimup WA 6258
Nodata available...
Peos Estate, WA Graphite Road, West Manjimup WA
Peos Estate is situated in the Manjimup region in Western Australia. It is totally family-owned and the wine is 100% estate grown. The winery can be found on Graphite road West Manjimup. Wines produced are Shiraz, Cabernet Sauvignon, Unwooded Chardonnay and a Chardonnay....
Piano Gully Wines, WA Piano Gully Rd, Manjimup WA
Cellar door or postal delivery throughout Australia.
Sinclair Wines, WA Graphite Rd, Manjimup WA 6258
ohn Healy and Darelle Sinclair established Sinclair Wines in 1994. Keen to do things right John and Darelle went back to school. This was just as well because at that time there were no consultants around Manjimup. The one that came over from Margaret River must have been a flatlander. He said that even though we had wonderful soil and water our land was too steep and we should sell it! Darelle gr...
Wine and Truffle, WA Seven Day Rd, Manjimup WA 6007
Small producer of premium wines, specializing in Merlot and Riesling. Over seven years ago, a group of avid enthusiasts and investors living in various parts of Australia, had a vision of producing the finest of wines, and the largest trufferie in the southern hemisphere. Their great love of all things fine food and wine, lead them to a small rich horticultural region of Western Australia, where t...
Woodgate Wines, WA 43 Hind Road, Manjimup WA 6258
Woodgate wines are family owned vineyards and winemakers. Our wines are all about bringing the principle characteristics of our region into our wines. To us it is PURE MUSIC; the mix of nature, food, cooler climate and dark forests. It brings those notes into everything we do.