Jump to Winery List
Manjimup South District
The Manjimup South District, south of Perth, includes vineyards and wineries in the Manjimup Region between Manjimup and the towns of Quinninup and Nyamup. The beautiful town of Nyamup is located deep in the stunning South West forest region of Western Australia. It is a perfect destination for a romantic weekend away, a family getaway, a group holiday or for tourists to use as a base to explore the South West area. Nyamup has an abundance of diverse wildlife including Emus, Kangaroos and many species of rare birds that you can see along many of the bushwalking tracks in the area. The scenic Wilgarup River offers fishing, kayaking, boating, swimming and canoeing and you can catch the small local crayfish called 'the marron'. Nyamup is surrounded by jarrah and karri forest and it used to be a timer mill town, but the mill closed down. There are a number of well-marked forest trails for keen bushwalkers. You can stay in Nyamup and explore the huge range of attrctions and activities on offer in the South West including treetop walks and tours of the local wineries. Local wineries in the area include: Angelicus, Batista Estate, Black George Wines, Peppermint Grove, Piano Gully Wines, Smithbrook.

The Manjimup Wine Region includes two districts : Manjimup South ; Manjimup North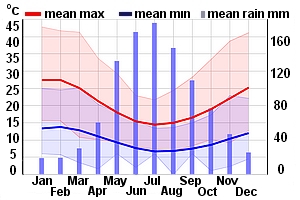 Winery Tour Map
Wineries
Angelicus Wines, WA Lot 10, Angels Road, PO Box 723, Manjimup WA 6258
Welcome to John and Sue Ward`s Angelicus Wines, one of Western Australia`s truly boutique wineries situated in the glorious South West of Western Australia where we take pride in producing premium quality wines. Located in the beautiful Ferguson Valley our property has sweeping views to Bunbury and the coast. We`re happily planting and tending our vines and look forward to offering you some fantas...
Batista Estate, WA Franklin Road, Manjimup WA 6258
Bob Peruch is the winemaker and Manager of Batista Estate located Manjimup,South West Coast, South West Western Australia,using his expertise in viticulture consulting and exporting the Batista Estate lable into Europe. Produces Pinot Noir, Merlot, Shiraz, Cabernet Franc, Cabernet Sauvignon. No other information....
Donnelly River Wines, WA Lot 159 Vasse Hwy, Peerabeelup WA 6260
Donnelly River Wines vineyard is located in the Pemberton Wine Region in South West Western Australia. Established in 1985, the property is 36km from the town of Pemberton on the Vasse Highway, and was one of the first wineries established in the region. The vineyard is around a three and a half hour drive south of Perth (350kms) and around an hour from Margaret River. Located on the banks of the Donnelly River, our family owned vineyard is in the heart of Karri country. These tall, majestic trees stand, forest upon forest, in national parks, amid creeks and rivers, wetlands and waterfalls. The rich river flats and the surrounding hills of silty loam have proved ideal for the vines. The area has a dry, cool ripening period that is well suited to most of the premium grape varieties. It is very wet during the winter months, and rainfall is stored in dams to be used for irrigation in the summer months.
Pemberley Winery, WA 104 Ockwell Rd, Eastbrook WA 6260
Pemberley of Pemberton produces a wide range of premium cool climate grapes, wines and gourmet food products. The property was first farmed by the Radomiljac family in the 1970s, and later established as a vineyard in 1995 by Monica and David Radomiljac who, along with the next generation, have worked consistently to refine this farming enterprise to ensure they offer the best produce possible.
Smithbrook Wines, WA 92 Smith Brook Rd, Middlesex WA 6258
Smithbrook is a boutique vineyard and winery located in Western Australia's picturesque Pemberton, a three-hour drive south of Perth and 90 minutes south of Margaret River. In recent years, Pemberton has gained increased prominence and recognition due to its evolution as an exceptional cool-climate grape-growing area.
Truffle Hill, WA Seven Day Road, Manjimup WA
Delve into a taste of the finer things in life at Truffle Hill in Manjimup, where truffles and wine unite to delight the inner gourmand. Ranging from everyday easy drinking varieties through to fine wines of deep complexity and elegance, Truffle Hill's award winning small batch vintages are designed to sit alongside the largest selection of gourmet Superior Perigord truffles in the Southern Hemisphere. Swirl and savour your way through the wine selection in the rustic cellar door, complemented by sweeping views of lush vineyard and the awe inspiring grounds of one of Australia's most successful truffieres. Whilst the 2012 Shiraz embodies a powerful palate of berries and spice, the 2013 Sauvignon Blanc keeps it light and juicy with an intensity of zesty lime, passionfruit and citrus tones.