Jump to Winery List
Peel River Region
East Peel and Wandering Wine District includes wineries and vineyards in the hinterland areas inland from Mandurah, south-east of Perth. Some of the townships in this district include: Wandering, Boddington, Quindanning, Wundowie. The Shire of Wandering is being transformed as many people see it as an ideal destination for a `Bush Change`. It is so close to Perth that it is easy not to miss out on the big-city attractions. It is also a great place to visit. The Wandering Brook Estate Winery is an attractive and very scenic local winery overlooking the township of Wandering that typifies the approach taken by the boutique wineries in the area. Wandering Brook Estate Winery has tastings and cellar sales of their local wines and a variety of local food produce from the Heartlands region. They also have a restaurant that serves home style cooking and fine dining. Wandering is located about 70 km from Williams and Boddington and is only about an hour and a half drive from Perth. Relax and stay a night to break the journey while driving from Perth to Albany, or just relax and spoil yourself in the beautiful accommodation overlooking the rolling hills of the Peel Region for a week-end away enjoying wine tours. Some of the many wineries in the area include: Hotham Valley Estate, Mount Saddleback Wines, Wandering Brook Estate.

The Peel Wine Region includes two districts : Mandurah - West Peel ; Wandering - East Peel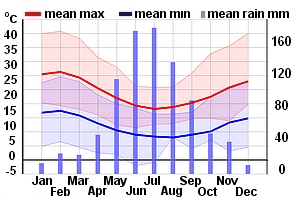 Winery Tour Map
Wineries
Beltana Springs 751, WA RMB 501 Brookton Western Australia
Welcome to Beltana Springs, we are a small vineyard and wine producer uniquely located near Brookton in the picturesque rural landscape of Western Australia's Dale River area. At Beltana Springs we hand pick our grapes from low yielding bush grown vines. We produce high quality wines from Shiraz and Grenache grapes and some Cabernet Sauvignon. Our flagship wine is our full bodied Shiraz, both the 2005 and 2007 vintages have won bronze medals at the West Australian Wheatbelt Wine Awards.
Hotham Ridge Winery and Cottages, WA 586 Wandering-Pingelly Rd, Wandering WA 6308
You will find the Organic/Biodynamic Hotham Ridge Winery in the Hotham Valley in Western Australia, about one and half hours south east of Perth, on the Wandering-Pingelly Road. The Organic/Biodynamic vineyard and winery of Hotham Ridge was established in 1988 and the first wines were made in the early 1990's. The state-of-the-art winery was built in 1993 and after several changes of ownership the present owners bought the vineyard and winery in 2002 and immediately began to convert the vineyard and winery to organic and biodynamic practices. Situated at an altitude of 350 metres, Hotham Ridge enjoys ideal growing conditions – hot summer days, cool nights and cold winters. These ideal growing conditions show up clearly in the wines, which combine elegance, structure with vibrant fruit characters. Our emblem is the Magpie – a quintessential sight and sound in our part of the world.
Tanglefoot Winery & Cafe 751, WA 2507 N Bannister-Wandering Rd, Wandering WA 6308
Produces Semillon, Zinfandel Tintacao, Shiraz, Cabernet Sauvignon, Primivito & Merlot. Located on North Wandering Rd north of the townsite, Tanglefoot offerslight meals, wine tastings and cellar door sales. Chalet accommodation is available.
Wandering Brook Estate, WA 100 North Wandering Road Wandering 6308
The Wandering Brook Estate cellar door is a rammed earth building situated amongst the grapevines, overlooking the small rural town of Wandering just 1 hours drive from Armadale and 1.5 hours from Mandurah. Catering for functions including weddings, we can seat up to 120 people. We also have 3 self contained chalets just a short walk to our restaurant. Come and try our red and whites wines, and sweet and dry ports. Opened for tastings by appointment and pre booked meals available.
Wandering Lane, WA Herdigan Road, Wandering
Prominent Western Australian Cardiologist, Dr Geoffrey Lane, purchased the vacant parcel of farm land in Wandering in 1995 with dream of pursuing his passion of wine from consumption to producer! The aim was to establish a viable vineyard producing top quality wines. Since then, the Lane family has developed the property from the ground up, including hand planting almost 30 acres of vines, comprising a range of varieties from Shiraz, Chardonnay, Semillon to Zinfandel and lovingly restoring the family homestead that now boast magnificent views over the entire estate and surrounding National Park.