Jump to Winery List
Peel River Region
West Peel and Mandurah Wine District includes wineries and vineyards in the coastal areas near Mandurah, just south of Perth, and North of Harvey and Bunbury. Some of the townships in this area include: Rockingham, Mandurah, Pinjarra, Waroona, Byfold, Jarrahdale, Sepentine, Dwellingup. The vibrant and exciting city of Mandurah is renowned as the gateway to all the wonderful attractions and activities in the Peel region that is just a short drive south of Perth. Mandurah has a fabulous range of restaurants, shops, craft outlets, fresh food markets, art galleries and cultural centres. The beautiful Mandurah Ocean Marina, located in the heart of Mandurah, offers cruises, fishing charters. Take a cruise on the beautiful calm waters of the Peel Inlet, the Harvey Estuary and further out onto the brilliant blue waters of the Indian Ocean. You can see schools of dolphins, delightful pelicans in their natural habitat and a fabulous selection of elegant water birds. The area is a boating paradise offering many activities such as crabbing, swimming, fishing, canoeing, kayaking, surfing and sailing and many more activities. There is a broad range of accommodation available to use as a base for exploring the Peel Region. You can hire a houseboat for an idyllic adventure the estuary and river. The area has a plethora of golf courses, beaches, rocky headlands, National Parks and nature reserves for visitors to enjoy. Some of the many wineries in the area include: Baldivis Estate, Cape Bouvard Winery, Drakesbrook Wines, Peel Estate, Peel Ridge.

The Peel Wine Region includes two districts : Mandurah - West Peel ; Wandering - East Peel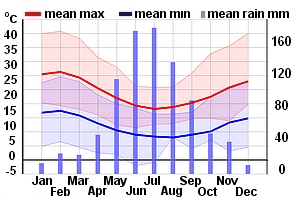 Winery Tour Map
Wineries
Cape Bouvard 750, WA Mount John Road, Mandurah, WA 6210
Located in the beautiful Mandurah region of Western Australia, right next to the Thrombolite formations of spectacular Lake Clifton. When French sailors discovered Western Australia in 1801, they named the area "Cape of Bouvard" after French astronomer Alexis Bouvard. Years later, wine makers discovered that French grape varieties thrive at Cape of Bouvard. The name lives on at Cape Bouvard® Winery & Brewery. Come and visit us today and discover our large selection of wines, boutique beers and restaurant food!
Drakesbrook Wines, WA 27 Scarp Rd, Waroona WA 6125
Nestled between the rolling hills of the Darling Scarp, with views across the plains to the Peel inlet in Mandurah lies the stunning Drakesbrook property. Neighbours include Lake Naverino dam, a popular skiing and fishing location, dairy farms and National parkland - all just a short drive from the pretty south west town of Waroona located less than 2 hours from Perth. We invite you to explore, di...
Millbrook, WA Old Chestnut Lane Jarrahdale
Millbrook is a boutique winery situated in the historic town of Jarrahdale in Western Australia, 45 kilometres south-east of Perth. The winery is located at picturesque Chestnut Farm nestled among virgin jarrah forests, with stunning vistas of the rolling landscape. Join us in the tasting room from Thursday to Monday to sample the award-winning Millbrook wines, with a great range available to purchase by the glass and bottle. There's also a selection of light snacks to enjoy while soaking up the sun on the deck, with views over the lake. To complement the fine wines, the Millbrook Winery restaurant offers a unique "from the property" menu, which changes with the seasons to utilise more than 100 varieties of heirloom vegetables grown and handpicked daily from our one acre garden.
Peel Estate, WA 290 Fletcher Road, Karnup, WA 6176
Peel Estate is one of Western Australia`s most prestigious premium wineries. It was established in 1974 by Will Nairn who continues to delight wine connoisseurs with his remarkable range of red and white wines produced on coastal limestone country at Baldivis, which is about 70km South of Perth, Western Australia. Wine is made on site in a colonial style, architect designed winery set in a magnifi...
Peel Ridge Wines, WA 48 Winery Drive Karnup WA
We are producers of quality wines made from grapes grown in our green managed vineyard. We are situated close to the towns of Rockingham, Mandurah and Baldivis, making an ideal spot for an afternoon excursion Our range includes classic white chenin and verdelho and classic red shiraz and cabernet sauvignon. In addition, we produce speciality nebbiolo and tempranillo wines. We offer free wine tasting each weekend and at other times by appointment.
Raven Wines, WA 41 Wilson Road Pinjarra 6208
Raven Wines Pinjarra is a boutique winery of the Peel Wine Region that handcrafts a range of red and white wines using premium hand picked fruit sourced from the local wine region. To compliment the handcrafted wines made on site by winemaker and owner Warren Brown, Raven Wines celebrates the grape with good food with a selection of grazing plate options designed to accompany wine drinking and our bottled beer selections. We invite you to enjoy the contemporary setting of the Raven Wines property while sharing small plates of delicious fresh food over a glass or bottle of wine, or beer, until your appetite is satisfied.
Stakehill Estate Winery, WA 91 Stakehill Road, Karnup
Stakehill Estate is a boutique winery located in the Peel region. We make a range of Chilli wines in a variety of "heat" levels as well as traditional and fruit wines. Stakehill Estate is a family run vineyard and winery established in 1998 by the current owners.
Three Rivers Brewing Company, WA 2/6 Harlem Place, Greenfields WA
We're a small, family owned and run microbrewery located in the beautiful Peel Region of WA. Our philosophy is a simple one... We've had enough of mass-produced beer made from cheap ingredients and we think the beer-loving public deserves better. We produce a range of award-winning beers made from only the finest ingredients, conforming to the strict German beer purity law - the Reinheitsgebot. We use only water, malt, hops and yeast in most of our beers, and those with extra ingredients still use only the finest quality extras such as coriander and citrus. No additives, no preservatives, no colours, no cheap sugar (you'd be surprised!).
Tuart Ridge, WA 344 Stakehill Road, Baldivis, WA 6171
Phil Franzone has established chardonnay, verdelho, shiraz, cabernet sauvignon, grenache and merlot on the coastal Tuart soils. Phil also acts as contract winemaker for several of the ventures springing up in the Peel region.