Jump to Winery List
Pemberton Central District
The Pemberton Central District in the Pemberton Wine Region south of Perth, includes wineries in the vicinity of central Pemberton, Northcliffe, Manjimup. Pemberton is an ideal location from which to explore the south west corner of Western Australia, being close to Margaret River, Busselton, Walpole/Nornalup and the Valley of the Giants, and is only 100km drive from Bunbury. Pemberton was developed in 1913 as a timber town and has since diversified into fresh farm produce and wines. Pemberton has a Mediterranean climate rich soils and friendly local communities. You can enjoy wonderful camping and bushwalking, and guided eco-tours in the magnificent forests. You can also discover the forest on horseback on mountain bikes and in 4WD vehicles. You can also discover the secret Yeagerup sand dunes and explore the beaches and the nearby coastal attrctions and activities. Pemberton's abundant fresh water and cool climate provide ideal conditions for rearing marron (a local freshwater crayfish) and trout. You can buy your trout and marron directly from the farm or catch your own in the farm's ponds. The beaches close to Pemberton also offer superb swimming, fishing and beach fishing. The are many arts and crafts galleries in the area, many specializing in wood creations. Enjoy gourmet meals served with local wines in the many restaurants with views over the magnficient karri forests. Pemberton is a favourite tourist destination renowned for its majestic karri forests, cool and clear flowing streams, steep river valleys, beautiful secluded white beaches, and excellent fishing and boating.

The Pemberton Wine Region includes four districts : Pemberton-West ; Pemberton-Central ; Qunninup ; Northcliffe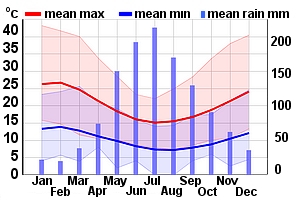 Winery Tour Map
Wineries
Bellarmine Winery, WA 332 Smiths Rd Eastbrook
Bellarmine Wines was established in 2000 when vines were planted on this special site, 220m above sea level with gravel laterite soils. German owners, Willi and Gudrun Schumacher searched the world for a place to grow and make high quality wines. All the vines are on Schwartzmann rootstock and they struggle to grow which keeps crop levels low and promotes high quality fruit. From the first vintage in 2004, made by winemaker Diane Miller, the wines have received widespread critical acclaim and won numerous awards. Rated red 5 stars by James Halliday, the winery is proud to be part of the high quality Pemberton region. Bellarmine is featured in James Halliday's book, Top 100 Wineries of Australia.
Bellarmine Wines, WA 1 Balyan Retreat, Pemberton, WA 6260
Bellarmine vineyard is 20 hectares in size. Varieties planted include Riesling, Chardonnay, Sauvignon Blanc, Pinot Noir, Shiraz, Merlot, and Petit Verdot. The vines sit on an elevated site 220 metres above sea level. Sand dunes located on the south coast about 50km away can be seen from the vineyard. Soils are gravel laterite. Irrigation is used very rarely in this high rainfall area. Ever since the first vintage in 2004, Bellarmine has consistently produced stunning wines. Bellarmine Wines is rated 5 stars out of five by renowned wine writer James Halliday.
Below and Above, WA Thella Estate, 43 Eastbrook Road Pemberton WA 6260
Located in the heart of Pemberton's southern forests, Thella Estate was identified early by Western Australian viticulture pioneers as one of the best patches of dirt in the state for growing Chardonnay and Pinot Noir.
Hidden River Estate, WA Mullineaux Road, Pemberton WA 6260
Hidden River Estate Winery and Cafe Restaurant is a place where you can have a bit of fun, relax and enjoy some laid-back music, magnificent water/forest views, great food (cooked with TLC by Sandy using mainly local produce) and the selection of handcrafted boutique wines, served by Phil in a friendly and relaxing atmosphere. The winery caters for groups both for tastings and food, and has a `Kid...
Houghton, WA Stirling Road, Pemberton WA 6260
Houghton Wines, based in the heart of the Swan Valley, contains a wealth of romantic history. The vineyard, just half an hour`s drive from central Perth, produced its first commercial wine vintage in 1859 although vines are known to have been flourishing on the property`s rich Swan Valley soil nearly thirty years earlier. Named after Lieutenant Colonel Richmond Houghton in 1836, the first commerci...
Lefroy Brook, WA Glouder Rd, Pemberton, WA 6258
See Moss Wood -Lefroy Brook Vineyard - Pemberton is one of their vineyards. This attractive vineyard is set in an amphitheatre of karri trees along the Pemberton to Northcliffe train line, south-east of Pemberton near the Cascades - a tourist landmark and a place of remarkable beauty. The vineyard is surrounded by National Park so the entire vineyard is permanently netted. It has been established ...
Lost Lake Pemberton, WA 14591 Vasse Hwy, Pemberton WA 6260
In the industry for over 20 years Ashley Lewkowski has worked at some of Australia's most renowned wineries and vineyards and has been recognised with many Australian and International Awards. In embarking on Lost Lake in early 2014 Ash is excited to be bringing all his experience together with some of the oldest vines and best soils in the Pemberton region. A strong believer in the cause and effect philosophy of wine making and vineyard management, Ash believes that this 'purist' approach to wine making, coupled with the very best processes & environmentally conscious management will make our wine and property a pinnacle of cool climate quality.
Mountford Wines, WA Bamess Road, Pemberton WA 6260
The Mountford family selected Pemberton for the unique flavour potential of wine grapes grown in this cooler, largely forested region of high winter rainfall. Trained horticulturist and wine lover Andrew, chose the site because of its unique combination of soil, climate, topography and of course most importantly the right feel! Eighty acres of undulating country gave all the variability needed for...
Mountfords & Tangletoe Cidery, WA Bammes Road , Pemberton
Certified Organic Wines and Ciders. Established in 1987 and still owned and operated by the original family. Mountford Winery boasts award winning cellar sales and a gallery with beautiful gardens for patrons to picnic. An occasional concert venue through summer and winter, see our website for details. Free tasting of full range of our wines and ciders, including reserve styles when available. Traditional English and European styles of cider, organic and preservative free. Farmhouse "Scrumpy" cider available in season.
Pemberley of Pemberton, WA Ockwell Rd Pemberton
Pemberley of Pemberton has 15 hectares of vineyard which include plantings of Sauvignon Blanc, several varieties of Chardonnay including traditional French clones, Semillon, Pinot Noir, Merlot and Shiraz. The best premium grapes make the best premium wines and consistently producing premium fruit is the principal aim of Pemberley of Pemberton. The vineyard has achieved this season after season. Hand picked parcels of Pemberley of Pemberton fruit go into the premium wines, produced by nationally acclaimed winemakers that are the building the reputation of the Pemberton Wine Region. These wines form the basis of the Pemberley of Pemberton Collection of super premium wines of which we are so proud.
Pimelea Vineyard, WA Sterling Road, Pemberton WA 6260
Pimelea is a family owned vineyard nestled in the valleys of Pemberton, Western Australia, overlooking the majestic Karri forests. The vineyard is located on Stirling Road just a 10-minute scenic drive north-west from the heart of Pemberton. The premium grapes are sourced exclusively from the vineyard and are grown in a region noted for its cool climate and intense fruit flavour. They chose the na...
Rambouillet Winery, WA 403 Stirling Road Pemberton
Rambouillet is a boutique vineyard situated on Stirling Road, about 5 kms north-west of Pemberton. Set at the rear of a beautiful farming property, and surrounded by the picturesque Karri forest, the vineyard is comprised of 10 acres of Chardonnay, Sauvignon Blanc and Shiraz vines. A very special tasting room opened recently, is a place where visitors can taste and explore our small, but diverse, range of award winning wines. Come and talk to the owners, Alan and Leanne, who will be happy to share their wine journey with you.
Smithbrook, WA Smithbrook Road, Pemberton, WA 6260
Smithbrook is a boutique winery situated on one of the states most picturesque sites in Pemberton, Western Australia surrounded by spectacular towering Karri trees. The property is a 3 hour drive south of Perth and 90 minutes south of Margaret River. One of an exciting group of emerging wine regions in the South West, Pemberton is gaining prominence through its evolution as an exceptional, maritime climate grape growing area. Underlying the southern corner of Western Australia is a huge mass of granite rock called the Yilgarn craton. The Yilgarn craton is recognised as the oldest rock formation on earth dating back more than 3 billion years. The gravelly ironstone soils that have formed on the higher ground above the craton are found throughout Pemberton and the Smithbrook vineyard.
Tantemaggie, WA Mullineaux Road Rd, Pemberton, WA 6260
Tantemaggie is the largest family owned and operated vineyard in the Pemberton area. It is located on a unique ridge with the stunning backdrop of Big Brook forest. Most of the production is sold to other wine companies for premium wine. However, each vintage, we choose the best parcels of fruit and use this in our exclusive Tantemaggie label. All Tantemaggie wines are 100% estate grown. Good wine...
Woodsmoke Estate, WA 64 Kemp Rd, Pemberton WA 6260
WoodSmoke Estate is situated in the picturesque region of Pemberton in the South West of Western Australia where the climate of dry mild summer days and cool nights produces premium wines of unique style of intense flavour. The vineyard is planted to the classic varieties of Semillon, Sauvignon Blanc, Cabernet Sauvignon and Cabernet Franc. WoodSmoke Estate adopt traditional viticulture practices with modern techniques to ensure that premium grapes are produced from vines that are in balance with its soils and microclimate. Woodsmoke Estate wines are limited in production as fruit is sourced 100% from the Estate. Woodsmoke Estate wine is found in selected Restaurants within Australia and from Cellars Sales. Cellar Sales operate Thursday - Sunday, 11am - 5pm & School Holidays, except on Christmas day and Good Friday.
Yeagarup Vineyards, WA Packer Rd, Yeagarup WA 6260
Yeagarup Vineyard's encompass two distinct properties within the Pemberton Wine  Region. The vineyards are situated on a gentle north facing slopes at an altitude of 300 metres and 15 kilometers from the Southern Ocean. Yeagarup's rich gravelly loam soils and cool climate are noted for being of the best regions in Australia for the growing of Pinot Noir, Sauvignon Blanc and Chardonnay.