Jump to Winery List
Narooma Wine District
The Narooma Wine District, in the Far South Coast Region of New South Wales, is based on the coastal tourist town of Narooma and the surrounding villages on the coast and in the hinterland, located about 350 km south of Sydney. One of the major coastal attractions are the superb beaches, the Wagonga River estuary and Montague Island, that lies 11 km offshore from Narooma, and has a unique colony of Australian fur seals and a wonderful variety of bird life such as well as silver gulls, mutton birds, sea eagles, terns, harriers, little penguins, hawks and peregrine falcons. There is superb fishing in the river and estuary and from the headland and beaches. The offshore fishing has an international reputation. Traditional local industries include timber, oyster farming and tourism. Narooma and the nearby towns have wonderful facilities for many activities including : golf, whale-watching and cruises to Montague Island, diving, surfing, swimming, fishing, bushwalking, mountain bikes.

The Far South Coast Region is home to 4 districts: Batemans Bay ; Narooma ; Bega ; Eden.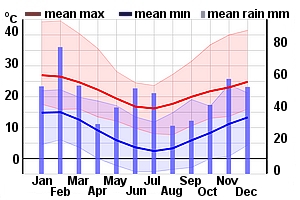 Winery Tour Map
Wineries
Mimosa Wines, NSW 2845 Tathra Bermagui Road, Murrah 2546.
Nestled at Murrah, midway between the coastal townships of Bermagui and Tathra, this 200-acre property is discreetly tucked away in a coastal valley between the pristine beaches and spectacular coastline of Mimosa Rocks National Park and the rainforest, waterfalls and mountain scenery of Biamanga National Park. The seven-acre vineyard has been established since initial plantings in 1999. Winemaker Glenn Butson appreciated the challenges involved with growing grapes in this fickle maritime climate and selected Chambourcin, Verdelho, Tempranillo and the ultra premium Spanish white Albarino for their compatibility with the terroir and lifestyle of this unique area.With biodynamic practices employed to invigorate soils and combat disease, and passionate wine-making producing innovative wine styles, these selections have proven inspirational.
Rusty Fig Wines, NSW Coolagolite, near Bermagui
Rusty Fig Wines takes its name from the native Rusty Fig tree, also known as the Port Jackson Fig, which grows on the slopes of Gulaga, the mountain overlooking our vineyard. Due to the vineyard's proximity to the coast at Bermagui, our wines display typical cool climate characteristics. The high acidity associated with cool climate wines means they age well, developing added richness over time. Whites in our own cellar are drinking beautifully 8 years after bottling. Rusty Fig Wines was established by Gary, the vigneron, and Frances in 2002, and is family owned and operated vineyard. It is located between Cobargo and Bermagui in a locality known as Coolagolite, only 10km from the coast.
Tilba Valley Winery And Ale House, NSW 947 Old Hwy, Corunna NSW 2546
We have 10 acres of established vines, producing grapes for over 40 years of wine production in Tilba Valley. The historic Corunna Lake property spans some 30 acres and was chosen for it's northerly aspect. We produce Semillon, Cabernet Sauvignon, Reisling, Traminer, Shiraz, Chardonnay. The winery building incorporates a cellar door facility and a large function room as well as modern winemaking equipment and two cellars. The winery has a fermentation capacity of some 15,000 litres. It produces about 1250 cases of wine per annum, almost all of which is sold at the cellar door.