Jump to Winery List
Batemans Bay Wine District
The Batemans Bay Wine District, in the Far South Coast Wine Region is based on the towns and villages of the Eurobodalla Shire and is centred on the fabulous holiday destination of Batemans Bay. The area features a stunning coastline of beautiful beaches, fabulous surfing, wonderful fishing in the rivers, estuaries and offshore coastal area and spectacular scenery along the coast that features craggy headlands, beaches and inlets and rugged hills in the hinterland. You can join a cruise on the pristine Clyde River, or enjoy the features of the many historic villages, which boast fabulous cafes, arts and craft galleries and wonderful local fresh foods and wines. Some of the major tourist attractions include: # Nelligen, a charming village located about 10 km upstream from Batemans Bay # The renowned Mogo Zoo #Old Mogo Town, a theme park based on a 1850s gold rush town # The craft shops and historic cheese factory at Central Tilba # The Narooma Blues Festival,which is held in September or October, each year # Montague Island Tours # Murramarang National Park.

The Far South Coast Region is home to 4 districts: Batemans Bay ; Narooma ; Bega ; Eden.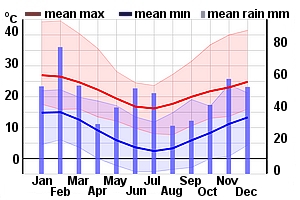 Winery Tour Map
Wineries
Bawley Vale, NSW Bawley Point Road, Termeil NSW
Located on Bawley Point Road 2.26 kms from the Princes Highway and 1.5 kms from the coast Award-winning Bawley Vale Estate sits on 100 acres of prime South Coast land. The Vineyard is comprised of modern wine tasting and cellar door facilities surrounded by citrus and olive groves. There is also an extensive and varied fruit orchard, and 8 acres of grapes which produce over 20 tonnes of grapes ann...
Elysium Wines, NSW Bimbimbie Estate Mogo NSW 2536
Elysium Wines' range of fruit wines, sparkling & dessert wines will tempt your palate and delight your senses. Featuring Australia's premier Native fruit wines and beverages in varieties such as Lillipilli, Plum Pine and Lemon Aspen, we produce modern Australian wines from handpicked native and wild fruits. Our creative blends and distinct style are a result of over 10 years experience and experimentation making wine with native and exotic fruits. We'd love for you to visit our cellar door on the beautiful NSW south coast. Sample unique, locally made wines, all made and bottled onsite, low-preservative and vegan-friendly.
Fern Gully, NSW 1468 Princes Highway, Termeil
Visit our friendly cellar door, see winemaking equipment and speak to the winemaker, or book a tour. Take in aromas of maturing wine, while tasting quality wines made from our hand picked Chardonnay, Shiraz, Chambourcin and Cabernet Sauvignon (planted in 1996), including dry wines, a delicious Rose`, Noble dessert wine and Fortified Vintage Shiraz (port).