Jump to Winery List
Gerringong Wine District
The Gerringong Wine District is centred on the popular coastal town of Gerringong, Gerroa and Kiama, which have fabulous beaches, lovely green farmlands and natural areas all within a 2 hour drive (125 km) from Sydney, just perfect for a day-trip or a weekend getaway. You can enjoy wine tastings at the Crooked River Winery and the many other wineries nearby. Local attractions and activities include: # Browse through the Gerringong Heritage Museum, including the Kingsford-Smith display # Surfing at Werri Beach and the many other beaches nearby. and joining in the fun of the The Bob Churton Memorial Surf Spectacular Carnival that is held in January and features lots of live music, surfing competitions, fashion parades, beach barbecues, fishing and beach volleyball. # The Gerringong Street Parade, Party and Concert held in December # Enjoying the views from the Mount Pleasant Lookout. # Golf at one of the ten scenic course in the area. # Enjoy the local dairy products.
The Shoalhaven Coast Region is home to 3 districts: Berry ; Gerringong ; Ulludulla.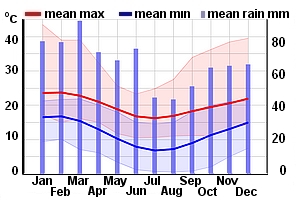 Winery Tour Map
Wineries
Crooked River, NSW 11 Willow Vale Road, Gerringong NSW 2534
The Crooked River runs through the vineyard, which is situated within 3km of both the mountains to the west, and the ocean and white sandy beaches to the east. All wine is made on the estate using grapes grown on the estate. Crooked River Wines is the largest self producing winery in the Shoalhaven Coast. The Cellar Door and Cafe is set on one of the highest points of the estate and overlooks the ...
Roselea, NSW 310 Princes Highway, Gerringong NSW 2534
Roselea Vineyard has been established by Jeff and Margaret Lester and is operated as a small family business on their property at Gerringong. The vineyard is located on a north facing slope overlooking Rose Valley and Werri Beach. The climate is mild without frost or the severe heat of summer. Sea breezes provide a longer ripening period for the grapes to mature, with harvesting taking place from ...