Jump to Winery List
Picton Wine District
The Picton District is located in the Macarthur Wine Region south-west of Sydney. The surrounding towns, villages and farms and the wonderful natural area and rural setting provide a draw-card for visitors. The Thirlmere Lakes National Park a major natural attraction offering bushwalking, canoeing and kayaking. Picton has a wonderful array of heritage buildings featuring late-Victorian and Colonial architecture, as well as cafes, arts and craft shops and museums. Nearby is the intriguing Thirlmere Rail Heritage Centre which has a huge collection of heritage trains and steam locomotives in Australia. You can also have fun with a number of adventure activities, including go karting and sky-diving. Other activities include # Join a nightly ghost tour with Picton Ghost Tours # Enjoy a drink at the Picton's George IV Inn # Enjoy a picnic and the scenery at the 5 water reservoirs in the district such as Cataract Dam and Warragamba Dam, which is a major water supply reservoir for Sydney.

The Macarthur Wine Region in Western Sydney is home to three districts: Luddenham ; Camden and Picton.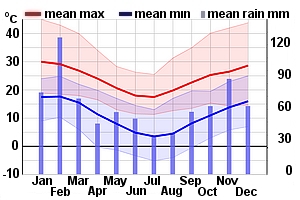 Winery Tour Map
Wineries
Nangarin Vineyard Estate, NSW Barkers Lodge Rd, Picton NSW 2571
The Nangarin Vineyard Estate is a combination of prestigious homes and vineyards located approximately 3 minutes from the centre of Picton, 100kms South West of Sydney, NSW. The estate is the region's first residential vineyard project and one of the most popular rural residential concepts in Australia. Here the rural environment is carefully protected by a community management statement controlling building style, size and materials, and the positioning of the homes on their large rural lots. Relics of the area's history have been retained and sit comfortably among the estate's community facilities. The vineyards also link Nangarin to its past - Picton being the location where wine grapes were first grown in NSW. This web site is to inform the residents about all aspects of the estate and activities that occur within the estate. It is also meant to make non-residents aware of the unique qualities of the estate.