Jump to Winery List
Camden District
The Camden District is located in the heart of the Macarthur Wine Region of Western Sydney. Camden boasts outstanding heritage, wineries, a charming rural community, adventure and lots of natural charm. The district is located about 55 km south west of the centre of Sydney. Camden is located by the Nepean River and is surrounded by a number of towns and villages including Campbelltown, Cobbity, Camden Park, Narellan, Kirkham, C atherine Fields. The area has a number of outstanding boutique wineries and horse riding.

The Macarthur Wine Region in Western Sydney is home to three districts: Luddenham ; Camden and Picton.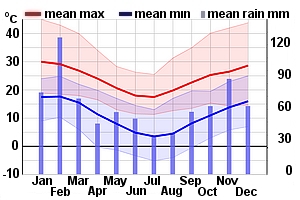 Winery Tour Map
Wineries
Camden Estate, NSW 172 Macarthur Road, Elderslie NSW 2570
Camden Estate Vineyards are located in Elderslie near Sydney on New South Wales Central Coast. Winery with tasting facilities is set on the Nepean River opposite where Macarthur planted Australia`s first vineyard. In the early 1990`s the vineyard was converted to 100% Chardonnay as it was found that the deep alluvial soils best suited this variety, producing a distinctive regional wine with elegan...
Gledswood, NSW 900 Camden Valley Way, Catherine Fields, NSW 2171
Gledswood Homestead is nestled amid rolling pastures in the Macarthur district, a unique collection of colonial buildings dating back to 1810. A relaxed country rural setting to enjoy entertainment that captures the spirit of this historic setting. Set on 64 hectars Gledswood Homestead (circa 1810) is a grand convict build sandstone home. Originally owned by the Chisholms, an early pioneering fami...
Razorback Ridge Wines, NSW 20 Dawson Ave, Menangle NSW 2568
The Razorback Ridge vineyard is located at the base of the Razorback Range in Menangle, NSW. It is just minutes from Camden in the Macarthur region. Our vines are hand pruned and handpicked to ensure premium quality fruit, they were planted in the year 2000. The Macarthur area has been referred to as the birthplace of the Australian wine industry. It was named after John and Elizabeth Macarthur who were pioneers and founders in both the wool and wine industries. These early settlers first farmed the area over 200 years ago and they planted one of the first commercial vineyards in Australia. It is in this area some 180 years later that the vineyard at Razorback Ridge Wines is planted.