Jump to Winery List
Moss Vale Wine District
The Moss Vale Wine District is part of the boutique Southern Highlands Wine Region, located about 130 km south-west of Sydney and west of Nowra and the Shoalhaven Coast Wine Region. Moss Vale has a delightful setting and is surrounded by rolling green pastures and hills, with tree-lined streets and wonderful gardens that thrive on the volcanic soils and the cool climate and reliable rainfall of the area. Moss Vale is renowned as a fabulous places for a week-end visit to enjoy the bed and breakfasts, the country hospitality, the wonderful local foods and delicious cool-climate wines and the divers array of arts, crafts and antique shops at the many small villages dotted throughout the district. The area has an interesting heritage that is showcased at the many historic buildings and farmhouses throughout the area. Moss Vale developed after the arrival of the railway in 1867, and Moss Vale was one of the first towns in NSW with electric lighting that was installed in the early 1900s. Today tourism, olives wines and cattle grazing are the main industries. You can catch a train to Moss Vale from Sydney and ,many local residents commute for jobs in the big smoke. Some of the local attractions, events and activities include: # Tours to visit many of the historic buildings in the area, such as the Anglican church, the Dominican convent, Kalourgan, the historic Briars Inn, that was built in 1845 # Enjoy tasting the cool-climate wines and fine foods along the Food and Wine Trail. Visiting the historic township of Bong Bong, and see Christ Church, which was consecrated in 1845.# Enjoy an historic train trip aboard the historic carriages of The Cockatoo Run that carries passengers to Robertson or to the coast stations. # Farmers Markets, Moss Vale Agricultural Show, Moss Vale Golf Course, the Southern Highlands Regional Gallery and bushwalking in the many natural areas in the district such as the Cecil Hoskins Nature Reserve near Bong Bong.

The Southern Highlands Region is home to 3 districts: Bowral ; Moss Vale ; Bundanoon.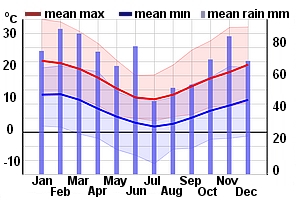 Winery Tour Map
Wineries
Cherry Tree Hill Wines, NSW 12324 Hume Highway Sutton Forest NSW 2577 Australia
Come and try the best Riesling in NSW and the best Chardonnay, Sauvignon Blanc, Rose and Cabernet Merlot in Australian Highlands. The Lorentz family have a long history of wine producing, dating back generations to when they ran a vineyard in Hungary. When the grapes were planted at Cherry Tree Hill in 2000, a lot of the techniques and traditions were incorporated into the process that culminates in the award winning wines that they are currently producing. The team at Cherry Tree Hill is dedicated to producing a range of award winning quality boutique wines at an affordable price.
Eling Forest, NSW Hume Highway, Sutton Forest 2577
Eling Forest was first established in 1990 and now has over 12 acres of vinyard. The first vintages were produced in 1993 and since then Eling Forest has established itself as one of the premiere wineries in the area. Eling forest produces a wide variety of wines including: White Wine and Blends: Riesling, Chardonnay, Sauvignon Blanc, White Frontignac, Classic Dry White, Late Picked Riesling, Botr...
Fifth Chapter Estate, NSW Lot 7 Walkers Lane, Avoca NSW
Fifth Chapter Estate is a boutique wine producer situated in the small village of Avoca in the Southern Highlands. Cindy and Roy Manassen have lost no time in establishing a Garden of Eden on their Southern Highlands property. Cindy completed her wine science degree from CSU in 2004, and both during her studies and since, has worked several vintages in Gevrey Chambertin in France. Pinot noir (1.5 ...
Rotherwood Wines, NSW 621 Illawarra Hwy, Sutton Forest NSW 2577
The lengthy ripening period associated with cool climate viticulture makes possible the nuanced flavours and texture that winemakers everywhere strive for. But cool climate viticulture, anywhere in the world, comes with a particular set of challenges. The Southern Highlands is no exception. Industry is needed and intelligence too. A recognition that quality must always take precedence over yield because despite the challenges only cool climate wines deliver the wonderful levels of complexity and interest that the long ripening period makes possible. At Rotherwood we understand these demands and believe each of our wines reflect in their own way this continual pursuit of excellence.
Southern Highland Winery, NSW Oldbury Road, Sutton Forest NSW 2577
The Southern Highlands Wine (SWH) has long been regarded as an area of great beauty and relaxation. Take a long, deep breath of the clean, crisp air and gaze across endless rolling green hills, then wonder why you didn`t escape to the Highlands sooner! Southern Highland Wines has created a winery that is fresh, modern and spacious, where you can experience our award winning cool climate wines and ...
Sutton Forest, NSW 21 Black Horse Lane, Sutton Forest NSW, 2577
Sutton Forest Estate Wines is a second generation family owned property.The Lo Russo family has been associated with the Southern Highlands for the past 26 years. We have combined our Italian background in grape growing and the rich soil and cool climate of the region, to produce premium quality wines, unique to the Southern Highlands of NSW. Our trademark, Sutton Forest Estate Wines, derives from...
Sutton Forest Estate Wines, NSW 21 Black Horse Lane Sutton Forest NSW 2577 Australia
Sutton Forest Estate Wines are makers of fine quality boutique wines, family owned and operated. Come and discover the premium, Italian style wines at one of the most authentic cool climate premium wineries in the Southern Highlands. Sutton Forest Estate Wines is "a little piece of Italy in the Highlands". Try our award winning cool climate wines, such as Chardonnay, Pinot Noir, Classic Forest Red and Classic Forest White. The Cellar Door is open for sales and tastings. They also serve light refreshments such as antipasto or cheese platters, coffee, espressos and teas. Large groups welcome, booking are essential. Come and enjoy!
Yarrawa Estate, NSW 43B Scotts Road Upper Kangaroo River NSW 2577 Australia
Yarrawa Estate Vineyard is nestled in between the rugged escarpments of Upper Kangaroo Valley, offering unmatched scenic beauty. This vineyard enjoys a temperate climate with rich volcanic and alluvial soils, providing an ideal environment for viticulture. Farm tours available by appointment to observe macadamia, walnut, pecan, and Japanese raisin trees plus large citrus grove. Seasonal farm produce is also available for purchase. Visit Yarrawa Estate cellar door for wine tastings. Sample nuts, jams, and pickles whilst enjoying the picturesque views. Wines produced include chambourcin (spray free and hand-picked), unwooded chardonnay (clean and fruity), verdelho (lovely summer wine), chardonnay (softly wooded, complements seafood, poultry), cabernet (Barossa Valley grapes), shiraz (mature, full bodied wine, great with most foods, pinot noir brut (apertif style with crisp finish), sauvignon blanc/semillon (easy drinking luncheon wine, Jasmin Grace (made with muscatel grapes, everyone's favourite)