Jump to Winery List
Bowral Wine District
The Bowral Wine District in the Southern Highlands Wine Region, NSW, is centred on the scenic cool climate areas around the delightful townships of Bowral, Mittagong and Berrima, located about 120 km south of Sydney. Bowral has always been a very popular wee-end getaway destination for Sydney's population because it combines rural charm, comfortable facilities and fabulous local wine of food. The town has stunning private gardens and magnificent tulip displays in Spring, roses in summer and all the colours of leaf fall from the European deciduous trees in autumn. Bowral is a stunning place to shop for arts and crafts, antiques, homewares, jewellery, fresh foods and wines. Some of the local attrctions and activities include: # Visiting the Bradman Museum of Cricket at the famous Bradman Oval that showcases the life of Australia's greatest cricketer # The many equestrian events held throughout the year and the local horse riding trails. # Enjoy many sports such as fly fishing, golf, bowls, rock climbing and bushwalking # The Bowral Tulip Festival held at the ends of September # The Bong Bong Picnic Races held in November # The Autumn Garden Festival in May # Wine tasting at the many boutique wineries in the area including Greenbrier Park Vineyard and Centennial Vineyards Winery , that has an outstanding restaurant. # Bushwalking on the many trails surrounding Mount Gibraltar and enjoying the views form the many scenic lookouts.

The Southern Highlands Region is home to 3 districts: Bowral ; Moss Vale ; Bundanoon.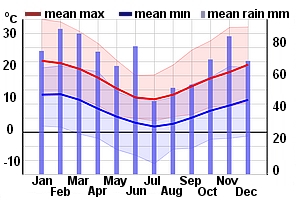 Winery Tour Map
Wineries
Artemis Wines, NSW 46 Sir Charles Moses Lane Old Hume Highway Mittagong NSW 2575 Australia
Artemis Wines is a family run winery situated in the Southern Highlands region of New South Wales. Established in 1996 the winemakers Antony and Mark Balog exhibit a passion to produce wines of European complexity and structure with intense Australian varietal definition. The symbol of Artemis Wines is the Crux Quadrata Cross, derived from a photo taken on a church wall overlooking the little bay at Juliana, Croatia. Here dingac wines and olive trees grow on a property that has had strong family ties for over four hundred years. The Southern Highlands is a premium cool climate winegrowing region, situated in NSW between Canberra and Sydney. It has a sub-temperate climate with mild summers and cool winters. The altitude of the Artemis Southern Highlands vineyards are between 600 and 700 metres at a latitude of 34.27 s and having an average rainfall of 850 millimetres.
Blue Metal Vineyard, NSW 112 Compton Park Road, Berrima NSW 2577
Bluemetal Vineyard offers a welcoming Cellar Door for wine tasting and sales in a beautiful Australian Vineyard setting just outside of the historic town of Berrima in NSW. Bluemetal Cafe is popular as a Southern Highlands wine and food destination serving gourmet local produce tasting plate, local gourmet pies, along with stocking a variety of local produce including Small Cow Farm cheeses, Far M...
Bousaada Wines, NSW Kells Creek Road, Mittagong NSW 2575
Cradled in the high ranges only 6 minutes from Mittagong`s town centre Bou-saada`s family run vineyard offers unique cool climate wines from grapes grown only on the property. Merlot, Sauvignon Blanc, Chardonnay, Riesling and Rose are available. A variety of stunning proteas are also grown on the farm. Use of local timbers dominate the environmentally sensitive, Australian contemporary design cell...
Centennial, NSW `Woodside` Centennial Road, Bowral NSW 2576
Centennial Vineyards is located just minutes from the historic township of Bowral in the Southern Highlands of New South Wales. This premium cool-climate wine region is just an hour from Sydney and Wollongong, and an hour and a half from Canberra. In this cold vineyard site with an altitude of over 700m, a long ripening season combined with very low crop levels and fastidious attention to viticult...
Cuttaway Hill Wines, NSW 212 Sallys Corner Rd, Exeter NSW 2579
The family owned Cuttaway Hill Wines is cradled in the cool climate wine region of the Southern Highlands continuing the traditions of cool climate grape growing and winemaking to produce wines of distinction and elegance. Our range of premium quality table wines artfully blend traditional and new world wine styles, using classic varieties with cool climate complexity and wide appeal, to represent the unique terroir that is the Southern Highlands and Cuttaway Hill Wines You can visit Cuttaway Hill Wines at our cellar door every week Thursday through to Monday right on our Southern Highlands vineyard at 212 Sallys Corner Road, Exeter
Davally Estate Wines, NSW 441 Tugalong Rd, Canyonleigh NSW 2577
Davally Estate is a boutique winery that is already renowned for producing exceptional examples of wine including stunning Chardonnay and Merlot. Located in Canyonleigh, an area that is highly regarded for grape growing and situated on the drier western edge of the Southern Highlands in NSW. Enjoying long sunny days and cool nights and with an attitude of 700m, this micro-climate lends itself to producing quality grapes with intense flavours and low yields. This beautiful estate is home to David & Ally Dawson. Part of a new generation of winemakers, David & Ally have a complimentary, yet unique approach to winemaking. David's viticulture skill set leans towards a more artisan 'old world' style of wine production. This combined with Ally's modern, scientific approach based on formal studies in Oenology, has produced exciting results with more natural, earthy and sophisticated wine.
Diamond Creek Estate, NSW 292 Diamond Fields Rd, Mittagong NSW 2575
Scenic winery & olive grove with wine & olive oil tastings on weekends by appointment only.
Highland Wines, NSW 30 Old Hume Highway, Berrima NSW 2577
Welcome to Geoffrey Crundall`s Highland Wines. I`m Geoffrey Crundall and I`ve been in the wine industry for nearly 40 years, mainly in Sydney. I have now moved to the Southern Highlands where I specialise in the cool-climate wines, beers and produce of the Southern Highlands and Canberra districts. I also have a range of glassware and affordable art. I am totally independent and carry only the win...
Howards Lane, NSW Welby (PO Box 431), Mittagong NSW 2575
Howards Lane Vineyard and Cellar Door is 3km west of Mittagong in the Southern Highlands of New South Wales Howards Lane Vineyard spreads below the northern slopes of the Gibbergunyah bushland, adjoining Bowral and Mittagong. Views from the farm range over the undulating hills of the Southern Highlands and at dusk yellow-tailed wallabies emerge from the bush to graze close to the Cellar Door. Corr...
Joadja Estate, NSW Corner Joadja and Greenhills Roads High Range NSW 2575 Australia
Joadja is the oldest Vineyard and Winery in the Southern Highlands. Interest in growing grapes in a cool-climate led us to investigate this high, cool region in the early 1980's where we recognised the potential of this district for premium grape growing, with its cool nights, warm days and extended autumn. At 750 metres above sea level , grapes ripen slowly developing intense flavour, freshness, character and complexity. Our vineyard is planted on volcanic soils at an elevation of 750 m, in the cool climate of the Southern Highlands of New South Wales. Warm days and cool nights allow the grapes to ripen slowly retaining flavour and freshness. Typically we pick our fruit from mid-March through to early May. The varieties are Cabernet Sauvignon, Sauvignon Blanc, Chardonnay, Malbec and newly grafted Pinot Grigio.
Marist Brothers Wines, NSW 843 Old South Road, Mittagong
We have come a long way since the first planting of Pinot Noir in 1999 to the release of our first vintage port for the Centenary of the Hermitage. Visitors to the Hermitage are now greeted by rows of meticulously tended grapevines - drawing many parallels to the French origins of the Marist Brothers. The first vineyard that you will discover once you leave the M5 motorway from Sydney is `The Herm...
Mundrakoona, NSW Sir Charles Moses Lane, Old Hume Hwy, Mittagong NSW 2575
Mundrakoona Estate (Vigneron Licence No. 24006988) is a family owned and operated vineyard and winery 4 kms south of Mittagong in the cool climate wine region of the Southern Highlands of NSW. The Balog family`s efforts have succeeded in turning a rough bush block and derelict house into a modern vineyard and boutique winery. (The name `Mundrakoona` was devised by eldest daughter Mary-Kate when sh...
Pulpit Rock Estate, NSW 2877 Wombeyan Caves Road, Bullio via Mittagong NSW
The vineyard is owned by Philip and Carol-Ann Martin. Philip manages the vineyard and is responsible for all viticultural decisions. Our winemaker, Rhys Eather, works his magic to turn the grapes into wine at his Hunter Valley Meerea Park winery. Carol-Ann has been active in the Australian wine industry as a wine wholesaler for many years and is well known as an expert, connoisseur of all fine win...
Tertini Wines, NSW Lot 5 Kells Creek Road Mittagong NSW 2575 Australia
Tertini Wines is located in the Southern Highlands of New South Wales, a classic cool climate wine growing region. Tertini Wines is one of the most awarded wine producers in the Southern Highlands, producing premium, cool climate wines with a particular interest in alternative varieties. The wines are subtle and elegant, with excellent fruit characters arising from the long, slow ripening period and Tertini's commitment to hand pruning, hand picking and low cropping. High natural acidity gives the wines a clean finish and good cellaring potential. Tertini Wines is recognised as a must-visit cellar door in the Southern Highlands wine region and has been included in Gourmet Traveller Wine Magazine's Best Cellar Doors every year since 2014.