Jump to Winery List
Port Stephens Hinterland District
The Port Stephens Hinterland District is located in the hinterland area surrounding the small towns of Medowie, Twelve Mile Creek, Lime Burners Creek. Medowie is located about 35 kilometres by r oad north of Newcastle, not far from RAAF Base at Williamtown. It was originally a tiny rural town but since the 1980s it has become popular as a residential area. A large golf course resort is located on the southern outskirts of the town, which has good facilities for a wide range of sports including cricket, rugby union, soccer, golf, AFL and tennis.

The Port Stephens Wine Region includes two districts : Port Stephens ; Port Stephens Hinterland.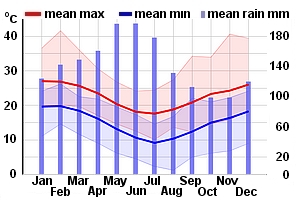 Winery Tour Map
Wineries
Alderley Creek Wines, NSW 2653 The Bucketts Way, Booral
A small boutique winery and vineyard near Booral.
Mill Creek Winery, NSW Off Mill Mill Creek Rd, Stroud NSW 2425
Its first grapes for wine harvested 2002. Mill Creek Vineyard now offers premium Shiraz, Semillon and specialty wines dependent on whims of the season.
Murray's Craft Brewing Co., NSW 3443 Nelson Bay Road, Bobs Farm NSW 2316
Murray and the team have been brewing unique and off-beat naturally crafted beers since 2006, and in the process have won a bunch of awards and accolades – including Australia's Brewer of the Year. The craft beer bug bit Murray a few years before this, when he was on a trip to America. Legend has it he tried a Sierra Nevada Pale Ale at a roadside diner in California – and thought he'd died and gone to beer heaven! This experience inspired him to open his own brewery, so he could brew and enjoy the beers he wanted to drink back home in Australia.
Rock Frog Grange, NSW 612 Limeburners Creek Rd, Clarence Town NSW 2321
Rock Frog Grange is a boutique winery in the foothills above Port Stephens, near Clarence Town.
Twin Bridges Wine, NSW 25 Old Buttai Rd, Buttai NSW 2323
Twin Bridges Wines had its genesis in 2004 with a small group interested in wine and looking for something interesting to do. Janet Murray had started Winemaking at TAFE, the assignment being to make a barrel of wine at TAFE. While not to be outdone, Jeff Fletcher, Christopher Bean and Roger Schmakeit made a barrel each of red in the shed. Over time the amount of equipment grew, the shed grew, the technical and practical knowledge grew and number of people participating grew. We evaluated our property for a vineyard however the soils were not suitable requiring grapes to be sourced from various vineyards. Following on from the initial red wine making, we begun making white wines followed by sparkling wine. With the wine cellars of family and friends overflowing we were prompted to gain our producer wholesaler license in June 2011. By commercial winery standards, Twin Bridges is a tiny operation, producing around 500 quality cases per year, too small to warrant a cellar door. With our storage facilities filling up fast, we decided to introduce our wines into the local farmers markets such as Newcastle, Gosford & Tea Gardens.