Jump to Winery List
Wauchope Wine District
The Wauchope District is centred on the timber-focused rural town of Wauchope which is located on the beautiful Hasting's River. The district includes the hinterland areas west of the Pacific Highway. Wauchope is located about 400 kilometres north of Sydney on the North Coast of NSW and has an idyllic climate with warm summers and mild winters. Wauchope is the gateway to the magnificent forested areas inland from the major service centre of Tourist centre of Port Macquarie. Wauchope offers a wonderful array of things to do in the beautiful forests, mountains, rainforests, nature reserves and National Parks that surround Wauchope. A beautifully restored steam engine is one of many splendid attractions at Timbertown, a re-creation of an 1880's period township. The District is surrounded by rich cattle and dairy country and forests and has many wonderful wineries with cellar door outlets, cafes and restaurants. Local things to do after your wine tour include: #Bushwalking and picnicking in the National Parks nearby. #Heritage townships such as historic Beechwood on the Hastings River or Comboyne # Taste local produce at Hastings Valley Olives near Yarras, Bago Vineyards or Rose`s Vineyard, at Innes View # Visit Timbertown for a ride on the heritage steam railway, or watch the bullock show and see a blacksmith in action. # Camden Haven Tours and many other operators offer coach tours of the Camden Haven and Hastings Valley areas and many include visits to local wineries.

The region is divided into two districts for mapping and listing purposes: The local wine districts are: Port Macquarie, east of the Pacific Highway and Wauchope, west of the Highway.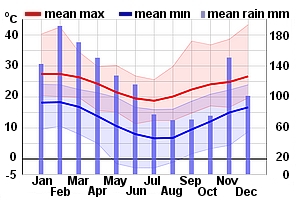 Winery Tour Map
Wineries
Bago Vineyards, NSW Milligans Road (off Bago Road), Wauchope NSW 2446
In 1985 Jim and Kay Mobbs planted the first Chardonnay vines on the alluvial flats of their extensive property in the Hastings River Region on the Mid North Coast of New South Wales. Thus Bago Vineyards was born, and over the decades to follow the vineyard would expand exponentially to include in excess of 10 hectares of grape varieties as diverse and exotic as Chardonnay, Sauvignon Blanc, Verdelh...
Timbertown Winery, NSW Oxley Highway, Wauchope NSW 2446
Timbertown Wines is set in the historical Timbertown Heritage Village on the outskirts of Wauchope near Port Macquarie on the Mid North Coast. As well as a maturation cellar, Timbertown Wines through its Rullis Cellars produces and markets some unique products that are only sold through Rullis Cellars. Timbertown Wines is independently owned and operated by the Rullis family, a father and son team who live and work locally. Timbertown Winery offer free wine tasting of alcoholic and non- alcoholic beverages all bottled on site within the Timertown Heritage Theme Park. Our quality wines and ports make an ideal gift or the perfect addition to your collection. All products are available for purchase in store or through the Shop page on this website.