Jump to Winery List
Port Macquarie Wine District
The Port Macquarie Wine District forms the coast section of the Hastings River Wine Region on the Mid-North Coast of New South Wales. The district is located in the immediate vicinity of Port Macquarie, to the east of the Pacific Highway. The Wauchope District extends inland to the west of the highway. The district has a warm coastal sub-tropical climate, with high humidity and rainfall during the summer months and few if any frosts in the generally mild winters. Located at the mouth of the Hastings River, The popular seaside resort centre of Port Macquarie boasts magnificent and pristine waterways, fabulous coastline and magnificent beaches and a host of things to do a see. The local activities focus on water based recreation, food and wine, beautiful nature reserves, colourful local heritage and a popular array of resorts and tourist facilities. Port Macquarie is a delightful and popular coastal resort town that lives up to its claim of 'having something for everyone'. The climate is regarded by many as being the best in Australia with mean temperatures ranging from 20 to 32 degrees Centigrade in Summer, and from 8 to 21 degrees in Winter. Port Macquarie is located about 500 km south of Brisbane and 420 km north of Sydney, and is about half-way between the Gold Coast in Queensland and Sydney in New South Wales. Many of the local tour companies include wineries in their agenda, or you can conduct you own tours using the information provided.

The region is divided into two districts for mapping and listing purposes: The local wine districts are: Port Macquarie, east of the Pacific Highway and Wauchope, west of the Highway.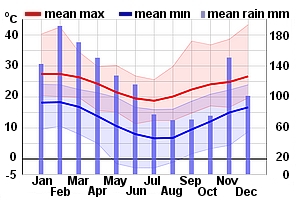 Winery Tour Map
Wineries
Cassegrain, NSW Fernbank Creek Road, Port Macquarie
Cassegrain Wines is an acclaimed producer of full flavoured, yet soft and elegant wines using fruit sourced from established and emerging regions throughout NSW. Offering a diverse and award-winning portfolio, our name is synonymous with quality, consistency and innovation. One of the premier tourist destinations in Port Macquarie and the wider Mid North Coast, our estate is located adjacent to the M1 Motorway offering locals and travellers a range of experiences from winery tours and tastings at our cellar door and delicious meals at Seasons Café-Restaurant to horse riding and our wine club. Cassegrain is a leading venue for weddings and functions of all sizes and styles and often plays host to musical festivals, markets and other events.
Douglas Vale, NSW 235 Oxley Highway, Port Macquarie NSW 2444
Douglas Vale Historic Homestead and Vineyard is totally run by volunteers and is a not for profit organisation. In 1995 the Douglas Vale Conservation Group was formed to 'rescue' the homestead and vineyard from vandalism and disrepair. The Conservation Group is preserving Douglas Vale as a working museum and vineyard for future generations. The homestead and its curtilage are classified by the National Trust of Australia and is included in Port Macquarie/ Hastings Council list of Heritage sites. Douglas Vale continually needs new volunteers to be able to keep the site open to the public, so come and join in.
Inneslake, NSW The Ruins Way, Port Macquarie, NSW 2444
Planted in 1988, Inneslake wines were immediately well received, winning medals at the Hunter Valley Wine Show. Our range includes: Semillon, Chardonnay, Shiraz, Cabernet Merlot, Mist and Tawny Port, as well as two wines bottled under the Little Fish label - Summer White and Summer Red. Three of our wines are made from Semillon fruit which is our best variety....
Longpoint Vineyard, NSW 6 Cooinda Place, Lake Cathie
A charming take on the traditional vineyard, Long Point offers wine tastings, local art and delicious products from the Hastings hinterland. Try our famous Agent Orange liqueur and refreshing alcoholic ginger beer. Wander our grounds and view our spectacular outdoor sculptures. We look forward to seeing you and sharing our beautiful vineyard.
Roses Vineyard, NSW 132 Apanie Rd, Lake Innes NSW 2446
Small winery and restaurant offering delightful friendly service.