Jump to Winery List
Canowindra Wine District
Canowindra is located on the Belubula River, about 32 km north of Cowra and 300 km west of Sydney via Bathurst. Canowindra is a tourist and service centre for the surrounding district which produces wool, fat lambs, lucerne, wheat and beautiful wines. Canowindra is described as `The Balloon Capital of Australia`, with more launches in the area, than anywhere else in Australia. Canowindra is steeped in history and the commercial section of the main street, Gaskill Street has been classified by as a Heritage Preservation Area by the National Trust. The Age of Fishes Museum displays the 360 million year old fossil fish collection which has made Canowindra world famous. You can go on an actual fossil dig. The Canowindra Springfest held on the long weekend in October is a celebration of local wine, food, fresh produce and art.

The renowned Cowra Winery Region is home to two districts: Cowra District and Canowindra District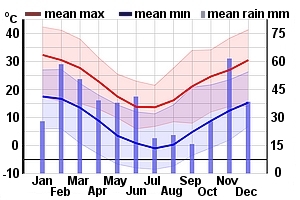 Winery Tour Map
Wineries
Catherines Ridge, NSW Canowindra Road, Canowindra NSW
Catherine`s Ridge is a vineyard located in the Cowra region of Central Ranges, New South Wales Explorer Country....
Falls Wines, NSW Belubula Way, Canowindra NSW 2804
Falls Vineyard is situated in the Central Tablelands of NSW, 20 km North East of Cowra and 4 km from the historic township of Canowindra. In country where bushranger Ben Hall and his gang once roamed, 100 hectares of fertile land next to the Belubula River is under vine, with varieties including Chardonnay, Semillon, Shiraz, Cabernet Sauvignon and Merlot. Established in 1996, the vineyard produces...
Hamiltons Bluff, NSW Longs Corner Road, Canowindra, NSW 2804
Hamiltons Bluff Canowindra Vineyard is 110acres made up of Chardonnay, Semillon, Cabernet Sauvignon, Shiraz and Sangiovese, Viognier, Riesling, and Merlot. The vineyard is situated on gently sloping hills overlooking the historic township of Canowindra in the Central West of New South Wales. Owned and operated by the Andrews family Hamiltons Bluff has been producing medal winning wines since its f...
Nassau Estate, NSW Fish Fossil Drive, Canowindra
Nassau Estate was Established in 1996. The 110 ha vineyard is situated on the Belubula River north of Cowra....
Pig In the House, NSW Balcombe Road, Billimari
Our ultimate desire is to live in a chemical free, sustainable environment producing wine that reflects where we live and what we believe in. Pig In The House vineyard is located 20 kilometers from Cowra in the beautiful Central Ranges of New South Wales. The 15 acre vineyard was established in 1996 and is owned and managed by Jason and Rebecca O`Dea. The vineyard was originally home to 20 free ra...
Rosnay Organic Wines, NSW 42 Ferguson Street, Canowindra NSW 2804
Rosnay is the first and currently only fully organic vineyard in the Cowra region and began certification in 1997. The Statham and Gardner families have planted many thousands of trees on the farm to create biodiversity, essential to organic farming. They have balanced the soils and brought them back to life with compost and biodynamic preparations. Annual audits and certification by Australian Ce...
Swinging Bridge, NSW `Belubula`, 1052 Fish Fossil Drive, Canowindra
Swinging Bridge Estate a small, family owned vineyard at Canowindra, New South Wales in the heart of the Central Ranges. The vineyard was established by the Ward and Payten families in the scenic Belubula Valley overlooking the Swinging Bridge, a local landmark, in the historical town of Canowindra. We are dedicated to making distinctive, handcrafted premium wines that encompass our family values....
Toms Waterhole Wines, NSW 752 Longs Corner Road, Canowindra NSW 2804
In 1995 the first vines were planted at `Felton`, our associated vineyard, and a machinery shed pressed into service for our first experiments in winemaking. Making use of grapes we begged or borrowed from surrounding vineyards and a fifty litre hand basket press we produced a tiny experimental vintage in 1998. By 1999 we were sufficiently confident to plan a somewhat larger vintage. In 2000 we se...
Wallington Wines, NSW 82 Lawrences Road, Canowindra NSW 2804
Margaret and Anthony Wallington produce carefully crafted wines from their Canowindra Vineyard, which they established in 1992. The winemaking takes place on site in their unusual Straw Bale Winery with Murray Smith instructing as winemaker. Cellar door Tastings and Sales are held at the Winery usually on the FIRST weekend of the month but do phone to avoid disappointment. At other times you are m...
Windowrie Wines, NSW Windowrie Road, Canowindra
The O`Dea Family, believing that Cowra`s potential as a grape-growing region could only be reached by processing its own fruit locally, have invested in a state of the art winery - completed in time for the 1999 vintage. The winery was erected on a hillside overlooking the magnificent vista of the Estate`s vineyard.The vision for the winery was to combine the latest technology with traditional tec...