Jump to Winery List
Cowra Wine District
The wine district of Cowra is centred on the Central New South Wales town of Cowra, about 300 km west of Sydney. The Cowra Wine District includes a wonderful array of wineries with cellar doors, cafes and restaurants. Cowra offers a range of genuine country lifestyle experiences from boating, fishing, canoeing, kayaking and simply relaxing along the extensive waterways in the region. You can explore and learn about the towns links to Japan by trolling through the tranquil Japanese Garden. Cowra has a fascinating history and heritage from the days or early settlement, to the steam trains ear and the war years including the largest Prisoner Of War breakout in modern Australian military history. Food and wine enthusiasts can take a delightful tour Cowra's boutique vineyards and fresh produce outlets and taste the wonderful local food and wine. Cowra has a thriving and growing business and commercial centre, and it services a very productive and renowned agricultural area that includes aquaculture, horticulture and viticulture. Some of the local attractions and events include: # Explore the Japanese Garden and Cultural Centre, which honours both Australians and Japanese killed in World War II. It includes gardens and a pottery house, teahouse and bonsai house, and beautiful garden areas.# At the Prisoner of War Theatre, you can watch a hologram display that tells the story of the Cowra Breakout. # Sample fine local wines # Go canoeng, fishing, kayaking, swimming or boating in Wyangala Waters State Park which is located at the junction of the Abercrombie and Lachlan rivers. # Visit the Cowra Food and Wine Weekend in November which showcases the magnificent local wines and food produce. # The Sakura Matsuri Cherry Blossom Festival held in September, which includes kite flying, tea ceremonies, and ange of cultural activities, workshops, food and wine. # The annual Cowra Show held in September that features a charming range of exhibits, agricultural displays and competitions. # Enjoy a bushwalk and picnic in the Conimbla National Park. # Visit the Cowra Fun Museum and the Darby Falls Observatory.

The renowned Cowra Winery Region is home to two districts: Cowra District and Canowindra District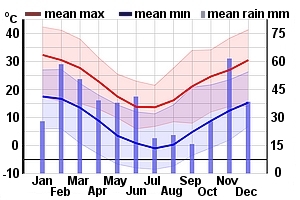 Winery Tour Map
Wineries
Chiverton Grove, NSW 605 Mid Western Highway, Cowra NSW 2794
Located just 5 km West of Cowra on the Grenfell Road, Chiverton offers visitors a peaceful, beautiful area to take in the spacious surrounds and to taste some of Cowra`s finest wines. Groups and children are most welcome...
Fossil Creek, NSW Binni Creek Road, Cowra
Fossil Creek Wines have won many awards. Varieties: Chardonnay, Verdelho, Shiraz, Merlot, Cabernet Suavignon...
Mulligan Wongara, NSW 603 Grenfell Road, Cowra NSW 2794
Mulligan Wongara Vineyard is located in Cowra, Central Ranges, New South Wales Explorer Country. Mulligan`s Cellar Door is housed in an imposing Tuscan Tower that seems quite at home in the Lachlan Valley landscape. Views from the Cellar Door over the surrounding vineyard and gardens are breathtaking. Emma and Andrew Mulligan and their two young children live on the vineyard where they grow Chardo...
Richmond Grove, NSW Reids Flat Road, Cowra NSW 2794
Richmond Grove has planted vineyards in the Cowra Region It is primarily a white wine region that specialises in full flavoured, moderately priced Chardonnays. The Quarry Restaurant and Cellars are located 4 km south of Cowra on the Boorowa Rd (the Lachlan Valley Way). The cellars offer wines from Cowra Estate, Hungerford Hill, Arrowfield Cowra Wines and Richmond Grove. The restaurant also utilise...
Spring Ridge, NSW PO Box 621,Cowra NSW 2794
Spring Ridge Wines are produced on our wonderful hillside site at `Spring Creek`, Cowra. Chardonnay, Semillon, and Shiraz grapes were planted in 1997 and Cabernet Sauvignon and Merlot varieties were added in late 2000. We produce elegant award winning wines using traditional wine making methods for the red varieties that include open vat fermenting, hand plunging the cap, basket pressing and matur...
Waugoola Wines, NSW 146 Carri Park Road, Cowra NSW 2794
Waugoola Wines vineyard is located in Cowra, Central Ranges, New South Wales Explorer Country....