Jump to Winery List
Moama Wine District
The Moama Wine District is located in the Perricoota Wine Region which includes the township Moama in souther new South Wales, and the twin town of Echuca which is located across the Murray River in Victoria's Goulbourn Valley. The area orginally was important as a riverine port for the paddlesteamers which were the major means of transporting cargo before the advent of the railway. Echuca, with its larger wharf and its links to the Goulburn Valley and Melbourne eventually became the larger of the twin towns which have now all but amalgamated. Moama has an outstanding array of historic buildings for visitors and most of the recreational activities are focused on the river. These activities include fishing boating water skiing, canoeing, kayaking, bushwalking. Moama is also home to the renowned Rich River Golf Club, which is an international-standard 36-hole golf course, and the Moama Lawn Bowlis Club (lawn bowls), both of which welcome visitors. There is a range of wineries with cellar doors on both side of the river.

There are two districts in this region: The Echuca District in Victoria, and the Moama District across the river in New South Wales.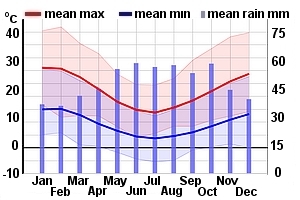 Winery Tour Map
Wineries
MoFro Wines, NSW 6 Dumfries Court, Moama, NSW 2731
We're a small family run winery situated on the banks of the mighty Murray River. We've been growing premium grapes in the Perricoota Wine region for over 18 years, specialising in Shiraz and Cabernet Sauvignon. After supplying grapes to St Anne's, the region's largest winery we've decided to hold back a small parcel of fruit to develop our own wine style. Giving birth to MoFro Wines. The idea of the label comes from my father Alan Eacott (Vigneron) having a very distinctive large moustache (Mo) and myself Trent Eacott (Winemaker) having distinctive curly hair (Fro). The laid back type of name gives an indication of the style of wine that has been created, which is one that is an easy drinking no nonsense wine best drunk young and whenever it feels right. So please support the little guys and you won't be disappointed!
Morrisons Riverview Winery, NSW Lot 2, Merool Lane, Moama, NSW 2731
At Morrisons our philosophy is simple..... ​Our team is dedicated to local produce with a balance of traditional and modern cookery. We adapt to the seasons and use them to guide us keeping the menus fresh and interesting all year round. Our grounds are the perfect destination for any occasion big or small. We have 15 acres under vine that produces a warmer climate style of juice. The first plantings were in 1993 which evolved into a small cellar door in 2000. From there turn your head 180 degrees to capture the best of what the Murray River has to offer. Unique views and amazing wildlife.
St Anne`s Winery, NSW Corner Perricoota Road and 24 Lane, Moama NSW
St Anne`s Perricoota is our latest development, located on the banks of the Murray less than one hour North of Bendigo at the popular tourist haven of Echuca-Moama. The St Anne`s Perricoota Cellar Door is in true St Anne`s tradition, one of a kind. Constructed from rammed earth and corrugated iron, the cellar door has an outback theme with contemporary design. Tel: +61 (0) 3 5480 0099Perricoota (m...