Jump to Winery List
Avenel Wine District
The Euroa Wine District includes vineyards and wineries the Strathbogie Ranges Region near the townships of Strathbogie, Euroa, Creightons Creek, Ruffy, Merton. Euroa is situated about half-way between Benalla and Seymour and lies in the foothills of the renowned the Strathbogie Ranges. Dating from the 1850s, Euroa has many or its original buildings as historic heritage sites. T he Seven Creeks stream flows though the town and there are many parklands and picnic areas for visitors to enjoy. Local attractions include: # Farmers Arms Hotel (built in 1876) which now houses the Farmers Arms Museum. # The miniature train that operates in the parkland near Turnbull Street. S urrounding Euroa is a rich agricultural district focused on fine wool production, thoroughbred horse industry and boutiques fresh foods and wines. Euroa is a handy place to stay and use as base for exploring the natural beauty of the area, including National parks, State Forests, waterfalls and there scenic the mountain ranges. You can follow the Strathbogie Ranges Winery Trail or join one of the many guided tours to the area.

The Strathbogie Ranges Wine Region includes two districts : Avenel ; Euroa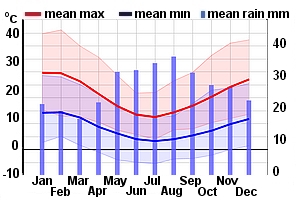 Winery Tour Map
Wineries
Baarrooka Vineyard, VIC Coach Road, Strathbogie, Vic 3666
The Baarrooka Vineyard began in 1996, on a north-facing slope at an elevation of 550 m. Plantings consist of riesling, sauvignon blanc, chardonnay, pinot noir, cabernet sauvignon, shiraz, merlot, zinfandel and small blocks of petit verdot, cabernet franc and malbec. The majority of the grapes are sold under contract into the Yarra Valley, but a small quantity is released under the Baarrooka label.A lovely drop.
Brave Goose Vineyard Seymour, VIC 8803 Goulburn Valley Hwy, Whiteheads Creek VIC 3660
Nina and John returned to the Brave Goose Vineyard in 2011 following years travelling and working in wineries and vineyards in Italy, France, Portugal and New Zealand. Nina was the winemaker for successful brand Catalina Sounds in Marlborough for 3 years, winning the Air New Zealand Trophy for Best Sauvignon Blanc in 2009. John Day was vineyard manager for Catalina Sounds, where he grew award winning Pinot Gris, Pinot Noir, and Sauvignon Blanc for the brand. Together they bring their experience in growing and making premium wines, and their passion for sustainable agriculture, to this little piece of heaven on the Goulburn River in the Tallarook Ranges.
Costanzo & Sons, VIC 602 Tames Road, Strathbogie, Vic 3666
Second generation vignerons Joe Costanzo and Cindy Heath have combined their knowledge and passion to create wine that articulates a perfect combination of old and new. The cool climate of the family vineyard symbolises what can be achieved with sustainable and perceptive viticultural practices that enhance the environment. Established high in the Strathbogie Ranges in 1995, the eight hectare vineyard was built along the principles of sustainable farming practice. Its gently undulating slopes are protected by vast expanses of eucalypt forest and soaring granite hills. It is located on Tames Road Strathbogie, midway between Mansfield and Euroa. The vineyard altitude ranges from 600 to 650 meters above sea level on a North Easterly facing slope. The vineyard offers a combination of cool climate and ideal soils, producing premium wines. The vineyard is planted to cool climate varieties Sauvignon Blanc, Chardonnay and Pinot Noir.
Delatite Winery, VIC 390 Pollards Road, Mansfield, Victoria, 3722
Join Delatite Wines for wine tasting with spectacular views, vintners and cheese platters, produce, preserves and cellar-door-only wines. Located in the foothills of the Victorian Alps below Mt Buller, the Ritchie family are pleased to be able to share the landscape and vineyard experience with visitors and wine lovers alike. Delatite Wines is a small, family run winery, established in 1968 by Robert and Vivienne Ritchie and now run by their son David, with the assistance of winemaker, Andy Browning. Owing to its cool climate and sub-alpine location in the High Country, Delatite has a substantial European-influenced, winemaking style. Widely recognised for producing delicate white aromatics and elegant reds. Their approach to wine making has been forged from the family's history of working with the land in Victoria for over 170 years. They have been devoted to not only producing outstanding wines, but also developing sustainable vineyard practices and adopting biodynamic principles that will leave the land in a better state than when they started. Their philosophy allows the vineyard and grapes to express their true characters rather than the fingerprints of the winemaker.
Garners Heritage Wines, VIC 54 Longwood-Mansfield Rd, Longwood East VIC 3666
The 1.8 ha boutique vineyard is small, and the newest in the Strathbogie Ranges, but it has produced high class Shiraz to die for. The warm summers are ideal for growing shiraz.
Growlers Gully, Vic Shaws Road, Merton Victoria 3715
Growlers Gully Winery is located in Merton, approximately 2 hours north-east of Melbourne in the Upper Goulburn/Mansfield wine region. The vineyard was established in the spring of 1997. The name Growlers Gully derives from a road in Merton, there are two schools of thought as to the origin of the road name either; * the growls of the koala`s that inhabited the tree-lined road; * the name evolved ...
Sedona Estate, VIC 182 Shannons Road, Murrindindi, Victoria, 3717
From Sedona Estate's humble beginnings in 1998, Paul and Sonja's vision has been to produce fine cool-climate wines from their vineyard north of the Great Divide in the Yea Valley. Their passion and dedication is reflected in the Sedona Estate range. Varietal purity makes each bottle of wine a true experience. Discover this hidden gem off the beaten track. Tucked away in its own valley, Sedona Estate offers country tranquillity and mesmerising views that invite to stay. The stylish cellar door is a great place to enjoy a relaxing afternoon with fine wines and delicious gourmet platters. In winter, visitors are welcomed by an open fire. Winemaker Paul Evans employs a very hands-on approach to capture the essence of this emerging wine region. It is cool climate viticulture, but plenty of sunshine at the right times provides the conditions for complex Shiraz and Cabernet. In recent years, Sedona's Sangiovese has turned heads in the industry. The young winery has received Halliday's top five star rating three times in recent years.
Wine x Sam, VIC 69 Anzac Avenue, Seymour, Victoria, 3660
Wine x Sam is a boutique winery and cellar door located in Seymour. Owned and operated by husband and wife team, Sam Plunkett and Bron Dunwoodie, the winery is well known for its award winning wines from the Strathbogie Ranges and Central Victoria. Visit for a tasting and tour of the working winery. Or simply relax in the elegantly designed cellar door with a glass of wine, charcuterie platter or artisan coffee.