Jump to Winery List
Avenel Wine District
Avenel Wine District includes wineries near Avenel, Longwood, Mangalore and Seymour in the western half of the Starthbogie Wine Region in the Goulburn Valley, south east of Nagambie Lakes and Sheparton. Avenel is a small rural service town and tourist centre lies in the heart of the Goulburn River Valley, about 120km north of Melbourne. Avenel was once an important coach stop for Cobb and Co. coaches and has an impressive historic stone bridge with six arches. Avenel is famous as the boy-hood home of the most bushranger was Ned Kelly and its was also one of the many Gold Rush towns of Central Victoria. Local attractions include: The six-arch stone bridge Bridge built in 1859, The Royal Mail Hotel dating from the 1850s, The Harvest Home Country House Hotel.

The Strathbogie Ranges Wine Region includes two districts : Avenel ; Euroa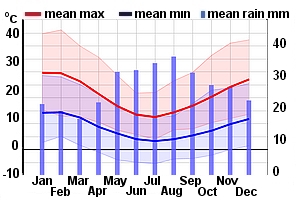 Winery Tour Map
Wineries
Dominion Wines, VIC Upton Road, Avenel Vic 3664
Dominion Wines is located in Avenel, in the Strathbogie Ranges wine region of Central Victoria`s Goulburn Murray Waters area....
Elgo Estate, Vic Upton Road, Upton Hill Vic 3665
Elgo Estate has over 50 hectares of vineyards, featuring Riesling, Sauvignon Blanc, Chardonnay, Pinot Noir, Shiraz, Merlot, Cabernet Sauvignon, Semillon and Cabernet Franc. A new winery which employs traditional winemaking methods complimented by environmental and technological assets allowing production of superb wines. The Elgo Estate vineyards are situated in the beautiful Strathbogie Ranges of...
Fowles Wine, VIC 1175 Lambing Gully Road, Avenel, Victoria, 3664
Named as a 'Winery to Watch' by Wine Spectator Magazine, a five star winery by James Halliday and Victoria's Best Tourism Winery three years in a row, Fowles Wine Cellar Door Cafe is located at the foothills of the stunning Strathbogie Ranges in central Victoria, just one and a half hours north of Melbourne. The unique and relatively unknown region of the Strathbogie Ranges is perfect for those wanting to flee the big smoke and discover award winning wines among misty mornings, shady gum trees and picture-perfect sunsets in historic Ned Kelly country. At Fowles Wine Cellar Door Cafe, expect to be welcomed by a knowledgeable team and a delicious menu, featuring the finest local produce that can be enjoyed alongside matched wine. With views of Mount Bernard and a relaxed atmosphere in which to enjoy breakfast or lunch. A shaded courtyard and children's playground make the Cellar Door Cafe a perfect place for the whole family to enjoy great food and wine.
Hankin Estate, VIC 2 Johnson`s Lane, Northwood via Seymour, Vic 3660
As the Goulburn River meanders northwards out of Seymour, it runs through some very good wine country. The region`s vineyard history is long and usually centred on satisfying, bold red wines. The small Hankin vineyard is a little off the beaten track, tucked away near the river around 9km from Seymour, but it`s worth a detour for its hospitality and its award-winning Merlots, Cabernets and Shiraz....
Hayward`s, VIC Hall Lane, Whiteheads Creek, VIC 3660
This winery features all-dry farming with absolutely no irrigation - hence there are small crops of intense flavour and colour of varieties. There is not enough wine produced for wine-show minima, but the small loyal following and cellar customers suffice. Their low overheads allow us to produce wine at very low prices....
Kensington Rocky Passes Vineyard, VIC 1590 Highlands Rd, Whiteheads Creek VIC 3660
Kensington Winery is located in the picturesque Goulburn Valley of Victoria, just 90 minutes away from the Melbourne CBD and 15 km away from the rural city of Seymour. Seymour serves as a transport hub, serviced by the Hume Freeway, the Goulburn Valley Highway and the Melbourne-Sydney rail line, making it easily accessible from other parts of Victoria, New South Wales and South Australia. The Kensington Winery residence, nestled in the foothills of the Strathbogie Ranges, was first built in the mid-1880s. It was rebuilt and expanded in the early 1900s and again in the 1940s. The development of vineyards in the surrounding area began as early as the 1860s. But as a result of the spread of the Phylloxera insect that began devastating Victoria vineyards in the late 1870s, many of the vines were ripped out and the land repurposed for grazing. The replanting of vineyards in the area began in the 1960s.
Maygars Hill, VIC 53 Longwood Mansfield Road, Longwood VIC 3665
This 20-acre property was acquired by Jenny Houghton in 1994, for its viticulture potential and as a location for her bed and breakfast cottage. 3 acres was hand planted in 1997 into a light sandy loam. It is ideally situated in the Strathbogie Wine Region right on the border with the Goulburn Valley. Planting has increased to 6 acres; 2 acres of Cabernet Sauvignon and 4 acres of Shiraz. Strict vi...
Plunkett Fowles, VIC Cnr Lambing Gully Road and Hume Freeway, Avenel Vic 3664
The Plunkett family has been farming in Australia since 1842. In 1968, Alan Plunkett pioneered grape growing in the Strathbogie Ranges of Central Victoria, when he planted a small vineyard of 25 grape varieties on the family sheep farm. This experiment provided information for vineyards, which now include 10 varieties covering some 300 acres. The first winery was built on the family property, -Whi...
Tarup Ridge, VIC Tarcombe Road, Avenel Vic 3664
Tarup Lodge, located in the heart of the vineyards of the Strathbogie Ranges. Enjoy the beautiful air and scenery of the `Bogies` and discover the elegant wines of this treasured cool climate wine region. Relax in this quiet, peaceful three bedroom country cottage with a log fire, queen size beds and plenty of space. The cottage has a lounge and dining room, large kitchen and sitting room. It is s...