Jump to Winery List
Rutherglen - Albury Wodonga Wine District
This district includes the area East of Rutherglen, west of Barnawartha, extends along the Murray River downstream of Albury. It includes the Eastern part of the Rutherglen Wine Region in North-East Victoria. Barnawartha is a small town located between Chiltern and Wodonga in north-eastern Victoria close to the Murray River. Closeby is the Chiltern - Mt Pilot National Park that features some historic sites from the goldrush days and a remnant stand of box and ironbark that are now rare in Victoria. There are excellent drives, mountain bike paths and walking tracks in the park. There are picnic areas at Magenta Mine, Donchi Hill and Frogs Hollow and many places to camp. The renowned White Box Walking Track (about 9 km in length) is a roughly circular bushwalking and bike track around the Honeyeater Picnic Area in the south-eastern section.

The Rutherglen Wine Region includes two districts : Wahgunyah ; Albury Wodonga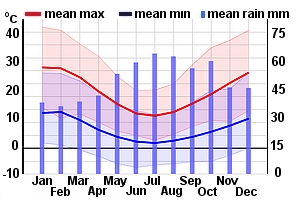 Winery Tour Map
Wineries
Andersons, VIC Chiltern Rd, Rutherglen, VIC 3685
Howard Anderson established Anderson Winery in 1993, after 30 years experience in the industry – including 15 years as winemaker at Seppelt Great Western. In 2005 he was joined by his daughter Christobelle, who had completed a winemaking degree in Adelaide, and worked for several wineries in France. Howard and Christobelle are unashamed perfectionists and take a no compromise approach to everything from the vineyard, to winemaking, to customer service. All wines are made on site, entirely by Howard and Christobelle. Their eight hectare vineyard is planted on Rutherglen's traditional Buckshot clay soil, and is non-irrigated which ensures a low yield of intensely flavoured grapes. Traditional, labour intensive methods including hand harvesting, basket pressing and minimal additives are used alongside modern knowledge to ensure maximum wine quality. They specialise in full bodied reds (particularly Durif and Petit verdot) with inky colour, rich mouth filling fruit, and smooth tannins. Their other specialty is traditionally made white and red sparkling wines.
Andrew Buller Wines, VIC 352 Jacks Road, Rutherglen, Victoria, 3685
The Buller family's new venture at historic Cannobie, owned and operated by Andrew Buller who brings four generations of Rutherglen Winemaking heritage circa 1921 as well as numerous vintages in Portugal France and New Zealand. A destination for those seeking the true Boutique Winery experience, visitors can explore a full range of estate grown wines exuding vibrant, full bodied, voluptuous characters that have previously earned Andrew two 100/100 perfect scores from the Wine Advocate Robert Parker Jnr. Ideally located within Rutherglen's winemaking precinct, just two and half kilometres from the town centre, guests can enjoy the tranquil rural vistas from the homestead verandah or majestic 100 year old shade trees.
Buller Wines, VIC 2804 Federation Way, Rutherglen, Victoria, 3685MAP
The Five Star James Halliday Winery is world renowned for fortified wines produced using the Solera System. Testament to the quality are the two Robert Parker 100/100 rated Rare Muscat and Rare Tokay. The Calliope Estate produces small quantities of intensely flavoured grapes which are crafted into premium, full bodied red wines using traditional old world methods. This high end range is names after the vineyard Calliope. Sparkling wines in the Calliope range are traditionally handmade and late disgorged. The Balladeer range has wines produced from grape varieties less traditionally associated with Rutherglen. These boutique wines; Cinsaut, Sangiovese, Tempranillo and Grenache are full flavoured and food friendly. The Regional collection is a range of red and white wines where the grapes are sourced from Rutherglen and other premium grape producing regions. These grapes are carefully chosen and crafted by the talented winemaker, Dave Whyte, creating a wine suitable for every occasion.
Chambers Rosewood, VIC Barkly Street, Rutherglen, Vic, 3685
Established in 1860. A wine cask used in the 1888 Melbourne Exhibition is a feature, together with old wine making equipment. Five generations of winemakers have provided a magnificent range of sherries, muskats, tokays and ports. Open: 9am - 5pm, Mon - Sat, 11am - 5pm, Sun Closed: Christmas Day, Good Friday and Anzac Day morning....
Gehrig Estate, VIC Murray Valley Highway, Rutherglen, Vic, 3685
f you love a winery with history then John Gehrig Wines is for you – John  a fourth generation vigneron, established our vineyard & winery on the banks of the King River, Oxley in 1976; only minutes from the Milawa Gourment Region. In 2011 we've expanded to a new vineyard & cellardoor site in Gooramadda (Rutherglen), -ironically very close to Johns birth place. John's son Ross has taken on the challenge of guiding the fifth winemaking generation of Gehrigs to craft some fine wines.Ross's has an obsession with producing the best grapes to produce wines of distinction that will pay homage to this iconic Northeast Victorian winery.
James & Co. Wines, VIC 136 Main Street, Rutherglen, Victoria, 3685
Stylish and comfortable cellar door space in the Main Street of Rutherglen. They live in Rutherglen and make their wines here but buy their fruit from different growers. As they are not tied to a vineyard they thought they would open up their cellar door in the Main Street and bring some wine culture into the heart of the town. Owner and winemaker Ricky James specialises in wines made from Sangiovese sourced mainly from the Beechworth region. A sublime space to enjoy wine tasting and to buy wines to stock the cellar. Visitors are very welcome to sit at their gorgeous hand crafted tables and enjoy wines by the glass and put together a platter at their signature 'cheese your own adventure' fridge. You will also find a range of gifts and can be assured of a warm welcome and super friendly service.
John Gehrig Wines Rutherglen, VIC 1326 Gooramadda Road, Gooramadda, Victoria, 3685
John Gehrig Wines is a fifth generation family run winery, located in two great North East Victorian locations. Rutherglen is in the historic Snarts winery shed on Gooramadda Road. Right next door to Gooramadda Olives, so if you love your olives, olive oil and wine – they are both worth a visit. John Gehrig Wines have a wide range of wines from Sparkling, right through to fortifieds. John Gehrig specialises in Riesling, Chenin Blanc plus unusual varietal wines like Durif, Petit Verdot, Gamay and Pinot Meunier, as well as Chardonnay, Merlot and a popular Pinot Noir, Shiraz and Cabernet.
Jones Winery, VIC 61 Jones Road, Rutherglen, Vic, 3685
Jones Winery and Vineyard is one of the oldest and smallest wineries in the Rutherglen District. The area has a rich history of gold and farming and most of the winegrowing properties in the area have been owned and run by the same family for generations. Jones Winery and Vineyard is one of the oldest of these properties and its vineyard was established in the 1860`s. It was established in the 186...
Lilliput Wines, VIC 37 Withers Road, Lilliput via Rutherglen Vic
Lilliput Wines is the Lilliput among the Rutherglen wineries. They are the smallest of the wineries in the Rutherglen wine region, which is one of the oldest Australian wine regions. Proudly vegan, Lilliput Wines are dedicated to producing handcrafted quality wines and, to ensure they achieve this, they produce only 1000 cases of wine per annum. The wines are only available at cellar door and mail-order. Current releases are: Merlot, Cabernet and merlot, Cabernet, Syrah, Syrah and Cabernet, Petit Verdot, Viognier. All wines are made on site from Lilliput Estate grown grapes. Open every Saturday and Sunday from 11:00am to 6:00pm. Open Fridays and other times by appointment, please call.
Morris Wines, VIC Mia Mia Rd , Rutherglen, Vic, 3685
A visit to Morris Wines will embrace you in rustic charm and friendly service within our tasting room deep inside the barrel filled wine cellar. A wide array of specialty and exclusive wines are available to all visitors. Over five generations Morris wines have developed an outstanding reputation for producing full bodied red wines with long cellaring potential, magnificent vintage and tawny ports...
Mt. Ophir Estate, VIC Stillards Lane, Rutherglen, Vic 3685
Mount Ophir was established In 1891 and purchased in the mid 1890s by absentee English owners. The Burgoyne Family, purveyors of fine wine to the King of England intended making the property the `Wine Centre of the World`. The name was taken from the Biblical site in Africa where the queen of Sheba supplied the finest gold for Solomon`s Temple. In it`s heyday Mount Ophir`s export of wine from Aust...
Olive Hills Estate, VIC 3221 Murray Valley Highway, Rutherglen, Victoria, 3685
Olive Hills Estate is a boutique winery owned and operated by the Perry family and situated in historical 1886 cellars. All wines are produced on site from estate grown non-irrigated grapes. Olive Hills Estate offer personalised tastings with Ross Perry, winemaker and vigneron. Enjoy a glass of fine wine with the regional freshly prepared grazing platters and soak up the stunning surrounds of the original 1886 grand homestead. Open seven days a week and also available for weddings and private functions.
Scion Vineyard, VIC 74 Slaughterhouse Rd, Rutherglen VIC
Scion is a producer of artisan wines, handcrafted from vine to bottle. Our vision is to produce premium wines guided by the creative and modern interpretation of traditional Rutherglen varietals. These include Durif, Syrah and Muscat. We grow and handcraft wine in small batches – from aromatic whites and rosé to elegant reds and delicate dessert wines. Located in the Rutherglen wine region on our estate vineyard, our Cellar Door and Winery is just 2km south of town and close to accommodation and restaurants.
The Wicked Virgin & Calico Town Wines, VIC 165 Hopetoun Rd, Rutherglen VIC 3685
The Wicked Virgin is a small family vineyard and olive grove established by John and Laurel Nowacki in 1999. Situated down a sweeping hill towards Rutherglen in North East Victoria, The Wicked Virgin invites visitors to share John and Laurel's passion for good food created from fresh produce, complemented by their excellent Wicked Virgin Extra Virgin Olive Oil and boutique Calico Town Wines. Having planted vines and olive trees, the need for a shop front prompted the conversion of an old shearing shed which is now a rustic and welcoming mud brick cellar door and tasting area for their Calico Town Wines and Wicked Virgin Olive products. Also available are delicious house made cakes, great coffee and light lunches ranging from comfort foods to eclectic culinary adventures.