Jump to Winery List
Wahgunyah and Rutherglen Wine District
The Wahgunyah and Rutherglen Wine District is based on is the small town of Wahgunyah in north-east Victoria in the Rutherglen Wine Region. The historic inland port town is located on the southern side of the Murray River, opposite the twin town of Corowa, in New South Wales. Wahgunyah is located about 10 km north of Rutherglen and 50 km west of Albury and Wodonga which lie upstream on the Murray River. The town began when gold was discovered to the south of Wahgunyah, in 1858, which produced to a major but relatively short goldrush in the area. Initially known as Wahgunyah Rush, this town became the town of Rutherglen, leaving the river community to remain as Wahgunyah. The decline of the gold mining days was followed by the decline in the river trade in the 1880s because of the development of the railway system and improvements in road transport. Rutherglen is the viticultural and agricultural centre of one of Australia's premier fortified wine producing area with fiver generations of local winemakers developing the outstanding wines from the area, which has a worldwide reputation. Rutherglen and the surrounding towns have has a wide variety of accommodation options for visitors. There are charming traditional Bed and Breakfasts, Guest Houses, self contained houses and farmstays, Motels, Hotels, a Caravan park and camping grounds in the four State Parks within ten minutes drive from the town. Join a guide tour of the 20 local wineries with many options available: cars, stretch limousines, buses, vintage cars and a Cobb and Co coach or you can follow the wine tour map in your own vehicle.

The Rutherglen Wine Region includes two districts : Wahgunyah ; Albury Wodonga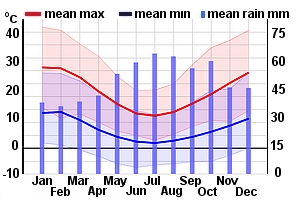 Winery Tour Map
Wineries
All Saints, VIC All Saints Road, Wahgunyah, VIC 3687
The Castle at All Saints Estate was built in 1878 and inside its walls today still lie some of the oldest and rarest stocks of fortified wines. It is these stocks, refreshed by our younger wines that make our fortifieds so distinctive. Due to limited production, over 80% of All Saints Estate wines are sold through cellar door or mail order. They are not widely available at retail outlets. All Sain...
Campbells Wines, VIC 4603 Murray Valley Highway, Rutherglen Vic 3685
At Campbells visitors can enjoy the distinctive wines of Rutherglen resulting from five generations of tradition, passion, experience and a dedication to innovation. The Campbell family has a hands on approach and an uncompromising commitment to quality. They are renowned for their crisp whites and vibrant robust reds, including the legendary Bobbie Burns Shiraz and The Barkly Durif. Their rare Muscats and Topaques of Rutherglen date back to the early 1900's. Campbell's cellar door is situated in the heart of the winery, where visitors can enjoy a very special winery experience surrounded by the sights, sounds and aromas that give wine its unique mystery. A visit to Campbell's cellar door is much more than a tasting. It commences with a tasting from fine Riedel glasses accompanied by grissini and the rare opportunity of selecting from a range of mature 'back vintage wines'.
Cofield Wines, VIC Distillery Road, Wahgunyah, VIC, 3687
Cofield Wines is family owned and operated winery established in 1990. A regional specialist of sparkling and table wines, come and enjoy one of Australia`s best sparkling Shiraz or any of our other award winning white and red table wines. There is a display of beautifully restored old oil engines. With a picturesque rural setting and the relaxed warm and friendly atmosphere that only comes from a...
Lake Moodemere, VIC McDonalds Road, Rutherglen, Vic, 3685
Lake Moodemere Estate is immersed in the history of seven generations of wine producers. The Estate grown wines showcase the fruit nurtured from the rich red loam soil of the single vineyard. With every Lake Moodemere Estate wine, they invite you to share their passion for family, country and joy in the pursuit of excellence. The Lakeside Restaurant menu is inspired by family gatherings, the sharing of food, wine and company, the beauty of the landscape and the bounty of the Estate grown produce. Executive Chef, Jarrod Smith, straight from Hellenic Republic, The Press Club, Epocha and Elyros, focuses on harmonious flavours and fresh, quality ingredients. If it was not grown or made at Lake Moodemere Estate, it is sourced from the best of the region's fabulous produce.
Pfeiffer Wines, VIC 167 Distillery Road, Wahgunyah, Victoria, 3687MAP
Pfeiffer Wines is a five-star, family owned winery that produce premium, handcrafted wines of elegance – crisp whites, full-bodied reds and the internationally extolled Muscats and Topaques; luscious, intense fortified wines which are the heritage of the Australian Wine Industry. The historic cellars and century-old timber bridge are situated in a tranquil, natural setting on the banks of Sunday Creek – an anabranch of the Murray River. Pfeiffer Wines is open seven days a week. Tastings are complimentary and visitors are always made very welcome. To truly enjoy the idyllic setting, visitors are encouraged to choose their 'pfavourite' bottle of Pfeiffer wine and enjoy it with a gourmet picnic hamper on the historic timber bridge overlooking Sunday Creek – a truly unique Australian experience.
Rutherglen Estates, VIC Drummond St Tuileries Complex, Rutherglen, Vic, 3685
Rutherglen Estates produce a range of wines that achieve a balance between modern and classic styles. The Rutherglen Estates winery is set amidst the vineyards in the historic Rutherglen region of North East Victoria, in South Eastern Australia. The wine styles produced are inspired by the region`s traditional styles combined with its climatic suitability to the classic grape varieties of both Fra...
St Leonards Vineyard Café, VIC 201 St Leonards Road, Wahgunyah, Victoria, 3687
Open on the first Saturday of every month for lunch, as well as Public Holiday weekends. St Leonards Vineyard Café offers fresh, seasonal simple dishes designed for outdoor dining. Outdoor tables overlook the views of vineyards and the Murray River national park. Seat yourself outside, or inside in the cosy room adjacent to cellar door. Enjoy a glass or two of St Leonards Vineyard wines with regional food as you take in the relaxed, friendly atmosphere overlooking vineyards and a lagoon on a bend of the mighty Murray River. St Leonards Vineyard Café has a changing seasonal menu featuring fresh seasonal produce which compliment a glass of wine. There are also great choices for kids. Guests are welcome on a walk-in basis. Reservation only applies for groups of seven guests or more.
Stanton and Killeen, VIC Jacks Road via Murray Valley Hgy, Rutherglen, Vic, 3685
The winery is in a picturesque setting on gently undulating farmland with shaded parking and barbeque/picnic facilities. There is a comfortable fully air-conditioned cellar door tasting room where a full range of award winning table and dessert wines including distinctive full bodied dry reds, famous Rutherglen Muscats and Tokay Dessert Wines, Vintage Ports and White table wines are available for ...
Valhalla Wines, VIC 163 All Saints Road, Wahgunyah, Victoria, 3687
Valhalla Wines hand crafts wine using natural vineyard practices, traditional winemaking methods and careful cellaring in the strawbale winery, to leave a lighter footprint for the next generation. The cellar door offers the opportunity for you to enjoy an relaxed wine tasting experience, Cheese and Charcuterie platters are available to purchase to enjoy with wines and local beers. Anton has established Valhalla with environmental sustainability as a core value of his business. Valhalla embraces natural farming methods in the vineyard, rainwater harvesting, a worm farm waste system, composting and use of recycled packaging. These sustainable practices and their attention to details create wines of character, wines with soul.
Warrabilla Wines, VIC 6152 Murray Valley Highway, Brimin, Victoria, 3685
Warrabilla Wines is the home of opulent red wines in North East Victoria. The cellar door, located just 12 minutes drive from Rutherglen township, is a rustic, functional and genuine centre for public tasting and sales. Guests are greeted by the resident Wine Dog Bear, along with a team of friendly, enthusiastic and engaged staff ready and willing to share their wealth of knowledge with you. Wine tastings are at the fore of their offering and for those looking to immerse themselves in their humble establishment, guided tours of our cellar and winery can be arranged ahead of your arrival.