Jump to Winery List
Wangaratta Wine District
The Wangaratta Wine District includes the northern areas of the King Valley Region near Wangarratta, Milawa and Oxley. Wangaratta boasts a number of attractive parks and and busy town centre. Enjoy walks along the Ovens River and through the delightful Apex Park. Wangaratta features a large commercial centre, primarily based along the attractive thoroughfare of Murphy Street and extending into adjacent Reid Street. There are several wineries and cellar door outlets close to the CBD.

The King Valley Wine Region includes three districts : Wangaratta ; Greta ; Whitfield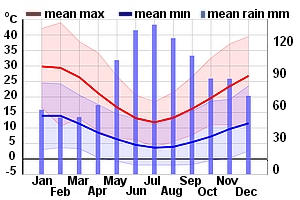 Winery Tour Map
Wineries
Brown Brothers Milawa Vineyard, VIC 239 Milawa Bobinawarrah Road, Milawa, Victoria, 3678MAP
Brown Brothers is one of Australia's leading family-owned wine companies, with the family making wine in North East Victoria for 130 years. Founded in 1889 by John Francis Brown, it was under the guidance of his son, John Charles Brown, that Brown Brothers established its reputation as a producer willing to experiment with innovative grape varieties. This experimentation and sense of adventure carries across the whole business and can be seen at our cellar doors from Milawa to Tasmania. Located in the lower reaches of the King Valley in North East Victoria, the Milawa Vineyard is the birth place of the Brown Brothers company. Surrounding the Epicurean Centre and Cellar Door, the Milawa Vineyard is the fruit source for renowned wines such as Patricia Noble Riesling, Shiraz Mondeuse and Cabernet and Dolcetto. It is also home to Brown Brothers grape retrieval and winemaking facilities where thousands of tonnes of grapes are crushed each vintage.
Hurdle Creek Still, VIC 216 Whorouly-Bobinawarrah Road, Milawa, Victoria, 3678MAP
Hurdle Creek Still is a family owned and run small batch Gin Distillery producing artisan Gins and spirits in the King Valley region. Inside the Stillhouse you will experience first hand the process of making craft Gin. Meet the distiller who is happy to show off the still and guide you through the process of tasting and distilling Gin. Just six kilometres from Milawa, Hurdle Creek Still is a perfect place to stretch your legs and experience a different flavour on the drive around the region.
John Gehrig Wines, VIC 80 Gehrigs Lane, Oxley Vic
Located amidst other district wineries and wonderful tourist attractions in the Oxley, Milawa, Glenrowan, King and Ovens Valley regions. On the major route to the Victorian Snowfields of Falls Creek, Mt Buffalo and Mt Hotham. Winery inspections and buses by appointment. Sheltered BBQ facilities on the King River. We have a wide variety of quality wines to choose from at John Gehrig Wines. These va...
Lindenwarrah, VIC Bobinawarrah Road, Milawa, Vic, 3678
Milawa, in the heart of Victoria`s northeast wine region, now has a dining and accommodation venue to match the best in the country. Lindenwarrah opened in August 2001 and has become an overnight success with guests seeking luxurious, eclectic style surrounded by the attractions of excellent wineries, historic towns and alpine scenery. Located opposite the world Famous Brown Brothers winery, Linde...
Markwood Estate, VIC 135 Morris Lane, Markwood, Vic 3678
FJ (Rick) Morris is a fourth generation winemaker, his family having started winemaking at Rutherglen Victoria in 1859. Rick`s philosophy for making wine is to produce very high quality wine using traditional methods and without the use of chemicals both in the vineyard and also in the winery. The wines have very long ageing potential if cellared under the correct conditions. The Cabernet-Sauvigno...
Omaru Orchard, VIC Omaru Rd, South Wangaratta, Wangaratta, Vic 3676
Open mid Nov-late March daily 8am-6pm.Located close to Wangaratta at the foot of the Warby Ranges, boasting views of Mt. Buffalo, this family business specialises in the ultimate eating experience - sweet juicy peaches, nectarines and cherries....
Oxley Estate, VIC 17 Evans Lane, Oxley, VIC 3678
In picturesque surroundings beside the King River, Ciavarella Wines, established in 1978, is owned and operated by Jan and Cyril Ciavarella at Oxley, in the King Valley wine region of North East Victoria. Ciavarella Oxley Estate produces traditional varietal table wines and innovative blends, with wines receiving favourable comment from wine critics and medals at the Rutherglen and Victorian Wine ...
Sam Miranda King Valley, VIC 1019 Snow Rd, Oxley VIC 3678
Located at Oxley in the heart of the King Valley & Milawa Gourmet Region, Sam Miranda welcomes you. As you enter a subterranean passage which leads you to our tasting area, you will experience the feeling of entering an underground cellar, streaming with light from the forty foot light tower that stands sentinel above you. Taste the world in a glass and embark on a journey through our range of rare and mainstream varietals hailing from Italy, Spain, France and Georgia. Tantalise your taste buds with crisp whites and rich earthy reds. Our expansive terrace area is the perfect place to relax, enjoy our wines and treat yourself to seasonal local produce from the kitchen or the finest coffee. In the winter, take advantage of our cosy and relaxed atmosphere and enjoy a glass of your favourite red by the fireplace.
Wood Park Wines, VIC 17 Milawa-Bobinawarrah Rd, Milawa VIC 3678
Welcome to the home of Wood Park Wines in the famous King Valley Wine Region. Established in 1989, Wood Park Wines now has an enviable reputation for the production of award-winning wines in a variety of styles – including sparkling, whites, reds and sweet/fortified wines – while utilising environmentally friendly, minimal chemical use production techniques. For your convenience, we are pleased to offer wine sales directly to you through our online shop. You can also buy our wines at the cellar door. Our Cellar Door is located in the iconic Milawa Cheese precinct at Milawa, just off the Snow Road!