Jump to Winery List
Moonambel Wine District
The Moonambel Wine District is part of the Pyrenees Ranges Wine Region. It is centred on the towns of St Arnaud, Redbank, Moonambel, Landsborough, Stuarts Mill, Navarre in the North Western Victoria located about 200 km north west of Melbourne. The township of St Arnaud is a rural service town and tourism centre which offers a wide range of accommodation. It is a good place to stay when visiting the district. It is an historic gold mining town, located between Avoca and Donald. The agricultural district is focused on sheep grazing, various grains and boutique wineries, and there are state forests and nature reserves that offers camping and bushwalking. About 25 km south of St Arnaud is the small historic community of Stuarts Mill. It was here that gold was first discovered in 1861, that triggered a gold rush to the area. Local attractions and events include: # The Bible Museum # Kooyoora State Park # St Arnaud Range National Park # St Arnaud Festival.

The Pyrenees Wine Region includes two districts : Avoca Victoria ; Moonambel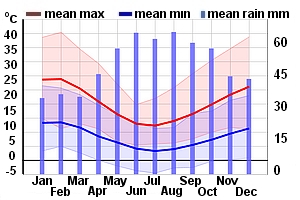 Winery Tour Map
Wineries
Dalwhinnie, VIC 448 Taltarni Road, Moonambel, Victoria, 3478
Dalwhinnie is located near the tiny village of Moonambel in the heart of the Pyrenees region of Western Victoria, Australia and is a super premium producer of Shiraz, Cabernet Sauvignon, Pinot Noir and Chardonnay. After 25 years of growing grapes, the 18 hectare vineyard is now fully mature, producing true varietal fruit characters with great concentration of flavours. At 595 metres above sea-leve...
Dogrock Winery, VIC 114 Degraves Road, Crowlands
Dogrock is a small family-owned winery, voted Gourmet Traveller's best Pyrenees/Ballarat small cellar door for 2016. Real wine, real winemakers. Dogrock Winery was first established in 1998 on 58 hectares of land behind the township of Crowlands on the western flank of the Pyrenees ranges, Victoria. Although most of the land consists of rugged timbered hillsides, the cleared area was considered ideal for vineyards and ultra premium wine production. Dogrock is a small family owned business run by Allen & Andrea Hart who are both qualified (winemaking and viticulture) in their respective fields and whose sole focus is on producing single vineyard wines of Riesling, Chardonnay, Shiraz and Cabernet Sauvignon as well as Grenache and Tempranillo. Dogrock has consistently been rated a 5 Star winery by James Halliday since 2012 and was awarded Best Small Cellar door in the Pyrenees/Ballarat wine regions by Gourmet Wine Traveller in April 2016.
Equus@Moonambel, VIC 106 Black Mares Lane, Moonambel
Spectacular views and fine wines made by award-winning Owen Latta of Eastern Peake and Latta Vino. EQUUS @ Moonambel opened its Cellar Door on a hill with 360 degree views at Easter 2015. In the heart of the Pyrenees, John Kirkpatrick and Patricia Mullins bought the young vineyard of Shiraz and Cabernet Sauvignon vines in 2005. With winemaker, Owen Latta, five vintages have been produced since 2008. Patricia is a children's book illustrator and writer. Her books can be purchased at the Cellar Door. She also restores antique rocking and carousel horses.
Glenlofty Vineyard, VIC 123 Glenlofty-Warrenmang Road, Glenlofty 3469
Glenlofty Vineyard is located in a cool valley on the southern edge of the Pyrenees Ranges in Western Victoria. The 110 hectare vineyard was established in 1995 with a selection of classic red and white grape varieties. The gentle slopes of the valley provide a range of aspects and soil types, which produce exceptional grapes, resulting in elegant wines with great structure, length and intensity of flavour.
Grape Farm Winery, VIC 107 McAdams Lane, Moonambel
All wines are made from fruit harvested from the vineyard. Grape Farm Winery is a small family tended vineyard located in its own breath taking natural amphitheatre in the Pyrenees wine region. Established in 1976, the vineyard comprises ten acres of mature shiraz, cabernet sauvignon, malbec, riesling, sauvignon blanc, semillon, pinot noir and chardonnay vines, as well as newer plantings of nebbiolo, sangiovese and viognier. Our wine making methods are personal and traditional and are founded upon organic principles. Vines are hand-pruned, hand-tendered and hand-harvested. Grapes are fermented in open vats, basket pressed and allowed to mature in French and American oak barrels and stainless steel for up to 18 months. All wines are made from fruit harvested from our vineyard. The "grape miles" from the vineyard to the glass are very very low! For example, our nebbiolo is grown, fermented, pressed, matured, bottled and often consumed within a radius of 50 metres.
Gwynnyth Vineyard, VIC 87 McAdams Lane, Moonambel
Elegant Pyrenees wine, including aged Cabernets, oaked Chenin Blanc and oak-aged Plum Port, Cabernet Vintage Liqueur and bottle fermented ciders. Our wines are generaly made in a lighter, more elegant style than is common in the Pyrenees region.
Kara Kara Estate, VIC Sunraysia Hwy, St Arnaud
Producing fine parcels of estate grown fruit to craft full flavoured and structured reds, and elegant whites, all of which are truly Pyrenees in style. Welcome to Kara Kara Estate, Established in 1977 by Steve & Marlene Zsigmond, our family operated Winery, Restaurant & cafe located in the Pyrenees Wine Region of Victoria. The name 'Kara Kara Estate' Vineyard, was named after an aboriginal term meaning "Gold Quartz" Our eight hectare vineyard is dry grown, which leads to a limited production of the finest parcels of fruit. Yields are low, contributing to wines of increased flavour and structure. all vines are hand pruned and harvested, and fruit is 100% estate grown, thus yielding single source wines.
Mountain Creek, VIC 188 Mountain Creek Rd Moonambel, Moonambel Vic 3478
The Mountain Creek VineyardImmediately adjacentto Warrenmang Vineyard and therefore shares many of the same characteristics. It was first planted in 1975 and therefore has a combination of mature and young vines, with 8ha currently planted.The mature cabernet sauvignon and sauvignon blanc vines have enabled first releases of these varietals under the Warrenmang Estate brand to achieve high standar...
Peerick, VIC 155 Wild Dog Track, Moonambel 3478
'Our mission is to produce limited quantities of premium wines. The vines at Peerick are trained and pruned to preserve and enhance the great natural fruit flavours. When using oak, we use only the very best European and American oak, carefully combined to provide elegance and sophistication.' Peerick wines can be found on some of the finest wine lists in restaurants and retail outlets through out Australia and selected locations in NZ.
Pyren Vineyard, VIC 1642 Glenlofty–Warrenmang Rd, Warrenmang 3478
Established in 1999 by brothers Brian and Kevyn Joy, the property has consistently produced low yielding fruit of exceptional quality. The property is presently operated by Brian's son Leighton in the winery, and viticultural guru and sheep grazier Graeme Miles. The most exciting challenge at Pyren is the strive for constant learning and the commitment to push limitations. Perpetual room for improvement and a desire to produce a true reflection of the Pyrenees are front and centre.
Redbank Winery, VIC 1 Sally`s Lane, Redbank, Vic 3478
The winery is made from hand-made bricks more than 100 years old, local red ironbark timber being used for the inside beams, cupboards and benches. The Redbank Winery is situated at the 200 km post on the Sunraysia Highway, just 18 km north of Avoca in Victoria. Redbank wines are available at the cellar door and through the mailing list. The winery is open seven days a week, 9 am to 5 pm Mondays t...
Sally's Paddock Redbank Winery, VIC 1926 Sunraysia Highway, Redbank
Producers of outstanding quality red varietals and blends. Open every day for tastings and meals at the Flying Pig Deli. Started by Neill and Sally Robb in 1973, Sally's Paddock has a long established reputation for producing outstanding quality red varietals and blends. Open Everyday for tastings and meals, coffee and cake at the Flying Pig Deli, we welcome everyone to come and enjoy our selection of wines in the heart of the magnificent Pyrenees region.
Summerfield Wines, VIC 5967 Stawell-Avoca Road, Moonambel
Specialising in deep, bold reds using traditional methods. Enjoy a selection of fine foods from their gourmet deli. 5 Red Star Winery rated by James Halliday, top 100 wineries in Australia. We are Ian and Mark Summerfield owners, vineyard manager, winemaker and committed wine lovers. As a father and son team, we work together to complement each other's skills and passion when producing Summerfield wines.
Taltarni Vineyards, VIC 339 Taltarni Road, Moonambel Victoria 3478
Taltarni is Aboriginal for `Red Earth. The vineyard is perfectly located with a Mediterranean climate, gravelly quartz and clay soil, 420 metres above sea and perfectly adapted to the production of outstanding wines. Taltarni is based on a Chateau concept, where we have complete control of the winemaking process from the vine to the bottle. The wines are made to achieve balance, complexity and fin...
Warrenmang Vineyard, VIC 188 Mountain Creek Road, Moonambel, Vic 3478
Warrenmang is one of the most significant wine-oriented enterprises in the Pyrenees, highly regarded in every respect. Located on a picturesque hillside and guarded by a whimsical collection of scarecrows, the winery overlooks a carpet of vines and the hills of the Pyrenees. It has excellent resort-style accommodation, and a great restaurant. Wine quality is excellent, particularly the powerfully ...