Jump to Winery List
Avoca Wine District
The Avoca Wine District in the Pyrenees Ranges Wine Region is centred on the historic goldmining towns of Avoca, Amphitheatre, Talbot, Waubra, Lexton. The District is locate about 70 km north of Ballarat and 180 km north west of Melbourne. The charming township of Avoca is notable for its extraordinarily wide main street and its many historic buildings. Local attractions in the district include: # The Avoca and District Historical Society # The historic township of Percydale # Warrenmang Vineyard Resort # Lexton historic township located abut 23 km south of Avoca.

The Pyrenees Wine Region includes two districts : Avoca Victoria ; Moonambel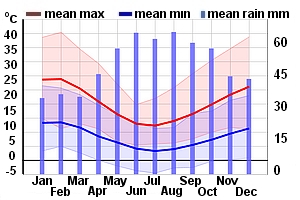 Winery Tour Map
Wineries
Amherst Winery, VIC 285 Talbot-Avoca Road, Amherst
Established in 1989, producing small batches of elegant, complex wines. Wild yeast fermented, basket pressed, handmade. A love of wine, a little bit of research, a good deal of naivety and a hell of a lot of hard work led to the establishment of Amherst Winery when Norman and Elizabeth Jones planted the 2ha "Dunn's Paddock" Shiraz vineyard in 1989. This was followed by 1.5ha of Cabernet Sauvignon and .5ha of Chardonnay in 1998. Amherst Winery is located 20km southeast of Avoca in Western Victoria's beautiful Pyrenees Wine Region. The land at Amherst, an old gold field, had been farmed by Norms' grandparents and great grandparents. When the opportunity arose to purchase some of this land in the 1970s he jumped at the chance of holding on to some of the family's rural heritage.
Blue Pyrenees Estate, VIC Vinoca Road, Avoca
Pioneers of cool-climate viticulture in Victoria, producing world-class quality wines made solely from grapes grown in their own vineyards. Blue Pyrenees—then called Chateau Remy—was established in Western Victoria in 1963 by Remy Martin. Remy Martin was committed to discovering the superb sparkling wine potential of the world's cool climate wine regions and subsequently became the force behind Champagne Houses Krug and Charles Heidsieck. Blue Pyrenees Estate was among the modern Australian wine industry's first ventures into cool climate viticulture. Ample amounts of sunshine ensure our grapes ripen to full maturity with the heat moderated by altitude vineyards and southerly ocean winds. The climate is warm enough to give concentration and power, yet cool enough to give vibrancy and elegance, resulting in remarkable wines from Cabernet Sauvignon, Shiraz, Merlot, Chardonnay and Sauvignon Blanc.
Forest Gate Estate, VIC 122 Redpath Road, Avoca
A boutique vineyard, cellar door and café on Avoca's doorstep. Enjoy exceptional wines and great food while overlooking the tranquil vineyard. Our vineyard was established in 2004, with plantings of Shiraz and Cabernet Sauvignon with further plantings currently underway. Attention to detail from the pruning and training of vines, through to vinification, maturation and bottling ensure that the highest standards are achieved. Our Estate practices include a sustainable and natural approach to grape growing and winemaking. The wines speak of the terroir and are a direct reflection of the vineyard.
Lamplough Estate, VIC 5192 Sunraysia Hwy, Lamplough
A picturesque winery producing quality wines by traditional means, from grapes grown on the property. Visitors are welcome at the cellar door for free tastings. It began as a dream many years ago, but in 1996, together with my wife Jeannie, I decided to trade in a career as an industrial chemist, plant vines and make wine. After a very enjoyable search for land throughout Victoria we settled on the Pyrenees region as the destination for our vineyard. In 1997 the land now known as Lamplough Estate was purchased, and in the same year the first vines were planted—a selection of classic varietals including Shiraz, Cabernet Sauvignon, Merlot, Pinot Noir, Chardonnay and Sauvignon Blanc.
Mackereth House, VIC Main Road, Avoca Vic 3467
Mackereth`s Winery is the original winery and vineyard planted in what is now regarded as one of Australia`s most distinguished and distinctive wine regions - The Pyrenees. Established in 1864 with the first vines planted in 1887, the Mackereth family operated vineyards and wine shops in Avoca until family tragedy and economic down-turn drove them out of business in 1929.Renowned Mount Avoca winem...
Mount Avoca Winery, VIC Moates Lane (off Vinoca Road), Avoca, VIC 3467
Mount Avoca Vineyard is a small family owned vineyard and winery. Established in 1970 after a long search for the best vineyard site, the original vineyard has grown to 24 hectares, which produces all the fruit crushed at Mount Avoca. Dedicated to quality and passionate about winemaking, guests are invited to try the wines of Mount Avoca Vineyard and let the contents of each bottle convince you th...
Quoin Hill, VIC 76 Quoin Hill Road, Waubra
A stunning vineyard and winery with a café and function centre, showcasing all wines exclusively at the cellar door. Open for weekend lunches, weddings and special occasions. Quoin Hill Vineyard is a family run operation established in 1997, situated on 46 acres of volcanic soil at an elevation of 520 metres making it the highest and also the southern most vineyard in the Pyrenees Wine Region. There are 8 acres of vines at present made up of 5 varieties, being Shiraz, Chardonnay, Pinot Grigio, Tempranillo and Pinot Noir. All wine is made from estate-grown grapes. The first vintage was 2001, of which Shiraz and Chardonnay were produced. Both of these wines were awarded Wine Show medals.
St Ignatius, VIC Cnr Mitchell Rd and Sunraysia Hwy, Avoca, Vic 3467
St Ignatius Vineyard is a small family business, a product of the commitment and hard work of a couple of migrants who came to this country with a strong desire to follow their dreams.In 1992, we bought the property where St Ignatius Vineyard is now established. A bare block of undeveloped land was our first challenge, and after nine years of working towards the creation of a model vineyard, our p...
Wimmera Hills Winery, VIC 606 Elmhurst-Glenpatrick Rd, Elmhurst
High in the upper reaches of the Wimmera basin grazing country meets rugged forest. Hot days and cold nights. Sparse soil over shattered sandstone. This is the Pyrenees Ranges; this is where great shiraz is born. Wimmera Hills winery tempers the austerity of the renowned Pyrenees style with carefully handmade wine. Winemaker Benjamin Baker attentively nurtures each vintage mixing the best of traditional techniques with innovative ideas and technology. Dedicated to our friends and family, the "Dedication" Shiraz is extremely approachable and smooth. Our other wines challenge stereotypes and deliver to you new tastes.
Bigibila Wines, VIC 85 Polleters Rd, Moonambel VIC 3478
Bigibila" is an Aboriginal word for "Echidna". The word "Bigibila" comes from the Gamilaraay language, spoken by the Gamilaroi people. We are lucky enough to have echidnas on the farm, so we wanted to incorporate the indigenous animals into our new name and labels. "We strive for our wine to be as distinctive and delightful as the monotreme Bigibila."