Jump to Winery List
Portland Wine District
The Portland Wine District is located in the Henty Wine Region along the southern coastline of Victoria and surrounds the townships of Portland, Heywood, Port Fairy, Dartmoor, Digby and Warrnambool. The rural service centre and tourism gateway of Portland offers visitors a wonderful array of attractions and recreational activities and has rugged landscapes, colourful maritime history, fabulous nature reserves, spectacular surfing, great fishing and boating, and lovely local food and wine at is many fine restaurants. Enjoy the Portland self-guided Historic Buildings Walk to learn about the town's heritage, and the seafaring history,at the Maritime Discovery Centre. Some of the local attrctions, activities and events include: # Cape Bridgewater # Seals By Sea Tours # Whale watching # The Great South West Walk # Heywood Wood, Wine and Roses Festival, held in February # The Portland Bay Festival in November.

The Henty Wine Region includes two districts : Hamilton ; Portland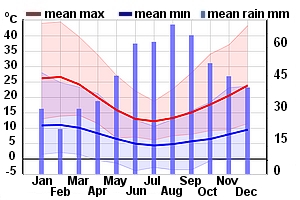 Winery Tour Map
Wineries
Bochara Wines, VIC 1099 Glenelg Hwy, Bochara VIC 3301
We produce premium handcrafted wines in Henty Wine Region, located west of Hamilton in South-west Victoria, near the Grampians National Park. We're known best for our Sauvignon Blanc, Picnic Train Rose, Pinot Noir and Gewurztraminer. Located in the heart of western Victoria's red-gum country, the vineyard and cellar door are 10 km west of Hamilton. The vineyard was established in 1998 at the small settlement of Bochara, south-west of the Grampians National Park.
Crawford River, VIC 741 Upper Hotspur Road, Condah Vic 3303
The vineyard was established in 1975 by John and Catherine Thomson. Winemaker John Thomson studied Wine Science and Viticulture at Charles Sturt, Wagga Wagga and made his first commercial vintage in 1981, the same year that the winery was built on top of the hill overlooking the vines. Set in traditional grazing lands, John was one of the pioneers of wine-grape growing in this far south-west corne...
Seppelt`s Drumborg, VIC Seppelts Road, Drumborg, VIC
The Drumborg Vineyard was planted in 1964 for the express purpose of providing Seppelt with a resource of cool climate fruit for premium quality table and sparkling wines. The Drumborg vineyard remains one of the most southern vineyards in mainland Australia. The varieties planted reflect the cool climate nature of the site with Pinot Noir, Pinot Meunier and Chardonnay the principle varieties alon...