Jump to Winery List
Hamilton Wine District
The Hamilton Wine District in the Henty Wine Region on the southern coastline of Victoria is centred con the townships of Hamilton, Dunkeld, Coleraine, Merino, Casterton, and Digby. Hamilton is a rich agricultural area mostly focused on sheep and wool and it has many fine historic buildings, attrctions and fabulous tourist facilities. Among the attractions are the renowned Hamilton Art Gallery the picturesque Lake Hamilton. You can try many sports and recreational activities such as: Fishing, water skiing, boating, canoeing, kayaking, surfing, sailing and canoeing. There are many nature reserves in the area offering bushwalking, fabulous scenery and look-outs, dormant volcanoes and stunning waterfalls. Learn about Australia's aviation history at the popular Ansett Transport Museum. and the farming history of the area at the Hamilton Pastoral Museum. The major events are: Green Triangle Beef Expo – February, Sheepvention – August, Hamilton Cup Carnival – April, Hamilton Rotary Art Show – October.

The Henty Wine Region includes two districts : Hamilton ; Portland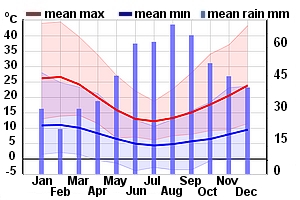 Winery Tour Map
Wineries
Basalt Wines, VIC 1131 Princes Hwy, Killarney VIC 3283
In 2003 we established our vineyard exercising organic practises for pest and disease, from 2008 we have increasingly been actively involved in biodynamic conversion. Under vine is mulched using straw, with strawberry clover allowed to establish a hold on the inner row area. Being blessed by the maritime/cool climate and the moderating effects of the sea breeze, early ripening varieties were chosen. Pinot Noir; Tempranillo; Riesling McWilliams all were grafted onto Schwarzmann rootstocks. The reason to go with grafted vines was determined by the richness of the soil. To enable the control of excess vine vigor we planted drought resistant rootstock and the whole vineyard is completely dry grown. Together with the prevailing winds this all helps to balance vine growth.
Henty Estate, VIC 657 Hensley Park Rd, Hamiliton Vic 3300
Our philosophy is one of no compromise on quality in the vineyard and the winemaking. The vineyard is managed with one aim in mind, to produce fruit of the highest quality to enable production of wines with great regional character. We strongly adhere to the philosophy that great wines are made in the vineyard. James Halliday rates Henty Estate a 4.5 star winery in his latest Australian Wine Compa...
Pierrepoint Estate, VIC 271 Pierrepoint Road, Tarrington, 3301
We grow Chardonnay, Pinot Noir and Pinot Gris grapes in our five hectare vineyard, which was was established in 1998. With red volcanic soil and a gentle, cool climate punctuated by brilliantly sunny summer days, Pierrepoint is ideally situated for these varieties. The vines are tended with traditional care, being hand pruned in the winter, de-budded to reduce the yield (this increases the quality of the grapes), and then hand harvested over several weeks beginning late summer through to early autumn. Taking a stroll among the vines, you'll see geese, ducks and chickens roaming free. They are part of Pierrepoint's pest-control program – the vineyard has been chemical-free since 2000. We use natural methods whenever possible, and we believe our wines are all the better for it.
Stonefield Estate, VIC 899 Stonefield Lane, Penshurst, 3289
Stonefield Estate is a leading wine producer in the Henty Region best known for its Riesling, Pinot Noir and Chardonnay wines. In addition to these wines, the vineyard is also known to produce a handful of experimental rows. Stonefield Estate – Winery Cellar Door Opening Times, Penshurst Victoria Stonefield Estate was originally an expansive 9000 acre property that was solely used to graze animals in that era. The land was later subdivided to make way for soldier settlement in the mid 50's. It is around this time that the first homestead was built on location. The vineyard owners purchased the sub-divided property in 1993, and the first plantings went in just two years later. For a vineyard whose history dates back to 1995, Stonefield has since grown in leaps and bounds to be a leading producer in the Henty wine region. Part of the decision to plant the vineyard can be attributed to the rich volcanic climate and cool climate that makes for a perfect combination to grow vines.
Suffoir Winery and Brewery, VIC 144 Mount Eccles Road, Macarthur VIC 3286
We are a family owned and operated boutique winery, brewery and cidery on the outskirts of Macarthur, located only 30 minutes from Hamilton and Port Fairy. We have 2.5 acres of Pinot Noir vines and produce all the wine, beer and cider on site. Our beer range, called the Three Alpacas, are named after our three friendly alpacas that roam the property. We have a cellar door open to the public and offer wine tastings, beer paddle tastings, cellar door sales, cheese platters and a range of other services. Talk to us about catering for your next event, big or small!