Jump to Winery List
Ararat Wine District
The Ararat Wine District is located in the Grampians Wine Region surrounding the townships of Ararat, Moyston, Mafeking, Maroona and Willaura. The charming rural service centre and tourist town of Ararat is an historic gold-mining town surrounded by rich pastoral, fruit and wine grape growing district between Beaufort and Stawell. There are a number of historical buildings dating from the late 1800s, as well as the Langi Morgala Museum and the Gum San Chinese Heritage Centre.West of Ararat, on the road heading west towards Moyston, are several wineries and scenic spots for wonderful views of the Grampians. Further to the south is the renowned Grampians National Park and tourist centre of Halls Gap. Ararat a wonderful base to stay and explore the natural attractions and activities of this wonderful area. Attractions, events and activities include: # Mount Buangor State Park, Langi Ghiran State Park with its rugged granite formations # Jailhouse Rock Festival.

The Grampians Wine Region includes two districts : Halls Gap ; Ararat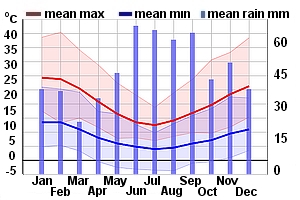 Winery Tour Map
Wineries
ATR Wines, VIC 103 Hard Hill Road, Armstrong, Victoria, 3377
By combining global winemaking experience with a regional flavour, ATR is bringing a bold and pioneering winemaking approach to the cool-climate Grampians. Breaking the mould with cutting edge blends from alternate varieties and a modern approach to traditional varieties, ATR's wines are a contemporary reflection of their place in the Australian bush. Continuing 160 years of Great Western winemaking heritage but focussed forwards to create modern wines that surprise with their combination of complexity, approachability, age-worthiness and value. Harmonious vineyard practices, small batch production with minimal intervention create wines with a vigorous focus on structure, balance and elegance, not just on flavour. Getting out of the way to not cloud this visibility through winemaking tricks or heavy-handed processing, the personality of ATR's wines reflects the vineyard, not the winemaking.
Clayfield Wines, VIC 25 Wilde Ln, Moyston VIC 3377
Clayfield Wines is a small boutique vineyard that specialises in the limited production of award winning Grampians Shiraz. Clayfield Wines was established in 1999, my goal was to produce premium Grampians Shiraz in limited quantities showcasing the elegant flavours and subtle differences from vineyards within the Grampians region. The first few vintages were produced from Shiraz supplied by several local growers and 2002 our own vines contributed a small amount to the wine. The 2002 turned out to be one of our famous Shiraz wines earning a Gold medal award at the Melbourne Wine Show. In 2006 the Clayfield Grampians Shiraz 2004 earned 5 stars in Winestate Magazine World's Greatest Shiraz Challenge, being selected in the Judges Top Ten. This classic Shiraz also earned a top Gold Award at the Visy Australian Greatest Shiraz Challenge and was runner up overall.
Fratin Brothers, VIC 36 Byron Road Ararat, Victoria 3377
Fratin Brothers Vineyard is nestled between the rolling hills and picturesque surrounds of the Great Dividing Range in Western Victoria, 50 km south east of the Grampians National Park. With viticulture background and a strong family tradition the vineyards were planted by Dino and Michael Fratin in 1998, thirty years after their father Serge and his brothers Don and Lino established the well reno...
Grampians Estate, VIC 1477 Western Highway, Great Western, Victoria, 3377
A James Halliday Five Red Star winery, Grampians Estate has collected some 49 trophies for its wines. The cellar door offers wine tastings, wine tutorials, cheese platters, muffins and espresso coffee in a warm and friendly environment. Experienced staff will ensure your visit is a rewarding one. Grampians Estate owns two vineyards. The Garden Gully Vineyard at Great Western was established in the late 1870s, with the vineyard's shiraz and riesling vines being amongst the oldest in Victoria. The Mafeking vineyard to the south of Moyston produces classic cool climate peppery spicy shiraz, best exemplified in the multi awarded Streeton Reserve Shiraz label. Ralph Kyte-Powell recalls how the Salinger family operated its Hockheim winery on the Great Western site for about 75 years, closing in 1945. A brick-topped underground tank out the front is the only remnant of those days. Now Grampians Estate occupies the site. A friendly, relaxed cellar door just off the main road, it is a great place to taste some of Great Western's best wines, especially outstanding Shiraz, in either still table wine form, or the sparkling type that is a regional speciality.
Kimbarra Wines, VIC 422 Barkly St, Ararat, Vic 3377
Kimbarra, a super fine wool property nestled in the rolling hills 5km east of Great Western, is owned by the Leeke family whose passion for wine in 1978 saw their first vineyard established - 2ha of Riesling and 1ha of Cabernet Sauvignon. Further plantings in 1995 of a further 9ha of Shiraz brought the total production nearly 100 tonnes annually. Kimbarra wines have consistently produced award-win...
Mount Ararat, VIC Moyston Road, Ararat, VIC 3377
Cathcart Ridge Estate and Mount Ararat Estate are located in Ararat, in Great Western, in the Grampians wine region of Western Victoria. Cottage accommodation on site....
Mount Chalambar, VIC 197 Mount Cole Road, Warrak VIC 3377
Owned by Graeme and Carolyn Bertuch, Mt Cole Wineworks was established in the late 1990`s in a valley at Mount Cole, in Warrak, near the well known Langi Ghiran vineyard, in Great Western, in the Grampians wine region of Western Victoria. The vineyard specializes in shiraz, with soils and climate suiting this variety. Cool nights and warm days ripen the fruit late in the season. The soil is granit...
Mount Langi Ghiran, VIC 80 Vine Road, Buangor via Ararat, Vic 3375
Continually listed as one of the most beautiful vineyard sites in Australia, Mount Langi Ghiran is also one of Australia's most acclaimed producers of Shiraz. The vineyard, with its towering granite cliffs and loamy red soils, encapsulates an extraordinary sense of place. Mount Langi Ghiran, or Langi, as it is fondly referred to by the staff, was originally planted in 1870. When visiting the vineyard discover its picturesque environment while savouring its delicate wines. During long weekends, taste Museum and limited releases. Enjoy the Picnic Idyll: bring along your own picnic feast, practice your bocce game and ride one of our bikes between the glorious vines. Wander the vineyard and learn more about Langi with the self-guided map. $10pp includes premium picnic glassware, picnic blanket and accessories, bikes and bocce, and access to secluded areas of the vineyard. Bookings recommended.
Mountainside Wines, VIC 197 Mount Cole Road, Mount Cole, Victoria, 3377
Mountainside Wines is a family owned and operated vineyard and winery situated at the base of Mount Cole at the south eastern end of the Grampians wine region. Premium wines are produced from vineyards that are hand tended and hand picked. Here at Mountainside Wines you can wander the vineyard, enjoy a picnic with a platter of local foods, and soak up the views of Mt Cole, Mt Buangor and Mt Langi Ghiran. Relax, unwind and experience the beauty of the Grampians while enjoying a glass of wine and local produce. Mountainside Wines has four wines; Shiraz, Reserve Shiraz, Viognier and Nebbiolo. All are rich in the flavour of the Grampians and reflect the terroir of the region. In November 2014, the winery was sold to the present owners Shane and Jane Goninon, who continue to produce Shiraz, Reserve Shiraz, Viognier and Nebbiolo. Under the name of the previous owner the Fenix Rising Reserve Shiraz won awards at the Royal Melbourne Wine Awards, the Sydney International Wine Competition and the Concours Des Vins de Victoria.
Norton Estate Wines, VIC 758 Plush Hannans Road, Lower Norton, Victoria, 3401
Situated on a loamy buckshot rise 15 minutes south west of Horsham, Norton Estate Wines is halfway between the Grampians and Mount Arapiles on Victoria's most southern outcrop of Mallee vegetation, and produce some of Australia's finest boutique wines, with many gold medals to their name. The vineyards frost free elevation and loamy buckshot soils, combined with an ideal Mediterranean climate, provide for a perfect setting for premium wine production. Warm days, cool nights and a disease free status allow the vines to thrive in this vineyard. The vineyard is managed to ensure low yields and the pruning and picking done by hand allowing us control over the yields to provide the best quality fruit from which their wines are made. Norton Estates Shiraz, Cabernet Sauvignon and Sauvignon Blanc wines all display great balance and elegance with lifted varietal character, depth of flavour and complexity to satisfy the fussiest palate. Their flagship wine, the Arapiles Run Shiraz, has gained some wonderful accolades and is one wine that you must try. Norton Estate Wines invites you to call in and visit their cellar door and sample these lovely wines and to take advantage of their daily specials and purchase bonuses.
Westgate Vineyard, VIC 180 Westgate Road, Ararat Vic 3377
Westgate has been home to the Dalkin family since the property was selected by Matthew Dalkin in the 1860`s. Six generations have lived at Westgate and today Bruce and Robyn Dalkin are the custodians. Over the years Westgate has seen a range of farming activities. The focus today is wine grape production, incorporating a small winery producing wine under the Westgate Wine label and tourism, a 4 st...