Jump to Winery List
Halls Gap Wine District
The Halls Gap Wine District in the Grampians Wine Region, is located in Western Victoria near the townships of Stawell, Halls Gap and Moyston. The small tourism hub of Halls Gap is situated in the heart of the famous Grampians National Park, nestled between two rocky peaks - the Wonderland and Mount William Ranges. The Grampians are one of Victoria's most renowned and popular natural attractions and tourist destinations, especially for bushwalkers, campers and holiday makers with the area boasting soaring mountain peaks, rugged bushland tracks, rivers, waterfalls, and a number of large lakes offering a variety of recreation options. Lake Bellfield, located just a few kilometres south of Halls Gap, offers picnic areas, boating activities and swimming. Lake Wartook and the Moora Moora Reservoir offer similar attrctions. Local attractions and events include: # Grampians Wildflower Show # Grampians Grape Escape - A food and wine festival with wine tastings, cooking demonstrations, live music, displays and various performances and kids entertainment # Grampians Jazz Festival.

The Grampians Wine Region includes two districts : Halls Gap ; Ararat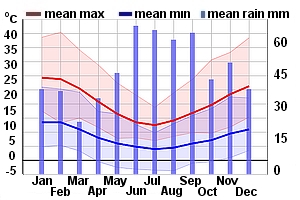 Winery Tour Map
Wineries
Best`s Great Western, VIC 111 Best`s Road, Great Western Vic 3377
Founded in 1866 in the Great Western wine region of Victoria, Best's Great Western is one of Australia's oldest continually family owned and operated wineries. Best's is known to have some of the oldest vines in Australia and produces extraordinary wines with great longevity. Throughout the history of the winery, there have only been two owners, the Best family who founded the winery, and the Thomson Family with a fifth generation Thomson is now running the winery. The Stables Cellar Door is a great place to taste the wines before experiencing the original underground cellar on their self-guided tour. Best's Great Western is located in the township of Great Western and it is an absolute must for any wine fancier. Few wineries are as historic or as atmospheric. The wines are excellent, with outstanding Shiraz and Cabernet Sauvignon, savoury Dolcetto, and fresh Pinot Meunier among the reds, and top quality Riesling and Chardonnay. Occasional specials, available only from the Cellar Door, are an added incentive to visit.
Boroka Vineyard, VIC Pomonal Road, Halls Gap, Vic 3381
Purchased recently by Mount Langi Ghiran, wines from this vineyard are now sold under `The Gap` label. The Boroka Vineyard - Offers panoramic views and a good range of wines for tasting and for sale....
Donovan Wines, VIC Pomonal Road, Stawell Vic 3381
This winery was established in 1977, 6km south of Stawell, on a rocky incline with a westerly aspect. Plantings include the classic varieties of Shiraz, Cabernet Sauvignon and Chardonnay. Tastings and sales by appointment....
Fallen Giants Vineyard , VIC 4113 Ararat-Halls Gap Road, Halls Gap, Victoria, 3381
Fallen Giants vineyard was planted on the steep Eastern slopes of the Grampians in 1969, and has long since been a respected grower for many of the country's great wineries. With superb views of the Grampians, this winery in the heart of Halls Gap is known for its estate grown Shiraz, Cabernet and Riesling. Visit the cellar door for free wine tastings, or settle in with a bottle of wine and cheese platter.
Pomonal Estate, VIC 2079 Pomonal Road, Pomonal, Victoria, 3381
Established in 2017, Pomonal Estate owners Adam and Pep Atchison welcome you to their new winery, microbrewery and cider house. With a stunning backdrop of the Grampians National Park, come and enjoy a selection of regional wines, handcrafted ciders and beers. The spectacular views, the cellar door and function venue is ideal for your memorable functions and weddings. Pomonal Estate's newly built Mt Cassel Villa, accommodating up to eight persons, is nestled amongst the vines with stunning views of the Grampians National Park. Reconnect with life's pleasures, exquisite sunrises, glorious sunsets, rainbows and some well-earned relaxation time. Marry with your wedding/function packages. Pomonal Estate offer wine, beer and cider tastings and sales, local produce platters, light lunches, homemade cakes, coffee and tea, local produce and art, kids games and activities and spectacular Grampians views. Reconnect with nature and your tastebuds just ten minutes from Halls Gap Town Centre in the Grampians.
Seppelt -Great Western, VIC 36 Cemetery Road, Great Western, Victoria, 3377
For more than 150 years, Seppelt has been a leader in Australian Winemaking. It began in the early days in the Barossa Valley in 1851, through to the purchase of the Great Western winery in 1918, to the present. A visit to the Grampians is not complete without a trip to the region's original winemaking pioneers at Seppelt Great Western. Open seven days a week, experience the beauty of country Victoria at the historic cellar door for a tasting or to purchase wine, coffee, a light lunch or cheese platter, and step back in time underground with a tour of the heritage-listed cellars, The Drives – first excavated in 1868 and the longest in the southern hemisphere.
The Gap, VIC Pomonal Road, Halls Gap, Vic 3381
Part of the Mount Langi Ghiran group of Vineyards the Gap Vineyard and Cellar Door is set against the backdrop of the Mount William Ranges and is just a short drive from Halls Gap. The Cellar Door offers visitors tastings and sales of the Mount Langi Ghiran and the Gap Vineyard range of wines, the Cellar Door also features art and exhibitions by local artists. Local red gum benches, spectacular vi...