Jump to Winery List
South Heathcote Wine District, VIC
The Heathcote South District includes wineries south of Heathcote, about 100 km north of Melbourne and near the towns of Heathcote, Mia Mia, Tooborac, Redesdale. The District lies in the heart of Central Victoria, in the Gold Heritage area in the foothills of the McIvor and McHarg Ranges. Heathcote boasts scenic landscapes, gold rush era heritage, historic buildings, fascinating antiques, arts and crafts, diverse flora and fauna in an array of national parks and nature reserves, premier boutique wines and friendly cellar door outlets, charming bed and breakfasts and other accommodation. Join in with one of the many local events held throughout the year. The The Heathcote World's Longest Lunch is held in March and the renowned Heathcote Wine and Food Festival is held in October, each year. These events include wine and food tastings, music events, intriguing art shows, accommodation specials. Local activities in the area include winery tours, bushwalking and camping, cooking competitions, kite flying days, golf events and star parties organised by the Astronomical Society of Victoria. Local wineries in the district include: Argyle Forest Vineyards, McIvor Creek Wines, McIvor Estate, Eppalock Ridge, Heathcote Winery, Shadowfax Winery, Shelmerdine Vineyards, Red Edge Vineyard, Redesdale Estate Vineyard, Wild Duck Creek Estate.

The Heathcote Wine Region includes two districts : Heathcote-North ; Heathcote-South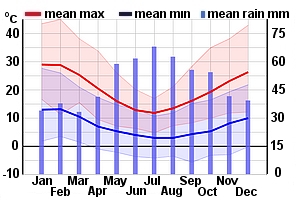 Winery Tour Map
Wineries
Burke & Wills Winery, VIC 89 Coombes Lane Mia Mia 3444 Vic
Burke & Wills Winery is a small family run business in the Heathcote Wine Region, owned and operated by winemaker and music promoter Andrew Pattison and his wife Heather McCormack. We produce a wide range of quality wines with a focus on premium wines from our home vineyard, which have included the 2017 Premiers Award 2015 Vat 1 Shiraz.
Condie Estate, VIC 480 Heathcote-Redesdale Rd, Heathcote VIC 3523
Condie Estate is owned by Richie & Rosanne Condie. We have two vineyards in the Heathcote region, one on Lewis Rd north of Heathcote, the other situated on Wild Duck Creek 5kms south west of Heathcote. In 2001 we established our first 6 acre Shiraz vineyard on Lewis Road. Since then we have planted 5 acres of Sangiovese and 2 acres of viognier. Our philosophy is simple: we use the best quality inputs, the best variety for each area, the best fruit, the best oak, low touch wine making and allow the regional and varietal characteristics shine through.
Foster e Rocco, VIC 139 Williams Road MYERS FLAT VIC 3556 (postal)
As a wine maker, my aim has always been to express the true terroir of the vineyard and vintage, and along the way I have learnt you can have great success through minimal human intervention in the winemaking process and by simply putting your trust in Mother Nature. Each year grapes for Syrahmi are sourced and selected from a different vineyard in the Heathcote region. Thus each year the wine's I make are given different name to reflect the vintage.
Glenhope Ridge Estate, VIC Heathcote
Glenhope Ridge Estate is the number one source for premier Heathcote Shiraz.
Heathcote, VIC Heathcote
Heathcote is an amazing place to grow grapes: Long warm days & cool , clear nights provide a perfect climate for wines with spice and elegance. We strive to create distinctive Heathcote reds that reflect the soil in which they come from. Our wines show intense varietal aromas and flavours, balanced weight and mouthfeel, and a long silky finish.
Heathcote Wine Hub, VIC 105 High St, Heathcote VIC 3523
Owners of Flynns Wines, Greg & Natala Flynn took over the Heathcote Wine Hub Cellar & Store in November 2016 with a clear vision for this much loved cafe, cellar and providore. New cafe menu, artisan- made produce and home wares, pantry essentials and treats all sitting alongside what is the BIGGEST offering of Heathcote Wines under one roof, in the world! With 24 Local wines on taste everyday we are THE place in town to taste local wines, meet the winemakers from boutique vineyards & enjoy food in the store or courtyard garden setting.
Heathcote Winery, VIC 183-185 High St HEATHCOTE VIC 3523
Heathcote Winery's Cellar Door and Winery are uniquely positioned in the main street of Heathcote. The Cellar Door and adjacent Art Gallery are housed in a restored miners produce store built by Thomas Craven in 1854 to cater for the huge influx of gold miners seeking their fortune. The winery produced its first vintage in 1981 and now specialises in the production of Shiraz and Viognier reflective of the Heathcote Region but distinctly Heathcote Winery. Shiraz is the cornerstone of Heathcote Winery's premium wine production, including the highly acclaimed Mail Coach Shiraz and the Single vineyard Slaughterhouse Paddock Shiraz. Visitors to cellar door may enjoy free wine tastings and a selection of regional gourmet items. Heathcote Winery also offers a grazing lunch option from Saturday to Sunday from 12pm to 3pm. Otherwise just relax and unwind with a glass of wine in our sheltered rustic courtyard.
McIvor Estate, VIC 80 Tooborac-Baynton Road, Tooborac Vic 3522
The McIvor Estate vineyard and olive grove is located 5km south west of the Tooborac Township down the Lancefield road and then 800m along the Tooborac-Baynton Road. The property is only I hours drive from the CBD of Melbourne. It lies in the picturesque hills to the west of Tooborac. This setting in the last hills of the Great Dividing Range with its large granite boulders, majestic rolling hills...
Merindoc Vintners, VIC 2905 Lancefield-Tooborac Road TOOBORAC VIC 3522 MAP
Inspired by the wines of the Rhone Valley For three generations the Shelmerdine family has been at the forefront of the modern Victorian wine industry, and among Victoria's most prominent grape growers. The family have a long history of managing high quality vineyards in Victoria, from the Nagambie Lakes region to the Yarra Valley and Heathcote. Each estate vineyard is managed to produce sustainable, low yields for the highest quality possible. The Merindoc philosophy is simple; we employ our understanding of the site, soil, and the seasons to craft wines that express the unique characteristics of our vineyards, this inturn ensures wines with a true regional identity.
Mount Camel Ridge Estate, VIC 473 Heathcote Rochester Road HEATHCOTE VIC 3523
"The key to great wines is great vineyards worked by dedicated growers...it's that simple." Michael Tardieu. Tardieu-Laurent, Rhone Valley, France. Mount Camel Ridge Estate is situated on the eastern face at the cooler, south end of the Mount Camel Range, 17km north of Heathcote in Central Victoria. Our objective is to produce a wine of beauty, individuality and finesse that reflects the terroir, the grape variety, the vintage and the site from which it came.
Peregrine Ridge, VIC vineyard near Heathcote
Situated at an elevation ranging from 250 to 290m above sea level, Peregrine Ridge is the highest vineyard on the east side of the Mt Camel Range. Grown with a near perfect organic soil management regime, the Peregrine Ridge vineyard is planted on Cambrian soils that are at least 6m deep with a healthy distribution of greenstone (Jasper). Peregrine Ridge is rated by James Halliday in the Australian Wine Companion, which is his rating for "an excellent winery able to produce wines of high to very high quality, knocking on the door of a five-star rating. Will normally have one wine rated at 94 points or above, and two (or more) at 90 and above, others 87-89." Peregrine Ridge focuses on high quality, elegant Shiraz styles which emphasise the Mt Camel terroir. The wines are produced solely from estate grown fruit and handcrafted on site, using traditional techniques. Peregrine Ridge aims to provide value for money at the top end of the quality spectrum.
Red Edge Winery, VIC 54 Golden Gully Rd, Heathcote VIC 3523
Planted in 1971, the original 2 hectares of Shiraz and Cabernet Sauvignon vines grow on a strip of 500 million year old Cambrian soil- some of the oldest earth on the face of the planet. It's glorious, vibrantly red, deep, free-draining, mineral rich, eminently favourable to the vine, particularly Shiraz. Further plantings on adjacent blocks have expanded to 14 hectares with some other classic European varieties. The vines are all dry grown with yields of less than 2.5 tonnes per hectare. Individual vineyard wines are made from estate grown fruit only. The vineyards are hand pruned, hand picked, and the wines hand made on site in our dedicated winery.
Redesdale Estate, VIC North Redesdale Road, Redesdale Vic 3444
Rolling hills of vineyards and olive groves, wild thyme underfoot, the Campaspe river meandering along the valley - you could be in Tuscany or Provence. But, just an hour from Melbourne, the 60 acre Redesdale Estate vineyard is in the southern part of the Heathcote wine region, in Central Victoria, Australia. It offers a working vineyard and olive grove, -a haven for lovers of good wine, good food...
Rogues Lane Vineyard, VIC 370 Lower Plenty Road VIEWBANK VIC 3084 (postal)
Rogues Lane Vineyard produces a Shiraz for the serious traditional Shiraz enthusiast. This wine already has a cult following among aficionados who are reluctant to share this secret; they want to keep it all for themselves. This little boutique vineyard of 10 acres can only produce between 400 to 600 dozen bottles per year of this heavenly drop. This tiny estate which is situated on a quiet bend of Wild Duck Creek in the southern end of Victoria's Heathcote wine region has been blessed with perfect soil and growing conditions for a world-class Shiraz. Rogues Lane's Shiraz has been crafted with the knowledge of the significant soil variation in this region which contributes to a large range of different tastes and qualities.
Syrahmi, VIC PO Box 438 HEATHCOTE VIC 3523
The name Syrahmi is a made up from "Syrah" the French word for Shiraz and "Ami" meaning friend. The idea being a "friendly Shiraz" or "A friend of Shiraz". Syrahmi began in 2004 when Adam Foster gave up his day job as a Chef to pursue his dream of becoming a wine maker. He purchased his first tonne and a half of grapes from Heathcote winery and the dream was born. Each year grapes for Syrahmi are sourced and selected from different vineyards in the Heathcote region. Thus each year the wines are given a different name to reflect the vintage. Currently under the Syrahmi label, Foster makes Shiraz, Grenache & Mouvedre.
Wild Duck Creek Estate, VIC 764 Spring Flat Rd, Heathcote VIC 3523
Established in 1974, we are a small family owned and operated winery focused on producing full bodied and expressive wines of the highest quality. We strive to give our customers the maximum sense of satisfaction, and produce wines that represent our wonderful region all across the world.