Jump to Winery List
North Heathcote Wine District, VIC
The Heathcote-North Wine District includes the area between the northern areas of Heathcote and the towns of Ladys Pass, Redcastle, Toollen and the northern shores of Lake Eppalock. There are many wonderful attractions in this district. The Mount Ida Lookout, which can be reached via Mt Ida Road from the Northern Highway, offers spectacular views and closer to town is Viewing Rock lookout, which can be reached via Range Drive. The Pink Cliffs Reserve, off Pink Cliffs Road, boasts brightly coloured pinnacles and valleys which were created by gold mining activities. You can enjoy the scenic drive along the winding Dairy Flat Road between Tooborac and Heathcote and see the rolling hills and fields of giant round boulders. Lake Eppalock, which is Victoria's fourth-largest water reservoir, is very popular for water-based recreation area including fishing, canoeing, kayaking, swimming sailing and a wide variety of boating activities. The lake foreshores have many facilities including various caravan parks, picnic spots, camping grounds and public boat ramps.

The Heathcote Wine Region includes two districts : Heathcote-North ; Heathcote-South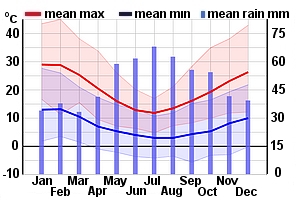 Winery Tour Map
Wineries
Barnadown Run, VIC 390 Toolleen-Cornella Road, Toolleen 3551
Named after the original pastoral lease, which encompassed the property, Barnadown Run is situated in a rural setting, on the side of a hill on Australian`s oldest soil twenty kilometres north of Heathcote, Victoria, Australia. The rich red earth of Cambrian Clay Loam (Terra Rossa) runs on a narrow ridge, which incorporates Mount Camel and Mount Pleasant. The climate is idyllic for grapes and has ...
Downing Estate, VIC 19 Drummonds Lane, Heathcote Vic 3523
The convergence of climate, soil and landscape gives rise to a regional Heathcote `terroir` that creates notable fruit driven wines of outstanding quality, depth and character. Reminiscent of France`s Rhone Valley, the Heathcote region shares not only a similar microclimate, but also some of its wine attributes. The Heathcote region has developed an enviable reputation for its quality Shiraz, whic...
Flynns Wines, VIC 29 Lewis Road, Heathcote, Victoria, Australia,3523.
Visit Flynns Wines Cellar Door and have chat with the winemakers before having lunch in our beautiful little bistro overlooking the vines. All new vintage wines now on tasting and available for purchase, 2009 Verdelho, 2010 Viognier, 2009 Sangiovese, 2008 MC Shiraz. Greg and Natala searched for 18 months looking at 45 properties before deciding on the current Flynns Wines vineyard site which is lo...
Heathcote II, VIC 290 Cornella-Toolleen Road TOOLLEEN VIC 3551 MAP
Heathcote II tells the story of an uncompromising partnership and a wine that is handcrafted, intense and elegant. The grapes have been hand picked from dry grown vines and two individuals created the wine using traditional European methods. The remarkable result captures the unique flavours of the Heathcote terrior.
Idavue Estate, VIC 470 Northern Highway HEATHCOTE VIC 3523
Family owned Vineyard, Winery & Cellar Door - all wines are handcrafted, hand picked, open fermenters, basket pressed and maturation in French Oak to complete the process.
Jasper Hill, VIC Drummonds Lane (Off Northern Hwy), Heathcote, Vic 3523
The vineyards are elevated at around 320 metres on the slopes of the Great Dividing Range on Cambrian derived soils of friable red-brown gravelly loams that run in a thin north-south non-continuous strip between two parallel fault lines. In 1987 Jasper Hill experienced a devastating bushfire - its Georgia`s Paddock vineyard was severely burnt. The vineyard has since been re-developed. Georgia`s Pa...
Kennedy, VIC Maple Park 224 Wallenjoe Road COROP VIC 3559
We produce special wines, so work in the vineyard is focused on unravelling the intricate differences within the site. Our viticulture is tailored to growing fruit that is flavoursome, structured and balanced. We decided to work with winemaker, Sandro Mosele, because of his site-driven philosophy. Our site was carefully chosen, we pride ourselves on the quality of our fruit and look to our winemaker to gently craft it into wine.
Lady`s Creek, VIC Cnr Schoolhouse Lane and Northern Highway, Heathcote Vic 3523
See Munari: Created according to the philosophy that great wines are made in the vineyard, Munari wines are created from low yields, minimal irrigation and sound environmental practices. Thus enabling the intensity of the fruit to drive the wine style. Adrian and Deborah Munari established Munari Wines at Ladys Creek Vineyard in 1993. Situated in the foothills of the Mt Ida Range, this former shee...
Mount Burrumboot Estate , VIC 3332 Heathcote-Rochester Road COLBINABBIN VIC 3559
Mount Burrumboot Estate is not just a winery and vineyard, but a working fat lamb and cropping farm of 2000 acres. We have a strong commitment to regionality and terroir in both our wines, and in our foods, growing our own vegetables, and eating home-grown, free-range, organic lamb, pork, duck and chicken, and associated cured smallgoods, that we have produced and prepared ourselves.
Munari Wines, VIC RSD 5255, Heathcote, VIC 3523
Created according to the philosophy that great wines are made in the vineyard, Munari wines are created from low yields, minimal irrigation and sound environmental practices. Thus enabling the intensity of the fruit to drive the wine style. Adrian and Deborah Munari established Munari Wines at Ladys Creek Vineyard in 1993. Situated in the foothills of the Mt Ida Range, this former sheep station is...
Sanguine Estate, VIC 77 Shurans Lane HEATHCOTE VIC 3523 MAP
Our cellar door is open from 10am – 5pm on weekends and most public holidays. Visitation during the week is available by appointment.
She-Oak Hill Vineyard, VIC 82 Hope Street SOUTH YARRA VIC 3141 (postal)
The family of pioneering Heathcote wine grower, Gordon Leckie senior, continue to produce outstanding wine from their boutique vineyard on She-Oak Hill in the acclaimed Heathcote Wine Region. Recognised for its spice and dark fruit characteristics She-Oak Hill wines represent the best of traditional Heathcote Wines. The unique deep, red soils which have developed from ancient Cambrian rocks, the gently undulating topography and the reliably warm growing season enables She-Oak Hill Chardonnay and Shiraz grapes to ripen fully and to express their rich fruit characters in award winning wines.
Silver Spoon Estate, VIC 503 Heathcote-Rochester Road MOUNT CAMEL VIC 3523 MAP
Silver Spoon Estate is a family owned and operated boutique cellar door / winery and vineyards focusing on the production of premium quality wines. Our Estate is named after the now abandoned Silver Spoon Mine, situated on the eastern hillside. Apart from making our wines at the Estate, we also sell our grapes to other winemakers throughout Heathcote and Victoria.
The Bridge Vineyard, VIC Heathcote
All our wines are produced with a view to their structure for extended ageing and balanced with enjoyment and complexity at the dining table. They are best enjoyed with anyone anywhere anytime The BRIDGE Vineyard is a small wine-growing property five kilometers North of Heathcote township. Surrounded by millionaires and coveted by many more, the vineyard has begun to produce some of the most specific single vineyard wines in Australia today. The BRIDGE Vineyard was the catalyst for a separate range of wines called Knots made from grapes sourced from the neighboring Central Victorian Bendigo Wine Region. Grapes for Knots range of superb wines are only sourced from old vine vineyards and superior vineyard sites. Careful selection of grapes allows wine maker Lindsay Ross to create a range of wines that display the exceptional qualities of the Bendigo region's influence on each variety and seasonal characteristics.
The Shiraz Republic, VIC 507 Hamblin Rd CORNELLA VIC 3551
We are an award-winning cellar door, winery and brewery in the heart of the Heathcote Wine Region. Under two hours from Melbourne & under an hour from Bendigo, Echuca & Shepparton. Visit our picturesque winery and brewery with cellar door overlooking our gorgeous 25-acre Shiraz vineyard and the rustic surroundings of Cornella's former post office and farm. Open 7 Days for Lunch & Tastings
Wanted Man, VIC c/- Jinks Creek Wines, Tonimbuk Road TONIMBUK VIC 3815
Harvested from a single-site vineyard on Heathcote's ancient volcanic soils and handcrafted by renowned winemaker Matt Harrop, Wanted Man Wines are the wines you just simply want to drink. They're hearty yet refined, warm and welcoming. They deliver everything the sunny Victorian region promises.
Whistling Eagle Vineyard, VIC 2769 Heathcote-Rochester Road COLBINABBIN VIC 3559 MAP
Situated in the northern part of the Heathcote wine-growing region, perched on the Greenstone Range above the township of Colbinabbin,Whistling Eagle Vineyard produces outstanding wines that admirably reflect the balance between viticulture and the environment. Ian and Lynn Rathjen have now expanded their vineyard, with the recently planted "Three Little Eagles", as part of Whistling Eagle. The ancient Cambrian Earth in this region is perfect for creating extraordinary wines. The Eagles Blood Shiraz is the ultimate expression of transition from Cambrian Earth to wine that displays spectacular colour, depth of flavour and balance. Since winemaker Ian Rathjen's limited first vintage of shiraz in 1997, Whistling Eagle Vineyard has earned a reputation for fruit grown to textbook perfection, with a flavour profile and composition beautifully balanced to create the ultimate wine experience. Each wine is created to reflect the affinity of regional, varietal, and harmonious balance in which it's grown.