Jump to Winery List
West Beechworth Wine District
The West Beechworth Wine District is located in North Eastern Victoria centred on the gold-mining era town of Beechworth which retains remnants of its origins and links with the famous bushranger days, including the notorious Ned Kelly and his gang. The town and the surrounding villages have many fine examples of buildings and museum displays from the early days. The Wine district lies between Beechworth and the towns of Everton, Eldorado. that lie to the west. The District lies about 40 km west of the twin cities of Albury and Wodonga on the Murray River, near the border with New South Wales. Everton is a small town located about 20 km from Wangaratta on the Great Alpine Road. One major attraction in the district is the Murray to the Mountains Rail Trail (a dedicated bicycle path) offering 95 km of cycling along the path of old railway tracks past wineries, villages and numerous attractions into the Victorian High Country. Eldorado is an old gold mining town that boasts many relics from the gold rush days located about 250 km north east of Melbourne and 20 km from Beechworth, on the banks of the Reedy Creek.

The Beechworth Wine Region includes two districts : East - Beechworth ; West - Beechworth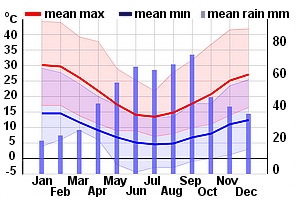 Winery Tour Map
Wineries
Baarmutha Wines, VIC 1184 Diffey Road, Beechworth, Victoria 3747
Baarmutha Wines believes in handcrafted attention to detail, from harvest to bottle. The winery continues to enhance Beechworth's reputation for regional individualism and quality in every vintage.
Beechworth Wine Estates, VIC Lot 2 Diffey Rd, Beechworth, Victoria 3747
We are a boutique vineyard located at Baarmutha just 4km from the town of Beechworth. Our property sits on 53 acres of which half is planted with vines.
Domenica, VIC 651 Beechworth-Wangaratta Road, Beechworth, Victoria 3747
Domenica sits 460m above sea level atop the granite ridge sweeping away to the south west of Beechworth. The wines are vividly reflective of their origin, a gripping mineral texture encasing the mature vine vitality of the varietals chosen...
Fighting Gully Road, VIC 203 Fighting Gully Rd Beechworth, Victoria 3747
The first vines were planted at the Fighting Gully Road vineyard site in 1997. The farm, mostly unimproved, was purchased in 1995 and the following two years were spent clearing the property of scrub, stumps and many thousands of rabbits.
Giaconda, VIC 30 McClay Rd, Everton Upper, Victoria 3678
Wine making should be subtle and always seek balance - this should never seek to dominate the Terroir or characteristics of any given vintage. Giaconda wines are hand-crafted according to basically a natural wine making process.
Golden Ball, VIC 1175 Beechworth Wangaratta Road, Everton Upper, Victoria 3678
In September 2005 we began planting three acres of a six acre site to Shiraz, on a north/north west facing slope. In 2009, half an acre of Savagnin, a white French variety. Spring 2010, some Cabernet Sauvignon, Petit Verdot and Sagrantino.
Indigo Vineyard, VIC 1221 Beechworth Wangaratta Road. Beechworth, Victoria 3678
The Indigo Vineyard is located near the hamlet of Everton in the foothills of the Victorian Alps. The region enjoys beautiful views, fine dining, wonderful local produce, historic Beechworth streetscapes and is recognised for outstanding Pinot...
Madman's Gully Wines, VIC 31 Newbound Lane, Beechworth, Victoria 3747
Grapes are produced from a 1 acre vineyard on a north facing slope at an elevation of 580m. The vineyard was planted in 2009 to Syrah on a number of different rootstock using a very old French clone from the Grampians region.
Oxenbury Vineyard, VIC 90 Oxenbury Lane, Everton Upper, Victoria 3678
Oxenbury Vineyard is located at the end of the Everton Ridgeline, a turn in the line of hills creates a natural north facing amphitheatre. It is a little, dry, sun-blessed bowl that sits 300m above sea level.
Pennyweight, VIC 13 Pennyweight Lane, Beechworth, Victoria 3747
Pennyweight Winery was established by Stephen and Elizabeth Morris in 1982. Stephen Newton Morris, winemaker at Pennyweight Winery, and owner with his family, has had his skills passed down from great-grandfather, George Francis Morris, who...
Piano Piano, VIC 852 Beechworth Wangaratta Rd, Everton Upper, Victoria 3678
In Italian, 'piano piano' means 'slowly slowly', or, in other words, 'It will come with time'. It is how Marc Scalzo and his wife Lisa Hernan feel about making wine. It takes time – to learn, to make and to enjoy.
PROJECT Forty Nine, VIC 49 Ressom Lane, Beechworth, Victoria 3747
The tale of Project Forty Nine begins at the entrance of the property '49 Ressom Lane, Beechworth'. Project Forty Nine is a commitment to the land; it is where daily inspirations take place and it is the foundation of future journeys.
Provender, VIC 18 Camp St, Beechworth Vic 3747
Australia`s greatest range of North East Victorian wines. Hundreds of wines from the region`s 60 or so, wineries. World famous muscats, tokays and big reds from Rutherglen and Glenrowan, elegant whites and sparklers from the King Valley and literally dozens of interesting wines never seen outside the area. The Provender also has the region`s largest range of locally made jams, olive oils, mustards...
Savaterre, VIC Melbourne Road, Beechworth Vic 3747
Our vineyard is elevated at 440m (1440 feet) above sea level and is farmed along organic principles. No pesticides are used. The soil consists of ancient granitic `buckshot` over decomposed clay. These unique gravels are rich in minerals and provide excellent drainage whilst the clay provides some sustained water to the vines in summer. This ancient, poor soil naturally limits the cropping level t...
Savaterre, VIC 929 Beechworth-Wangaratta Road, Everton Upper, Victoria 3678
Nestled in the mountains of northeastern Victoria, just outside the picturesque town of Beechworth, lays the Savaterre vineyard.The site was "discovered" in 1996 by Keppell Smith, owner and winemaker, after an expansive search through Australia's qua
Sentiõ Wines, VIC 23 Priory Lane, Beechworth, Victoria 3747
Handcrafted wines highlighting regional expression through unique single vineyards and consistent vinification techniques.
Serengale Vineyard, VIC 1168 Beechworth-Wangaratta Road, Beechworth, Victoria 3678
Serengale Vineyard is a boutique winery established in 1999 nestled at the base of the Victorian Alps in the independent wine region of Beechworth. We grow Chardonnay, Cabernet Sauvignon, Merlot and Shiraz producing distinctive wines characteristics..
Smiths Vineyard, VIC Croom Lane, Beechworth, Vic 3747
Established in 1978, Smiths Vineyard is the oldest vineyard in the Beechworth wine region. The site overlooks the majestic vista of Mt Buffalo and the Victorian High Country. Our method to making great wine is simple- let the vineyard do the talking. We have a philosophy of minimal impact viticulture. We work hard to show the `terroir` of our region - our soil, climate and altitude. Old World tech...
Sorrenberg, VIC 49 Alma Rd, Beechworth, Victoria 3747
Sorrenberg is a 2.5 hectare vineyard which is owned by Barry and Jan Morey and situated on the outskirts of Beechworth. It is surrounded by forest on two sides and Stony Creek runs across the back boundary.
Star Lane Winery, VIC 51 Star Lane, Beechworth, Victoria 3747
Nestled in the heart of Australia's famous Beechworth wine growing region of North Eastern Victoria, the family owned and operated Star Lane Winery offers one of the most beautiful and picturesque Cellar Door wine tasting experiences in Australia.
Vignerons Schmölzer & Brown, VIC 39 Thorley Road, Stanley, Victoria 3747
Tessa Brown, winemaker and viticulturist, and architect partner Jeremy Schmölzer, had been quietly looking for land in Beechworth for several years, when in early 2012, a property came onto the market which was too good to resist. They took the...
Vinelea, VIC 333 Malakoff Rd Beechworth, Victoria 3747
Vinelea is a small vineyard and winery, owned and managed by Stuart Smith & Rhonda Parish, a couple who studied science and worked in Melbourne in various technical and professional roles before moving to Beechworth in country Victoria for a life...
Virago Vineyard, VIC 40 Boundary Road, Everton Upper, Victoria 3678
Virago wine combines the intrigue of the sensual grape variety, Nebbiolo, with the unique terroir of Beechworth.
Warner Vineyard, VIC Beechworth-Wangaratta Road, Beechworth, Victoria 3747
Situated approximately 6km from Beechworth on the Wangaratta Road, Warner Vineyard enjoys one of the premium vineyard sites of the Beechworth region. Warner Vineyard has enjoyed much success over nearly two decades, providing premium fruit into...
Weathercraft Wine, VIC 1241 Beechworth Wangaratta Road Everton Upper, Victoria 3678
Weathrcraft Wine is nestled in the foothills of the Victorian High Country, only minutes from Beechworth, our small 10-acre vineyard is home to twenty-year-old vines producing uniquely terroir-driven, cool climate wines.
Willem Kurt Wines, VIC 47 Bridge Road, Beechworth, Victoria 3747
Tiny quantities of hand crafted Shiraz, Chardonnay and Vermentino from Beechworth and the Alpine Valleys. Currently available is my 2014 Beechworth Shiraz, 2015 Beechworth Chardonnay, 2014 Alpine Valleys Shiraz, and 2016 Alpine Valleys Vermentino.