Jump to Winery List
East Beechworth Wine District
The East Beechworth Wine District includes wineries in the vicinity of the historic towns of Beechworth, Stanley and Wooragee in North East Victoria between Wangaratta and Wodonga. The delightful small town of Stanley is nestled in the hills at the edge of the Alps about 8 km east of Beechworth. Many properties in the area surrounding Stanley have the remnants of gold diggings from the 1800s Victorian gold rush and the gold diggings are easy to see as you drive through the district. The are has many fruit, berry and nut orchards and grazing country and is dotted with boutique wineries. Stanley has a variety of bed and breakfast and other accommodation, a general store, a post office and a pub. Located just east of Beechworth is the Lake Sambell Reserve which is a popular venue for water and boating activities, picnic and BBQs. Lake Sambell is the entry point of the Beechworth branch of the Murray to Mountains Rail Trail cycling and walking path which links up with the main track that extends all the way between Bright in the Alpine Valleys Region and Wangaratta on the Murray River floodplain . The location of Beechworth in the foot hills of the Victorian Alps offers visitors the opportunity to enjoys tours through the local countryside to visit the many vineyards in the area.

The Beechworth Wine Region includes two districts : East - Beechworth ; West - Beechworth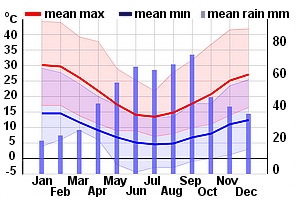 Winery Tour Map
Wineries
A. Rodda Wines, VIC PO Box 589, Beechworth, Victoria 3747
Winemaking since 1998 and originally from one of Australias leading Chardonnay producers, Oakridge Wines in the Yarra Valley. Adrian moved to Beechworth and now produces wines with fruit sourced from the regions oldest vineyard, Smiths Vineyard.
Amulet Vineyard, VIC 1036 Wangaratta Road, Beechworth, Victoria 3747
Amulet Cellar Door is open daily for tastings 10am - 5pm. Come and enjoy our hospitality, modern function area and cellar door as well as our awesome views. We offer lunch on Friday, Saturday and Sunday from 12pm - 3pm.
Castagna, VIC 88 Ressom Lane Beechworth, Victoria 3747
The Castagna Vineyard is situated at an altitude of 500 metres five-and-a-half kilometres outside the beautiful town of Beechworth in Northeast Victoria, high in the foothills of the Australian Alps.
Haldon Estate, VIC 59 Havelock Road, Beechworth, Victoria 3747
Haldon Winery blends the latest wine making knowledge with traditional techniques to create exceptional wines characteristic of this beautiful region.
James & Co. Wines, VIC Beechworth, Victoria 3747
James & Co. Wines was founded upon a desire to produce limited quantities of approachable, enjoyable and affordable wines. Ricky & Georgie James surround themselves with a menagerie of friends and family who share their love of wines, particularly...
The Ninth Mile, VIC 28 Dingle Rd, Beechworth, Victoria 3747
The Ninth Mile vineyard and winery is located within the Beechworth cool climate wine growing district, just outside the small town of Stanley, about 45 minutes drive south east from Albury Wodonga. This boutique winery was established in 2002 and...
Traviarti, VIC 39 Elgin Road, Beechworth, Victoria 3747
We have long shared a wine interest with our attention more often than not grasped by structure. I guess it is no coincidence that this is reflected in the wines we choose to make. Nebbiolo, Tempranillo and Cabernet Sauvignon, the noble red grapes...