Jump to Winery List
West Ballarat Wine District
The West Ballarat Wine District includes wineries west of Ballarat near Clunes, Learmouth, Beaufort, Smythesdale and Carngham. The charming heritage town of Clunes lies in the heart of Victoria's Central Goldfields area, to the north of Ballarat boasts many historic buildings, beautiful natural heritage areas. It is an ideal destination for a daytrip from Melbourne, weekend getaway exploring the local towns and villages and touring the local wineries. The town has a wonderful array of antique and collectable stores, charming bed and breakfasts and wonderful places to explore on the Victorian Goldfields. Clunes hosts the annual Booktown event, which is held on the first weekend in May. Visit the adjoining town of Talbot that hosts the award winning farmers` market with hundreds of genuine produce outlets and market stalls including: ducks, geese, chickens, organic produce, gourmet cheeses, pigs, olive oils, local wines, arts and crafts, breads, coffee, a range of delicious hot foods, home baked cakes, collectibles, tools and hardware.

The Ballarat Wine Region includes two districts : East - Ballarat ; West - Ballarat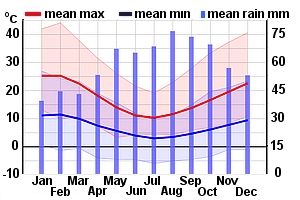 Winery Tour Map
Wineries
Eastern Peake Vineyard, VIC 67 Pickfords Rd, Coghills Creek VIC 3364
Eastern Peake is a leader in boutique wines, selling exclusively to restaurants and niche retailers nationally. With the brand new function/tasting room at the Vineyard, we welcome you to experience Eastern Peake wines in absolute surreal surroundings.Eastern Peake Vineyards are set on a small plateau at Coghills Creek in the Ballarat Highlands some 25 km from Ballarat. A dramatic backdrop of a rugged granite outcrop of Mt Bolton, namely 'Eastern Peake' is to the west of the vineyard, creating the stunning view seen from the property. The east the vineyard overlooks the Mammaloid Hills of the Creswick Plains, named by Major Mitchell during his epic trail.
Michael Unwin, VIC 2 Racecourse Rd, Beaufort Vic 3373
Michael Unwin learned the art of winemaking around the world with some of the most influential and forward thinking wine makers of our time. When the time came to settle down to create his own wines, he built his winery at Beaufort, `because this is the geographical centre of our best viticultural areas in Western Victoria.` The winery is well known for the consistently high calibre wines across a...
Mount Beckworth, VIC 425 Pickfords Road, Glendaruel
Mount Beckworth Wines is situated on the Clunes/Learmonth Road just out from the first gold mining township of Clunes, and is owned and operated by Paul and Jane Lesock. The vineyard was established in 1984/85 and is planted with premium grape varieties of Cabernet Sauvignon, Merlot, Shiraz, Chardonnay and Pinot Noir of which a range of these wines are made under our label. It is a `boutique winer...
Mount Coghill, VIC Cnr Pickfords & Coghills Creek Road, Coghills Creek
Ian and Margaret Pym welcome you to Mt Coghill Winery. We are located in the small village of Coghills Creek, just northwest of Ballarat on the Clunes-Learmonth road. Established in 1995, our winery specializes in Pinot Noir and Chardonnay. Next door to Mt Coghill Winery is Eastern Peake winery and just down the road is Mt Beckworth Wines making this an excellent area for an afternoon of wine tast...
Nintingbool Vineyard, VIC 56 Wongerer Ln, Smythes Creek VIC 3351
Nintingbool is a family-owned and operated winery and vineyard located at Smythes Creek, just west of Ballarat. Smythes Creek was named after Captain John James Barlow Smythe, who had lease of the Nintingbool run in 1846. Originally known as 'Nentingbull', the name is derived from the indigenous word 'Nunkunbool' which means 'morning star'. Nintingbool benefits from a cool climate with a long ripening period, to produce premium quality grapes and fine complex wines.