Jump to Winery List
East Ballarat Wine District
The East Ballarat Wine District is centred on the town of Creswick, east of Ballarat and includes wineries near Daylesford, Scotsburn, Myrninong, Buninyong and to the est of the Ballarat central business district. The are around Daylesford is famous for the natural mineral waters available at many natural springs in the area. Combined with the stunning mountain scenery, beautiful forests, spectacular gardens and lakes, Daylesford and the adjoining Hepburn Springs are major tourist attractions that are enjoyed by many tourists and day-trip visitors from Melbourne. There are many local businesses focused on physical and spiritual wellness activities including spa treatments, massages and acupuncture. Jubilee Lake, near Daylesford offers fishing, boating and swimming, and a natural mineral spring. A few kilometres further south is the 30m high Sailor's Falls. Overlooking the nearby town of Buninyong is Mount Buninyong which boats spectacular views of the region and a fabulous range of bushwalking and mountain bike tracks. Enjoy strolling along the town's heritage walk and join in the fun of the Gold King Festival held in February, and the very popular Buninyong Film Festival is held on the first weekend in May. Craft markets and Farmers Markets are held weekly at the many towns and villages in the District.

The Ballarat Wine Region includes two districts : East - Ballarat ; West - Ballarat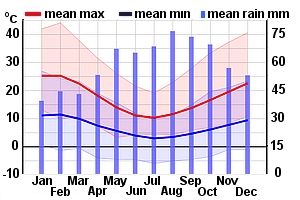 Winery Tour Map
Wineries
Captains Creek Organic Wines , VIC Kangaroo Hills Road, Blampied Vic 3364
Captains Creek rises on our farm at Blampied, at the foot of the Kangaroo Hills, and meanders north past the original homestead of Captain Hepburn. Four generations of the May family have run the 80 hectare farm for more than 100 years after my great grandfather, Joseph May, purchased it in 1909. Over this time, its red volcanic soils have been cultivated for many uses. My father Maurice, who came home at age fourteen to work the farm with his father George, grew mixed cereals, hay, beef cattle and dairy cows until he died in 2012, aged 87. Today, myself, my brothers Rod and Greg, and our families manage the farm. Rod started the transition to organic farming in the 1980s, leading the way in reducing use of chemical fertilizers and pesticides.
Mitchell Harris Wines, VIC 38 Doveton St Nth, Ballarat
Mitchell Harris have been making wine since 2008, with a focus on elegance and reflecting the cool-climate characters of our nearby regions. Our 140 year old former produce store, tentmakers, and motor workshop is now a showcase for our wines, and other treasures of our region, providing the full wine bar and dining experience right in the heart of Ballarat.
Mount Buninyong, VIC 210 Platt`s Road Scotsburn, Victoria 3352
Nestled at the foot of Mount Buninyong, you will find a distinct boutique winery established in 1993 offering something for all tastes. Peter and Jan have developed a unique range of wines, flagshipped by their wonderful liqueurs which are ideally suited to the lovely wintry Ballarat conditions. Mount Buninyong, an extinct volcano coupled with the quartz soil typical of the famous gold bearing ree...
Passing Clouds, VIC 30 Roddas Ln, Musk VIC 3461
Established in 1974 Passing Clouds has been making wines of longevity and grace for close to half a century. Now well into our second generation the focus is on the vineyards more than it ever has been; to grow grapes that are as representational as possible of each site we work with.
Sailors Falls, VIC 1073 Telegraph Road, Sailors Falls, Victoria
Sailors Falls Estate was established in 1999 by Robert and Margaret McDonald. The Estate offers rural peace and tranquillity; Hand cultured, cool climate wines such as pinot gris, pinot noir, gamay and gewurtraminer; Fine wine at reasonable prices made by well credentialed wine maker - Norman Latta - (Eastern Peake) - served at the winery a few metres from your villa. Taste fine wine at the cellar...
Sinclair of Scotsburn , VIC 256 Wiggins Rd, Scotsburn.
The Buninyong Springs Vineyard on the Sinclair of Scotsburn Estate, is situated at 256 Wiggins Road Scotsburn and was purchased by David and Barbara Sinclair in June 2001. The Sinclair of Scotsburn Estate is nestled on the slopes of Mt Buninyong, with stunning panoramic views of the surrounding countryside, vineyard and lake. Originally part of a larger holding subdivided in 1990 the total area of the property including the leasehold is 42.5 acres.
Wightwick , VIC 323 Slatey Creek Road North, Invermay.
Wightwicks Chardonnay and Pinot Noir are single vineyard wines made entirely from fruit grown on our one acre vineyard in Ballarat