Jump to Winery List
North-Alpine Valleys Wine District
The North-Alpine Valleys Wine District includes wineries in North East Victoria between the towns of Yackandandah, Myrtleford and Running Creek. The climate in the district varies with the elevation along the region's valley floors and on the slopes.Variable topography and the adjacent alpine peaks have significant affects on the climate. Many of the vineyards established during the 1860's succumbed to phylloxera and when the Second World War started there were virtually no commercially vineyards in the Region. The first major expansion of the wine industry began in 1980 at Merriang, when the Bailey family first established 10 acres of Cabernet Sauvignon. This planting soon grew to more than 100 acres. Soon after the Michelini family planted a vineyard of 30 acres in the Buckland Valley. Major expansion occurred in 1986 with the establishment of vineyards in Rosewhite, Whorouly, Whorouly South and Bright (Boyntons) and there were further plantings in the Kiewa River Valley.

The Alpine Valleys Wine Region includes two districts : North-Alpine Valleys ; South-Alpine Valleys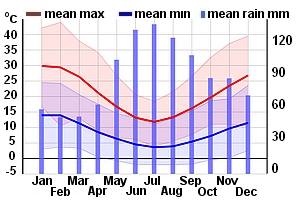 Winery Tour Map
Wineries
Bush Track Wines, 210 Sutton Lane Whorouly South
Bush Track wines is continuing to evolve from a predominately grape producing business to a more wine focus enterprise and with our wines now being crafted by the exceptional talents of winemaker Jo Marsh (owner/winemaker at Billy Button Wines) we look forward to producing some outstanding wines over the coming years. Both the 2014 and 2015 vintages have been absolute stand out years, with the 2014 Shiraz being bottled in July this year with a release date in early 2016 and a reserve release around July 2016. The 2015 wines are all in barrel and are looking outstanding, so look out for these wines as we release them in a couple of years time.
Ferraro Wines , 16 Clancy Lane Myrtleford
Tony Ferraro's passion for growing grapes started in the late 1960's when his parents Francesco and Carmela began growing grapes to sell to the local Italian community who liked to make their own wine. In 1996 Tony and wife Josie purchased 20 acres of land in Myrtleford to continue the tradition, planting Merlot and Sauvignon Blanc but back home in Clancy Lane, the Italian varities still rule with Barbera, Nebbiolo, Vermentino and Sangiovese grown. The closure of the tobacco industry in 2006 enabled Tony to convert his tobacco sheds into a winery that now produces his own Merlot, Sangiovese, Barbera, Nebbiolo and Vermentino which can be purchased from the winery by appointment.
Gapsted Wines , Cnr Great Alpine Rd & Snow Rd Gapsted
Victorian Alps Winery, the home of Gapsted Wines, was established in 1997 at the foothills of the Victorian Alpine region. The company's founders are wine industry families who are passionate about the region. The combination of award winning winemakers, a unique climate, the distinctive ballerina canopy vineyard management system and a strong commitment to providing quality wine, has enabled Gapsted Wines to develop the King Valley and Alpine Valleys as premium wine producing region.
Homestead Estate, 713 Happy Valley Road Rosewhite
Homestead Estate produces a select range of notably high quality, cool climate wines, extra virgin olive oil, vinegar, and a range of gourmet handmade products crafted from local ingredients. Built by Irish squatters in 1869, the historic Homestead Estate property hosts vineyards, olive groves and a winery sited on the southern slopes of Happy Valley in Rosewhite at an elevation of 304m. This beautiful valley at Rosewhite is an easy 25 km drive from Bright and just 11 km from Myrtleford off the Great Alpine Road.
Michelini Wines, VIC Lot 1 Great Alpine Rd, Myrtleford VIC 3737
Michelini Wines – our premium label, established in 1997 with fruit from our family owned and operated vineyard in the Buckland Valley, North East Victoria, and named after the Michelini family. Devils Creek – one of our most successful product ranges, this label was created in 2003. With bright, colourful labels these wines stand out from the crowd and are made to be enjoyed. This label gets it's name from the creek on our property, which during the gold rush days did not always have water – a constant source of frustration for miners, this creek was likened to the Devil himself! Demon Ridge – this label was created in 2013, and is another step in the evolution of Michelini Wines.
Souter's Vineyard , 390 Happy Valley Rd Rosewhite
The setting for Souter's Vineyard, overlooking pristine Happy Valley in north-east Victoria, provides the ideal conditions for producing classic cool-climate wines which typify the Alpine Valleys wine region. First established in the early 1980s, Souter's is perhaps the oldest vineyard in the whole Alpine Valleys Region. The current owners have been here since 2003. It is a wonderful place to grow grapes, with classic alpine warm days, cool nights and rich, stony soil. The mature vines face North and West, catching the sun. Their roots penetrate deep into the soil nurturing vine canopy and grapes through hot summers.