Jump to Winery List
Cairns, Atherton and Daintree, QLD Wine District
There are a number of cellar doors and other outlets selling fruit wines and other fortified drinks in the. airns, Mareeba, Atherton and Daintree areas. The fascinating Atherton Tablelands Region in Far North Queensland, located about 90 km west of Cairns, ranges in altitude from about 500 - 1300m above sea level providing a cooler climate than on the coast. Temperatures on the Tablelands range between 5 - and 14 degrees C from July to August, and from 17 - 25 degrees C from September to June. Major attractions are the two World Heritage listed crater lakes - Lake Barrine and Lake Eacham. Other attractions include the Malanda Falls, formed from an ancient basalt lava flow, that plunges into the historic swimming pool. The area has a large number of tropical fruit farms that benefit from the cooler climate and better soils. A number of local proprietors use their fruit to make stunning fruit wines and fortified beverages.

The North Queensland Wine Region includes two districts : Mission Beach ; Cairns, Atherton and Daintree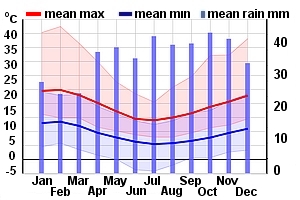 Winery Tour Map
Wineries
De Brueys Boutique Wines, QLD 189 Fichera Rd, Mareeba QLD 4880
Experience and taste the fabulous fermentations of the lychee, mango and passionfruit at the unique de Brueys Boutique Winery and Functions Venue, Mareeba. de Brueys blend of tradition and innovation produces high quality wines from a rich diversity of tropical fruits. They can provide a selection of high quality wines to meet any specific need - no matter whether the client is a small restaurateur or a commercial importer. Visit the Winery and Cellar Door, sample their world-class fruit wine range, including tropical fruit ports, and take some home with you. Enjoy the relaxing and scenic surrounds. They are only a 50 minute (55km) drive west in the Cairns hinterland. (See getting here). This unique destination is reached by driving through a rural landscape of rich fertile plains where exotic fruits, coffee, macadamias and a whole banquet of crops flourish.
Golden Drop Winery, QLD 227 Bilwon Rd, Biboohra QLD 4880
Golden Drop Winery is a family owned and operated business of Charles Nastasi and wife Lucy, together with their sons, Sam and wife Jackie, Dino and wife Maria, daughter Grace, and sister Lena. The property was originally a viable tobacco farm in the 1970's, but with the looming demise of the tobacco industry Charles decided to diversify from tobacco and planted his first 3,600 mango trees in 1975. Over the past 25 years his plantation has grown to have in excess of 17,500 trees, making it now one of the largest mango plantation in Australia.
Shannonvale Tropical Fruit Winery, QLD 417 Shannonvale Rd, Mossman QLD 4873
At Shannonvale Winery we've been creating Tropical Fruit Wine now for 14 years. We grow our tropical fruits ourselves on our property, and harvesting the different fruits at different times of the year. We are recognised Australia-wide for our high quality tropical fruit wines and most of our wines win medals at the wine shows from Grape Wine Judges.