Jump to Winery List
Mission Beach, QLD Wine District
Mission Beach is a fantastic holiday destination located about 2.5 hours north from Townsville and 1 .5 hours drive south from Cairns. There are more than 14 km of sandy beach fringed with palms to explore and enjoy. Mission Beach and the associated villages have retained a friendly and welcoming atmosphere. As well as Mission Beach township itself, there are 4 main village areas which are from north to south, Bingil Bay, Mission Beach, Wongaling Beach and South Mission Beach. The hinterland area has a number of farms growing tropical fruits and several of them make wonderful wines and spirits from the fruit. Mission Beach has an excellent range of restaurants, cafes, art and craft shops and pubs offering a wide range of food.

The North Queensland Wine Region includes two districts : Mission Beach ; Cairns, Atherton and Daintree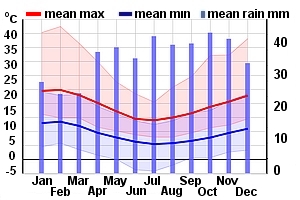 Winery Tour Map
Wineries
Murdering Point Winery, QLD 161 Murdering Point Rd, Silkwood QLD 4856
Australia's leading tropical fruit winery Set amongst fertile cane fields and lush tropical rainforests of North Queensland, Murdering Point Winery offers a range of high-quality red and white fruit wines, ports, liqueurs and creams that are uniquely Australian and deliver an exciting and stimulating tropical taste experience. Founded by the Berryman family in 2001, Murdering Point Winery has rapidly gained a reputation for the quality of its wines and the innovative use of a wide range of exotic tropical fruits, particularly in making wines using Australian native tropical fruit, Davidson Plum. Murdering Point Winery is located on the Canecutter Way in Silkwood east, North Queensland Australia, and is a key attraction of the Great Tropical Drive.
Shannonvale Tropical Fruit Winery, QLD 417 Shannonvale Rd, Mossman QLD 4873
At Shannonvale Winery we've been creating Tropical Fruit Wine now for 14 years. We grow our tropical fruits ourselves on our property, and harvesting the different fruits at different times of the year. We are recognised Australia-wide for our high quality tropical fruit wines and most of our wines win medals at the wine shows from Grape Wine Judges.