Jump to Winery List
Upper Coal River Valley, Tas
The Upper Coal River Valley District, in the Coal River Region includes the area surrounding Campania and Richmond in the headwaters of the Coal River Valley. The district is only about 35 km from Hobart, and it is an ideal destination for day trip enjoying a wine tour of the area. Richmond is one of Tasmania's most popular destinations. It is an important heritage site and has many historic buildings to see and explore. It is the perfect base for exploring Tasmania's South East being charming, romantic, interesting, family friendly, a hub for wine and fine food lovers and the gateway to the districts wonderful array of attrcations and activities. Campania and Richmond are good examples of Tasmania's grim convict heritage and beautiful historic buildings, many built by convicts. The Georgian architecture buildings now house galleries, teashops, arts and craft boutiques and museums. The farmlands of the Campania District are rich and diverse and there are many well-established wineries in the region with international reputations. Many of the wineries were developed initially as additional pursuits for other agricultural industries such as grazing sheep and cattle.

The Coal River Valley Wine Region includes three districts : Coal River Lower ; Coal River Upper ; Tea Tree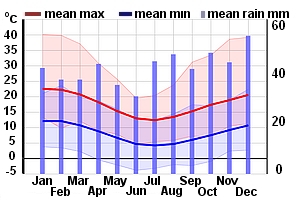 Winery Tour Map
Wineries
Domaine A, Tas 105 Tea Tree Road, Campania Tas 7026
Domaine A is set in one of the most pristine natural environments in the world.Established in 1973, the historic Stoney Vineyard is the oldest in Tasmania's Coal River Valley. Just half an hour's drive from the city of Hobart, the 11ha single vineyard domaine is owned and operated by Moorilla Estate Pty Ltd. Ancient soil and a truly cool climate give rise to inspirational terroir founded on 200 million year old Jurassic Dolerite. Domaine A lies on a north facing slope that enjoys a temperate maritime climate and extended sunlight hours over a long, cool season. Domaine A experiences some of the longest sunshine hours in Australia, ensuring grapes ripen to develop the full spectrum of varietal character. The vineyard is close planted in the European tradition (1.9 x 0.9m), with a density of 6000 vines per hectare. The sloping North-North Easterly aspect and foliage height of 1400mm enables vines to take full advantage of prolonged sunshine. Annual rainfall is often less than 500mm. Grapes ripen well into late April and early May, bringing flavours of great subtlety and intensity to the wines.
Drews Wines, Tas 23 Merriworth Rd, Tea Tree TAS 7017
One hundred and seventy years ago, George Gunning planted one of Tasmania's earliest vineyards in the Coal River Valley, 25 minutes north-east of Hobart. Today, the fold of hills around Mount Dismal, The Quoin and Dews Hill in the Tea Tree branch of the valley are emerging as the most concentrated centre of quality small vineyards in the State.One of the largest vineyards in the area is Drew Wines, owned by Robert Drew, whose family has farmed around Tea Tree for more than 100 years. Robert's grandfather and father were both farming contractors and chaff cutters. He started work as a crane and skidder driver in logging coupes, worked at the Renison Bell zinc mine for a while, sold tractors, became a firewood contractor and, for 10 years, designed and built firewood splitters. In between, he hunted and fished for his supper. Then, in the mid-1980s, Drew had his first ever glass of wine, poured for him at a dinner at Prospect House in Richmond. That was the start.
Pooley Wines, Tas 1431 Richmond Road, Richmond TAS 7025
As a family run and owned winery, we are passionate about people and love it when the cellar door is full. Come for a wine tasting or even to just sit and relax with a cheese platter and glass of wine while you watch your children have fun. We have games and entertainment for the young and old, and we are perfect for every occasion. We truly believe in sharing the best things in life especially fun, food and friends oh and of course, fine wine!
Puddleduck Vineyard, Tas 992 Richmond Rd, Richmond TAS 7025
Open from 10 am - 5 pm daily* and a short 20 minute drive from the heart of Hobart on the road to historic Richmond, Port Arthur or Hobart Airport. Our boutique family owned and operated vineyard was established in 1997, and produces premium Tasmanian wines from grapes grown at our single site vineyard, and then processed within an hour of picking in our energy neutral winery. Our wines are only available for tastings and sales through our Cellar Door at Richmond or here in our online shop. Close to the Hobart Airport, Puddleduck Vineyard is also an ideal spot to "wine" away the last few hours of your holiday before returning to reality. We pride ourselves on our friendly cellar door experience, which is sure to include some of the Puddleduck family and a duck or two