Jump to Winery List
Lower Coal River Valley, Tas
The Lower Coal River Valley Wine District includes the areas in the Coal River Valley catchments downstream of Richmond and the areas close to Richmond, Cambridge, Risdon Vale. The Coal River catchment is located in a relatively dry area of Tasmania with an average annual rainfall increasing from 520 mm at Hobart Airport to 630 mm further inland at Colebrook. While east coast low pressure systems tend to produce more rain from October to December, monthly rainfall figures are relatively uniform in the 40 - 60 mm range. The recent development of the South East Irrigation Scheme has enabled farmers to diversify into a range of other more intensive irrigated cropping activities, previously prevented by the low annual rainfall. Nevertheless, limitations in the availability of irrigation water mean that dryland cropping and grazing dominate. The famous Domaine A Stoney Vineyard, was the first in the region, established in the property of George Park in 1973. In 1988 Ruth and Peter Althaus purchased the property. Their first wines were produced in 1993.

The Coal River Valley Wine Region includes three districts : Coal River Lower ; Coal River Upper ; Tea Tree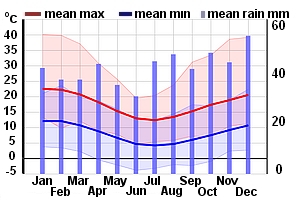 Winery Tour Map
Wineries
Clemens Hill, Tas 686 Richmond Rd, Cambridge Tasmania 7018
A small one-hectare vineyard at Cambridge, near Andrew Hood`s contract winery, where the wines are made. The spectacular views make Kevin and Jacqueline Wagner`s property a natural for a cellar door but for the moment it is open by appointment only. Very good value Pinot noir, Chardonnay and Sauvignon blanc with an attractive Tom Samek-designed label....
Coal Valley Vineyard and Restaurant, Tas 257 Richmond Rd, Cambridge TAS 7170
The Coal Valley Vineyard is a stunningly located 5 hectare winery in the Coal River Valley, South East Tasmania producing award winning wines with a focus on Pinot Noir. Visitors are welcomed 7 days/ week from 10am to 5pm. Call in for wine tastings and sales or delicious lunches, snacks or small plates perfectly suited to the wine and the unique Tasmanian ambience at Coal Valley Vineyard. The cellar door restaurant is a relaxed, informal eating place where locals and visitors gather to enjoy food, wine, local beer & cider, the company of others and from time to time live music. Lunch from 11am with full menu to 3pm and vineyard platters and cheese till 4pm. Wine tastings and sales all day.
Craigow, Tas 528 Richmond Road, Cambridge TAS 7170
Craigow was one of the first vineyards established in southern Tasmania's Coal River Valley, which is building an international reputation for producing outstanding cool-climate wines. Growing conditions in this valley are ideal for the classic cool-climate varieties of Pinot Noir, Riesling and Chardonnay – all these premium varietal wines are bottled under the Craigow label.Craigow's wines are grown and crafted to reflect the characteristic terroir of the Coal River Valley, where the growing conditions are similar to the cool-climate wine regions of France.
Danehill Estate Wines, Tas 1 Kelson Pl, Acton Park TAS 7170
Winemaker in the Acton Park area
Frogmore Creek, Tas 699 Richmond Rd, Cambridge Tas 7170
Set in the vineyard our home base is located in beautiful the Coal River Valley, just 20 minutes from Hobart Airport.  Join us for a wine tasting before a long lunch overlooking the rolling hills. The venue also hosts Weddings and corporate events
Glen Ayr Wines, Tas Back Tea Tree Road, Richmond TAS 7025
The vineyard, one of the oldest in the Coal River Valley, has produced some great reds, also very good Chardonnays and Rieslings. It is open by appointment only, but the outstanding wines can be purchased from the Strathayr office at Back Tea Tree Road, Richmond from 8am to 5pm weekdays. The histories of Tolpuddle and the neighbouring GlenAyr vineyards are intertwined, and not just through wine pr...
Observatory Hill Vineyard, Tas 107 Centauri Dr, Mount Rumney TAS 7170
Observatory Hill is a family owned and operated boutique vineyard. With a long Tasmanian family tradition of working the land, the first vines were planted on the Mt Rumney property in 1991. Initial success with Cabernet Sauvignon, Pinot Noir and Chardonnay varieties led to subsequent plantings of Riesling and Sauvignon Blanc. A further 2 hectares of Sauvignon Blanc and Pinot Gris were added in 2005. Observatory Hill has gained a reputation for boutique, hand crafted, medal winning wines of consistently high quality.
Winemaking Tasmania, Tas 63 Kennedy Dr, Cambridge TAS 7170
We believe passionately in the provenance and unique qualities of Tasmania, its people and its produce. Everything we do is to benefit our clients and their long term business prosperity. Our vision to be Tasmania's best producer of premium alcoholic beverages. Winemaking Tasmania is a unique and highly specialised contract producer of many of Tasmania's finest wine and ciders in partnership with their client base of vineyard and orchard brand owners.
Winstead Vineyard, Tas 75 Winstead Rd, Bagdad TAS 7030
Neil Snare - owner, viticulturist and winemaker at Winstead vineyards in Bagdad (Southern Midlands) - is an early participant in the Tasmanian wine scene, planting his first vines in 1989. We produces 2 distinct Single Vineyard Pinot Noirs. The "Lot 7" from our original plantings on the home block is a robust wine, with dark chocolate, plum, tobacco and cinnamon characters. Our "Lot 16" is from a newly planted vineyard a little further up the hill from the latest clones of Pinot to come into the country (114, 115 predominant). This wine is more delicate with forest floor, strawberry and nutmeg characters. The palate is zippy and fresh, with a firm dry finish. Our whites are made using European influences to enhance the texture and mouthfeel. The ferments are long and slow, with the wines left on lees for several months adding a creaminess to their texture. The Sauvignon is barrel fermented to add to its complexity. All Winstead wines have a formidable history of ageing well.
Wobby Boot Wines, Tas 16 Murtons Road, Otago. Tasmania. 7017
Wobbly Boot Vineyard is located in southern Tasmania's Coal River Valley on the banks of the idyllic White Kangaroo Rivulet. It is approximately 35 km north of Hobart and nearby to the historic town of Richmond. Open every Sunday 11- 4 pm and other times by arrangement. BYO food. Wobbly Boot Vineyard is owned and operated by Paul, Lynda and Isaac Williams who love nature and are committed to animal welfare and wildlife rescue. The boutique vineyard is known for its stunning setting, views and peaceful ambience. We produce intensely flavoured wines that can be shipped to your door freight free within Australia. We offer much more than the traditional cellar door tasting. You are able to choose a wine adventure with a range of activities on offer including guided vineyard tours and Tasmanian wine and food experiences.