Jump to Winery List
Tasmanian North West Inland Wine District
The Tasmanian North West Inland Wine District includes the area near Barrington, Sheffield and Railton inland from Devonport and Burnie on the north central coast of Tasmania. Other towns in the district include Elizabeth Town, Wilmont, Gunns Plains, and Deloraine. The heart of the district is Sheffield that has many attractions and events have festivals, murals, cafes, street performers, museums, unusual curiosities, galleries, antique and specialty shops and may arts and craft studios including: fine art, glass, photography, woodcraft, pottery, ceramics, wool dyeing and products. Local attractions including seeing the views from the summit of Mount Roland, bushwalking and horse riding, caves near Deloraine, nearby thermal springs, vineyards and wineries and the array of interesting villages each with their own interesting communities.

The North West Wine Region includes two districts : North West Coastal ; North West Inland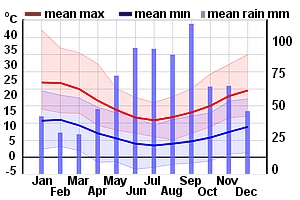 Winery Tour Map
Wineries
3 Willows Vineyard, TAS 46 Montana Rd, Red Hills TAS 7304
Cool climate boutique vineyard with wines grown on our estate in beautiful Tasmania, just outside of Deloraine and 35 mins from Launceston & Devonport; ...
Barringwood Park, TAS 60 Gillams Road, Lower Barrington TAS 7306
From the humble beginnings of it`s first vintage in 1998, Barringwood Park has become increasingly well known for the high quality single vineyard, estate grown wine it produces.Established in 1993 by vineyard owners, Ian and Judy Robinson, Barringwood Park is located in the beautiful Cradle Coast region of North West Tasmania on the main tourist route to Cradle Mountain. Visitors are very welcome...
Christmas Hills, TAS Christmas Hills Road, Elizabeth Town, Tasmania 7304
The Raspberry Farm consists of 12 acres, primarily planted with raspberries and some blackberry and strawberries. There are 9 different varieties of raspberries providing a supply of fresh raspberries from mid December to Mid May. The Summer Crops begin in mid December and finish late February and the Autumn Crop begins in late February and ends around Mother`s Day in May. All variety of raspberri...
La Villa Wines, TAS 347 Mersey Main Road, Spreyton 7310
We welcome you through the gates of La Villa to experience the ambiance and taste our handcrafted, cool climate wines. Our seven hectare family owned vineyard is situated at Spreyton between Devonport and Latrobe - only a short distance from the Spirit of Tasmania terminal. Group bookings by appointment only.
Leven Valley Vineyard, TAS 321 Raymond Rd, Gunns Plains TAS 7315
Be consumed by the Leven Valley Vineyard. Situated on a north-facing hill overlooking the picturesque Gunns Plains just 20 minutes south of Ulverstone, North West Tasmania. The Leven Valley Vineyard takes in the panoramic views of the Leven River and surrounds, whilst offer a tranquil and relaxed atmosphere.
Prickly Mo Wines, TAS 62 Lakeside Road, Eugenana 7310
Twenty two years after establishment, we thought it was time to open a cellar door. But where? "I know! - the old shearing shed". "Mmm... bit rough mate, weatherboards missing, the roof leaks, and it's got a fair lean to it". "Nah, she'll be right. I'll fix it up, get rid of all the junk and give it a sweep". "Those fancy wine ponces won't think much of it mate". "Once they taste our wine, they wouldn't care if they were in a cow shed!" "Mmm... The old milking shed.. there's another idea"
Roland View, TAS Sheffield Rd, Wilmot, Tasmania 7306
Roland View is a 3.5-hectare vineyard established in 1986, at Barrington in the North West, producing Chardonnay, Muller thurgau and Pinot noir. Open by appointment only....
White Rock Vineyard, TAS 1171 Railton Rd, Kimberley TAS 7304
Home of Australia's first dornfelder White Rock is a boutique vineyard in Kimberley, 30 kilometres from Devonport in north-west Tasmania, producing award-winning cool climate wines. Perched on a hill above the sheltered banks of the Mersey River, the northerly aspects and cool nights create the perfect climate for the development of intense and lasting flavours. The Dolan family established the vineyard in 1992 as part of their 30-acre hobby farm. The vineyard is named after the sunken White Rock Bridge just below the property, which was taken down by a major flood in the 1970s. The family has perfected the Chardonnay and Pinot Noir over the years, which has been produced at the vineyard since the very first vintage. Since then, they have introduced Pinot Gris, Riesling, and in 2014, Australia's first Dornfelder, which won a gold medal and trophy at the International Cool Climate Wine Show in its first vintage.
Wilmot Hills, TAS 407 Back Rd, Wilmot, TAS 7310
Tasmania`s highest vineyard, 300m above sea level is nestled just west of Lake Barrington with spectacular views looking over Lake Barrington toward Mt Roland. Ruth and John Cole decided to live in this beautiful area and grow grapes and fruit to enable them to live and work on their property. Established in 1991 the 1.5ha vineyard, just 40 km south of Devonport produces table wines at the `German...