Jump to Winery List
Tasmanian North West Coastal Wine District
The Tasmanian North West Coastal Wine District includes the area near Burnie and Devonport on the north central coast of Tasmania. Other towns in the district include Port Sorell, Shearwater and Hawley Beach. Included in the district are the famous Rubicon Vineyard - Hawley Beach Winery, located on the coast at Port Sorell and Patrick Creek Winery is situated near the small village of Shearwater. The Ghost Rock Hill Vineyard, with its modern cellar door and facilities is also located on the coast about 10 minutes east of Devonport. The district offers outstanding fishing and boating and the Ferry from Melbourne docks at Devonport. There are many tour operators that include wineries in their tours. The district has outstanding seafood and also has dairy and beef cattle grazing as well as many fresh food products. There are many wonderful restaurants in the area that showcase the food and wine of the area. There are also a wide range of accommodation options from historic hotels, motels apartments and charming bed and breakfasts.

The North West Wine Region includes two districts : North West Coastal ; North West Inland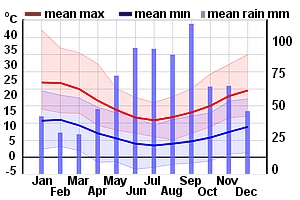 Winery Tour Map
Wineries
Ghost Rock Hill, TAS 4 Hilltop Avenue, Devonport, Tasmania 7310
Ghost Rock Vineyard, situated 10 minutes east of Devonport on Tasmania`s Central North Coast,offers a modern cellar door experience. You can taste, enjoy and purchase our wines including our famous Tasmanian Pinot Chardonnay Sparkling (Catherine). We also produce Pinot Noir, Sauvignon Blanc, Pinot Gris, Chardonnay, Riesling and Pinot Rose. Owners Cate and Colin Arnold invite you to visit and sampl...
Ghost Rock Wines, TAS 1055 Port Sorell Rd, Northdown TAS 7307
Our Cellar Door & Eatery offers wine tastings, wine sales and wholesome, rustic lunches featuring local Tasmanian produce. The Cellar Door & Eatery overlooks our Clairdown vineyard, with stunning views over the rolling patchwork hills surrounding the winery and Bass Strait. It's literally a hideaway where you can wine away the hours and feel the shoulders drop. Located just 10min from the Spirit of Tasmania terminal and one hour from Cradle Mountain, its the perfect spot to drop into whilst visiting the Cradle Coast region.
Patrick Creek, TAS 22 Bluewater Crescent, Shearwater Tasmania 7310
Joan and Godfrey Matthews run this small one hectare vineyard near Devonport, producing some medal-winning pinot noir, chardonnay, sauvignon blanc and pinot gris....