Jump to Winery List
Snowy Mountain Wine Collection District
Jindabyne lies in the heart of the Snowy Mountain Region. Jindabyne is located about 400 km south of Sydney. It is the renowned gateway to the NSW ski fields and resorts, the local trout streams and all the spring and summer delights of Kosciusko National park for bushwalking, camping and 4WD adventures. Some of the major attractions are: the Skitube, Auswalk Walking Holidays, the Mountain Adventure Centre, Lake Eucumbene and Lake Jindabyne for boating and fishing. The area is also very popular for a variety of horse riding and eco adventures such as such as Cochran Horse Treks, Snowy River Horseback Adventure or Reynella Rides. The major events in the area are: # Sculpture by the Lake in April. # The Flowing Festival, Lake Jindabyne, held in February. # The Easter Fair, in Jindabyne, Adaminaby, and Berridale, in March/April # The Man from Snowy River Rodeo, in December # The Snowy River Festival in Dalgety # Snowy Mountains Regional Food Fair.

The Snowy Mountains Wine Region is home to one district: Snowy Mountains Collection ;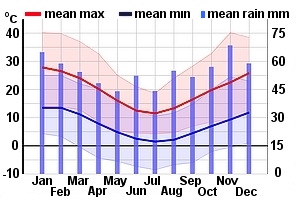 Winery Tour Map
Wineries
Macenmist Black Truffles and Wines, NSW 230 Cappanana Road, Bredbo NSW 2626
Macenmist Black Truffles and Wines is located in the Snowy Monaro region, just outside of Bredbo, and is an excellent producer of the Black Perigord Truffle. One of the best ways to discover the fascination of the Black Perigord Truffle is to participate in a truffle hunt, where you will be able to partake in a remarkable "paddock to plate" experience. Macenmist also actively participates in the Canberra Truffle Festival and provides the black gold to many restaurants in the Canberra district for your tasting pleasure! Join Truffle dogs Fahren and Tawdiffu as they take you on a journey of discovery.
Snowy Vineyard & Microbrewery, NSW 255 Werralong Rd, Dalgety NSW 2628
Located on the banks of the Snowy River, the Snowy Vineyard and Microbrewery is the perfect outing. The vineyard has been a tourism icon since the early 1980s for visitors to the Snowy Mountains region of New South Wales. Come and try the range of craft beers, nine on tap, and unique wines, enjoy the ambience of the indoor and outdoor restaurant. Bring the kids along as they have a great kids room as well as animal petting zoo, trampolines and outdoor games. If you are looking for something different for that special occasion, the Snowy Vineyard and Microbrewery is open for brunch, lunch, beer and wine tastings.
Thredbo Distillery, NSW Alpine Way, Thredbo, NSW
Thredbo Valley Distillery is a one of a kind, boutique schnapps distillery situated in the stunning Thredbo Valley. Located between Thredbo and Jindabyne, the distillery is a fantastic place to stop and have a look around, enjoy a free tasting and a light lunch along the magnificent Alpine Way. The Wildbrumby schnapps are made from local fruit of which some is grown and harvested on the premises. ...